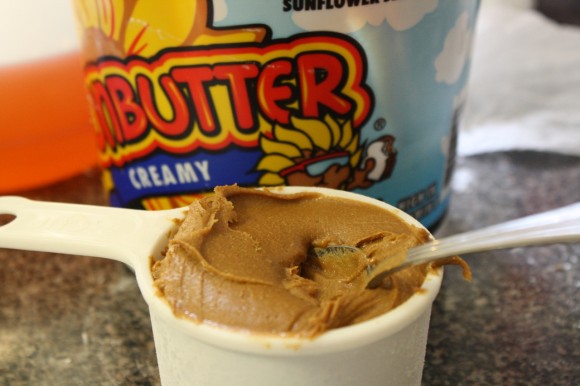 Sunbutter® is a wholesale Hodgepodge replacement for peanut butter. It is the very first product we turned to when we discovered peanut and tree nut allergies in the younger two.
Back then, we just bought the little jar from the grocery store. Then we discovered the Sunbutter® store on their site! Every month we order two five pound pails. Ten pounds lasts us about that long for our family of seven. Fairly inexpensive mainstay for around $30 – including shipping. Plus, Lil' Buddy has found out the Sunbutter® shipping box makes a great garage for toy cars  🙂
(We also think those Sunbutter®-On-The-Go Packs are mighty handy!) We've eaten Sunbutter® by the spoonfuls for almost two years now. Here's a blurb from their site:
SunButter® is a great tasting alternative to peanut butter. SunButter® is made from specially roasted sunflower seeds. All of our products are completely peanut free, tree-nut free, and gluten free. Our sunflower seed spreads are all processed in a peanut and tree-nut free facility. SunButter® is packed with nutrition and is an excellent healthy alternative to other nut butters.
SunButter® is nutritionally superior to peanut butter with 1/3 less saturated fat, 27% of your vitamin E in one serving, and has a much higher iron & fiber content. All of this extra nutrition is derived from the sunflower seeds which are also a great source of protein.
Not only do we love the taste, we love to bake with it. We enjoy trying variations from the recipe section of their site. Almost once a week we try something new just for fun. Sunbutter® is often the main ingredient in our habit of cooking fun!
Recipes we've tried and love: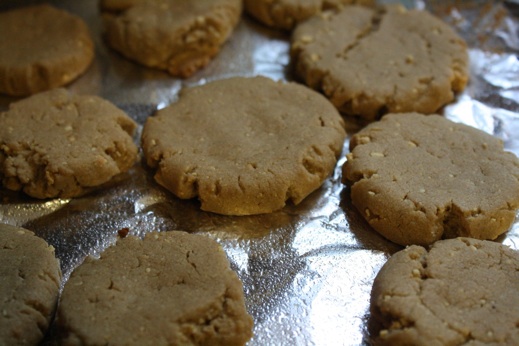 Sunbutter® Cookies + kisses. (Keep in mind that sometimes our cookies crumble because we use egg substitute).
Last year we were featured on the Sunbutter® blog: Sunbutter® balls with homeschooled kids
But our simple, daily favorites are Sunbutter®: sandwiches, toast and an apple or banana slathered with a giant spoonful! We're grateful to Sunbutter® for giving us a safe and healthy alternative. It's so easy to make sandwiches for lunch. Or to mix up some Sunbutter® fun anytime!
Be sure to check out all the delicious recipes on the Subutter® site. Plus the Kids Corner has fun printable coloring pages.
Sunbutter® makes allergy friendly living easy.