Any time is a great time for a patriotic art project. Flag Day, Memorial Day, Independence Day and Veteran's Day. You can create a beautiful American flag any time of the year with this American Flag Chalk Pastel Art Tutorial!

American Flag Chalk Pastel Art Tutorial
Supplies needed: For this American flag chalk pastel art tutorial we used one half of an 8 ½ x 11 sheet of copier paper and traditional red, white and blue (navy). Some chose a turquoise for the brilliant sky background. But some decided on a night sky with fireworks!
Middle Girl leads us in this beautiful art lesson. We wanted our flag to be fluttering in the breeze, so we first drew the flag pole. Using a gray or black pastel, make yours stand tall and straight or slant it like the one pictured above.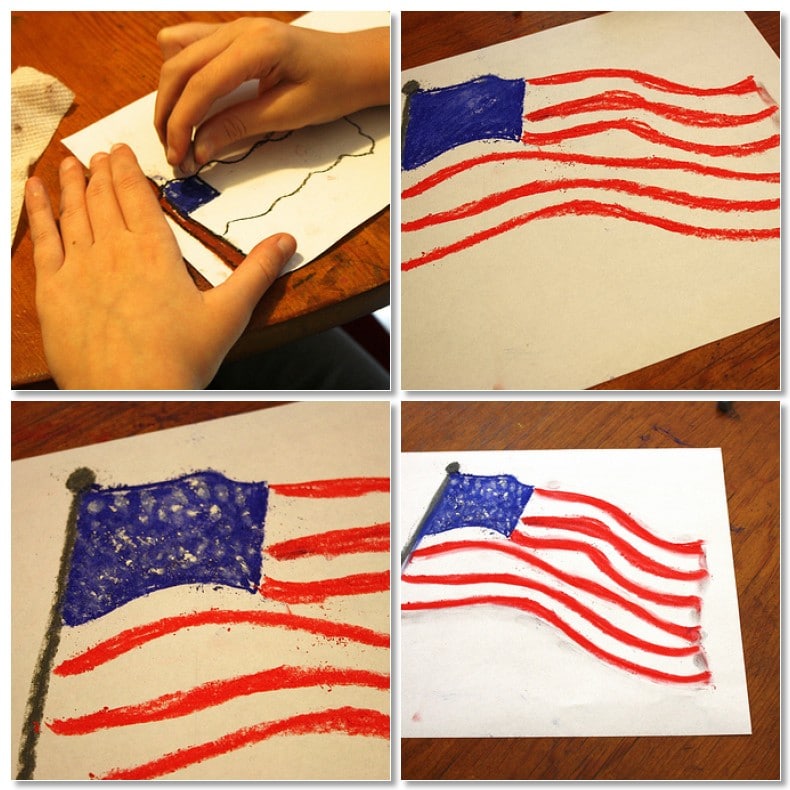 Now, picture how a flag looks when the wind is making it flow. It isn't straight unless it is a very strong wind. Ours is a gentle summer breeze. So, curve the edges of your flag slightly.
…the emblem of, the land I love…
For a traditional flag, mark of the corner, navy portion for your stars. Remember to curve it along with the effects of the wind. Take your finger and blend your blue. Then it's time for the stars of the 50 states. Gently dot your blue square with a white chalk stick. It looks sparkly that way!
Next, use your red and make six curving stripes. We drew them first then went back over each stripe to thicken it up. Use your finger to blend your stripes, being careful to stay in the lines. Next rub your finger just slightly on the gray pastel stick. With the color on your finger, touch the end of each white stripe to define your flag. Do the same along the bottom of your flag.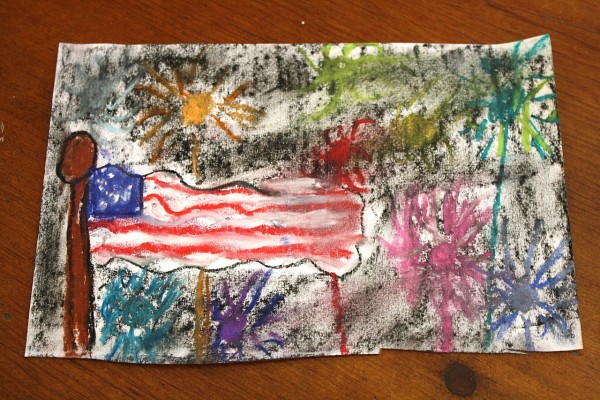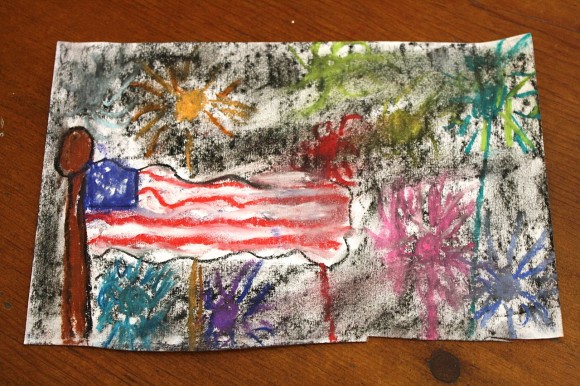 Middle Girl's awesome night sky with a beautiful fireworks display!
You have a choice for your background. Make it brilliant blue like our top photo. Or use a black chalk to skumble a night time background. Fist in the background. And add celebratory fireworks! You could even use a dark blue or black piece of construction paper.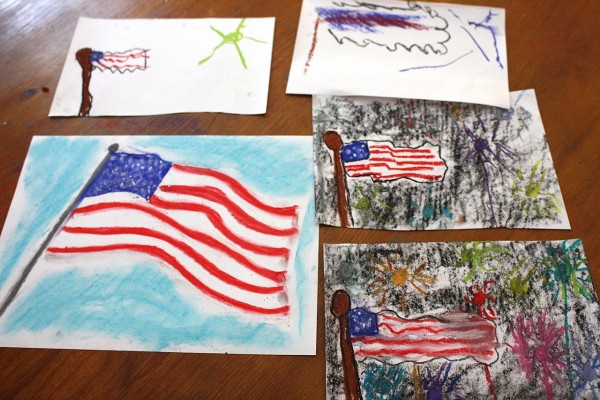 Our completed flag chalk pastels! Special thanks to Middle Girl for leading us in this tutorial and for the idea of a fireworks celebration.
You might prefer more of an original, impressionistic flag. We created a flag with paints many years ago. You might click over inspiration and instructions: Flag Art Over Mantel (it won first place in the state fair!)
And don't forget our sparkler chalk pastel tutorial,  fireworks extravaganza and fireworks over the Washington Monument.
American History Video Art Lessons at ChalkPastel.com with a sample George Washington art lesson!
FEATURING YOU! YOU ARE AN ARTIST!
So, paint your American flag and be sure to share with us! Simply tag @chalkpastelart on social media, use the #YouAREanArtist hashtag, or upload a photo to the ChalkPastel.com Facebook page!
A note on chalk pastels: Pastels are an easy, forgiving medium. Fun for children and adults alike! Details on the pastels and paper we use, how and where to purchase, and links to all of Nana's other pastel lessons are in Our Favorite Chalk Pastels.

The practical aspects of a mess: Pastels are blessedly messy. We always have baby wipes close by to wipe hands. We wear something we don't mind getting stained or don a smock.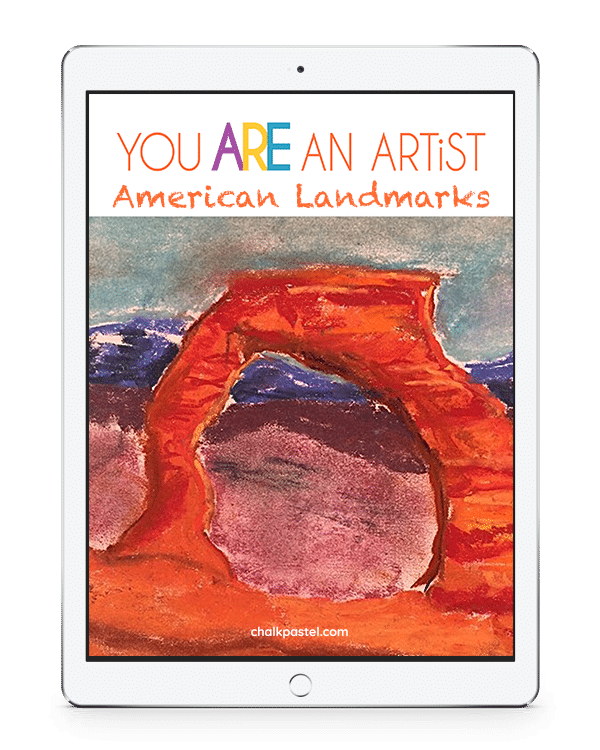 Do you and your artists learn best with a video art tutorial? Find our Video Art Lessons at ChalkPastel.com!
<pin it>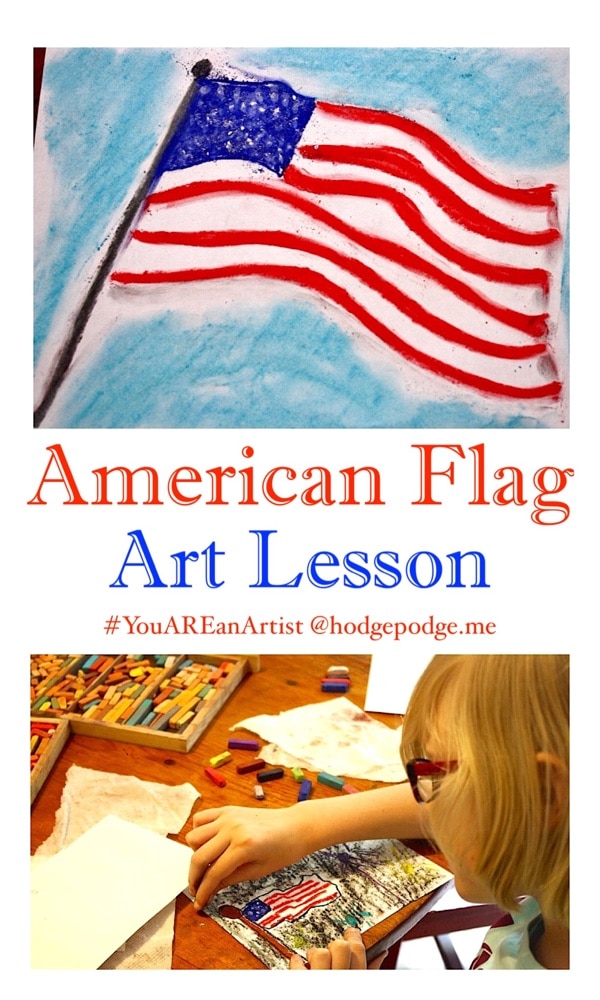 It's a grand ol' flag!
-originally published July 2013