Art Curriculum with American Landmarks!
With our chalk pastels at the ready, let's take a tour of American Landmarks from sea to shining sea! American Landmarks: Chalk Pastel Art for All Ages is now available for only $7.99!
What's included in this art curriculum?
Step-by-step how-to instructions.
One book for all ages. No need to purchase separate grade levels.
Ebook format – simply download, open and go!
Encouragement for getting started with chalk pastels, a simple supply list and…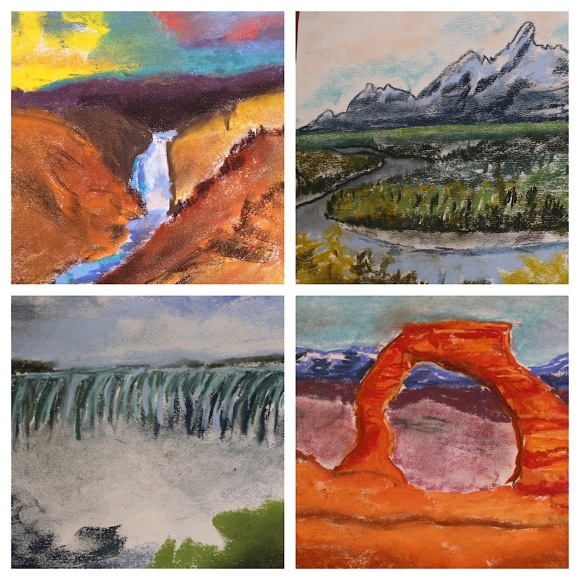 NEW Tutorials – American Landmarks
Golden Gate Bridge (try the FREE video tutorial below)
Lighthouse
Statue of Liberty
Lincoln Memorial
Liberty Bell
Niagara Falls
Yellowstone Falls
Grand Tetons
Delicate Arch
Mt. Rushmore
Classic Tutorials
American flag
Washington Monument with fireworks
Civil War cannon
Columbus' ships
Try it. We Know You Will Like It! How to Draw the Golden Gate Bridge
Video Demonstration of How Quick, Fun and Successful Chalk Pastels Are!

Simple Art Supplies
No lengthy, expensive, intimidating supply list! Just add: (1) chalk pastels (2) paper open, and go!
How Can You Use These American Landmark Tutorials for All Ages?
Studying American history, government, elections or traveling – follow up your studies with tutorials.
For the simple enjoyment of art!
To see that you are an artist. No prior skill level necessary – yet tutorials are challenging enough for older students.
Create a spark of interest in your students!
Try a new medium – chalk pastels!
Grow a love of art with tutorials that are successful in a short amount of time.
Now you can have a Master Artist teach all your ages! Just add chalk pastels and paper!
What do I need to get started? 1, 2, 3
ebook
Chalk pastels — available from any art store or by clicking the red shopping cart in the sidebar
Paper — even copy or computer paper will get you started
34 pages, ebook only $7.99