Many of my friends know of our art habit. My mother, Nana, is a Master Artist. A couple of times a month, she teaches my five children an art lesson. Usually these lessons complement our nature studies. Other times Nana guides us in a surprise, like her Mug of Hot Chocolate.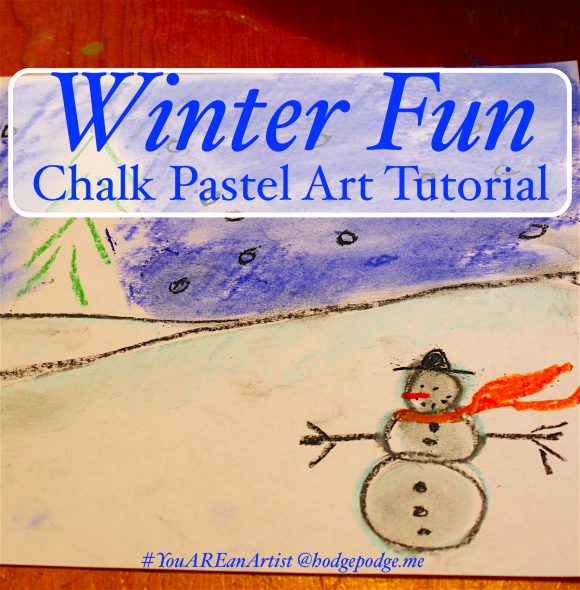 Back in February 2010, on an unexpected snow day here in the south, Nana taught my children their first pastel lesson.
"Ok, I have to tell you, I am NOT an art teacher… not even close.  The most my kids ever do with art is maybe a hands on history lesson with coloring pages and some minor drawing.  I have now ventured into teaching them art WITH NANA! We completed lesson one in pastels this morning, and it was fabulous!  She is inspiring a love of art in a family that knows nothing of it!  Thank you so much for sharing your precious mother with us all." ~ Lori Lange, homeschool mom of 5 @ Abnormal Herd
Maybe you don't have a Nana to come and teach your children art lessons? Well, we are sharing Nana with you. For almost a year now, we have been posting her lessons in photo tutorial form.
This time, on the Monday after Christmas, we followed a Sketch Tuesday theme for our art time. Winter fun!
You and your children can make a winter fun scene with a snowman too. All you need to do is follow the simple photo tutorial below.
Nana modeled her lesson after a Draw, Write Now winter scene. If you have book number two, feel free to use this resource as well.
We started with our box of pastels, the sticks of colors pictured at top and a simple sheet of printer paper for each child.
Nana showed us how to start our hill, using black, in the bottom left hand corner. Stretch your hill out with a nice curve, the way you'd like. Then add the small hill your trees will stand on. Find your green pastel stick.
Do you see how you can make tree branches like upside Vs? Nana explains this in more detail in the tutorial Christmas Tree in the Snow.
Add a trunk underneath each tree if you'd like. Next, is the snowman! Using your black once more…
Draw three round circles. The nice, stick arms.
Then the really fun part. See how you make your snowman icy? Use your pale blue stick to trace along the outside of each snowman snow ball.
More fun! Next, use your pale blue to do the same thing on your snowy hill and the ground underneath your trees.
Oh boy! Here comes the really fun, messy part! Usually we use our fists to blend in the colors and smooth them out. This time, we will use our fingers to blend in the icy layers of the snowman.
The icy hill also needs some blending. And, of course, the green of your trees…
Be sure to add button eyes, a curve of black dots for a mouth and an orange carrot nose!
Note: You may want to take a break at any point to use a baby wipe on messy hands 🙂 See, even the youngest ones can participate, if even for a minute. You may want to sketch off the round circles of the snowman and let your child fill in the details.
Next is the blue sky. Take your darker blue and place your stick flat, on its side. Move your pastel stick across your page, filling in blue easily.
Are you ready for snow? You'll never guess. You're going to use your black again, making small circles of snow!
Now your snowman needs a scarf. Pick your favorite color. Maybe, like Nana, you might pick orange.
Or you may prefer yellow, like eleven-year-old.
You could even add a person sledding down the hill, like eight-year-old did.
A pink scarf is always the favorite of a five-year-old girl!
Whatever you decide, be sure to choose a color and sign your name in a lower corner. Then display your artwork in your home, send it on to a grandparent or take a digital photo of it and email it on to Sketch Tuesday.
Can you see the snow in our backyard in the photo above?
Now, it's time to clean up! Don't forget faces 🙂
A note on pastels: Pastels are an easy, forgiving medium. Fun for children and adults alike! Details on the pastels and paper we use, how and where to purchase are all contained in the post Pastels plus links to tutorials. A simple set is very affordable.
More Chalk Pastel Art at Hodgepodge
Be sure to enjoy more of our holiday art and Christmas art tutorials. Christmas tree, nativity and more. Plus be sure to check out our A Simple Start in Christmas Chalk Pastels ebook with enough art to carry you through December!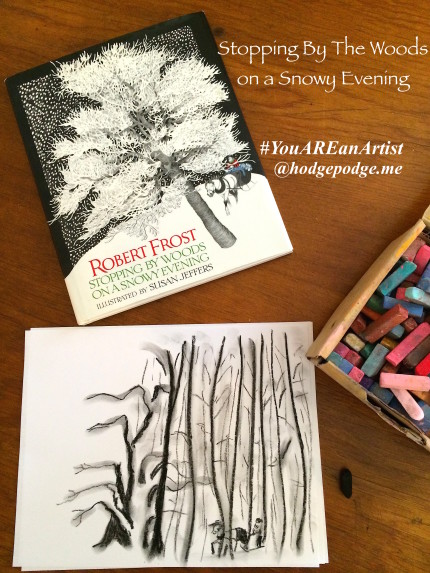 Of course we also have Snowflakes and Stopping By the Woods on a Snowy Evening.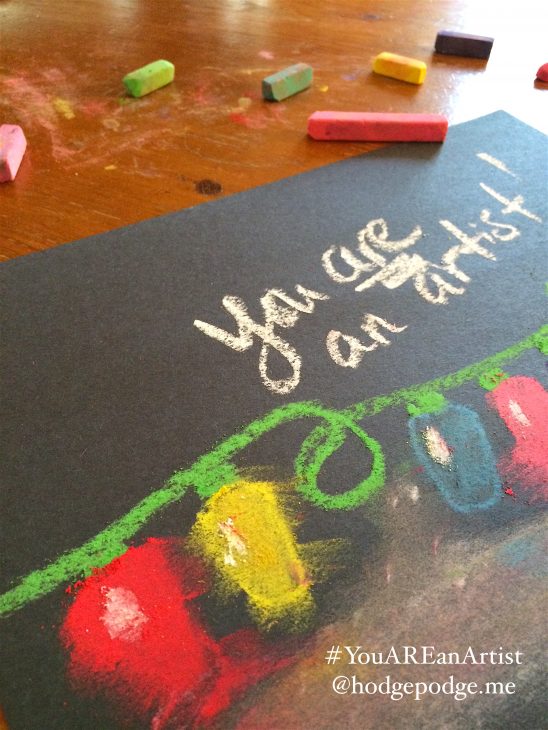 Featuring You! You ARE an Artist!
So, paint your Glowing Christmas Tree and be sure to share with us! Simply tag @hodgepodgemom on social media, send a photo via the Hodgepodge contact form here or post on the Hodgepodge Facebook page. We will be sharing these via the Hodgepodge instagram or on our Art Tutorials Showcase Pinterest board – or both! Nana will even comment on a few I am sure!

Free eBook and More!
O Christmas tree, O Christmas tree, how lovely are your branches!
Plus, don't miss the big announcement about video art courses coming soon.
—>> Subscribe to Hodgepodge so you won't miss any future art tutorials! <<—
The habit of art with Nana's pastel lessons.
Originally published December 2010, Habits for a Happy Home.
Save
Save
Save
Save
Save