Celebrated! Went places! 1. Counting down to the new year when we were back from a party with friends. | 2. New Year's cake by Middle Girl | 3. Black-eyed peas and greens at Nana's | 4. Headed to a cousin's birthday party. There's the golden capitol dome | 5. BD party at an inflatables place | 6. The replacement 'You are Special Today' plate. A Christmas gift from Nana

Got organized! Hodgepodgedad said he was going to the grocery store but sent me a message from here.
This was the week of back to school. We eased into it because Hodgepodgedad was still home with us on Monday. And because when you haven't been doing a full schedule of school it wears a Mama out to jump right back in. Still, we managed a pretty good amount of learning.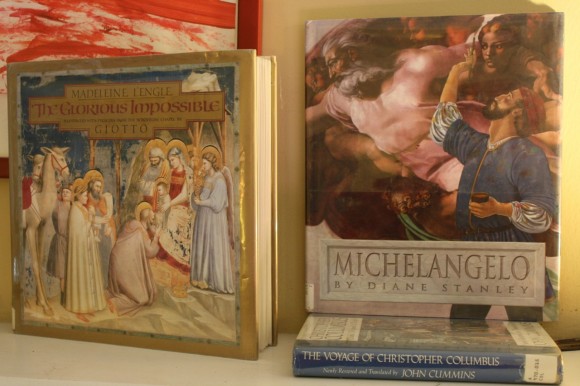 Tapestry of Grace is lining up with our Harmony Fine Arts studies. We are heading into weeks rich in Renaissance artists and composers. We've been reading I, Juan de Pareja at bedtime. Our dialectic level students are reading the Second Mrs. Giaconda. Writing: Eldest Girl is learning how to write an editorial. Middle Girl was also excited to receive her first letter from her pen pal this week!
We had hoped to make a salt map of Italy but will look forward to that maybe next week. So…
Geography! this week was all about Stack the States.
Homeschool Lunch! Before we started our Answers in Genesis Heat and Energy studies we decided to celebrate completing our Human Body studies. We did this by making this really cute veggie skeleton I found on Pinterest. How's that for a homeschool lunch? The eldest two children are continuing in their Apologia Biology studies, as well. This week they studied bacteria.
Math! Three of our children are right back into Teaching Textbooks. While one was scoring over 100 in Math, others needed a little help from Hodgepodgedad in the evenings.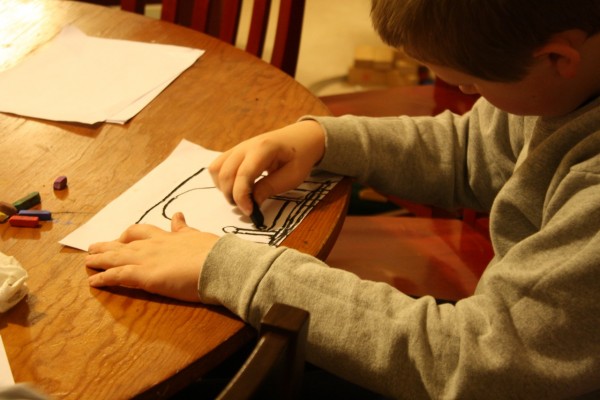 Nana stopped by for a pastel lesson (toasty warm tutorial coming soon).
Art, Handicrafts, Nature! And Middle Girl had the best time with the new Hearts and Trees winter kit. "This is soooo cooool!" I heard over and over. The butterfly handicraft included was perfect to enjoy the day after we'd watched the new Crowe's Nest Media DVD, Your Backyard: Monarch Butterflies.
The younger set stayed busy all around. Lil' Buddy said, "Look Mama! I built Nana's work! Her golden work!" Our field trip to visit Nana at the Georgia capitol (under the golden dome) made a big impression on him. Meanwhile, Littlest Girl got back into her Saxon Math K routine, practicing counting pennies with her math pocket.
Here's the rest of the Hodgepodge week:
1. Someone needed a little sparkle in her scalp – still working on getting that out! | 2. the newest Your Backyard DVD! | 3. Building Nana's work | 4. Putting together a package for a pen pal | 5. Note left on my coffee pot so Middle Girl could make Daddy some hot chocolate before work | 6. The wise man found behind the couch pillow on Epiphany Eve | 7. Now that's the way to do homeschool English! | 8. Counting pennies and putting them in a paper pocket.
My favorite photo from this week. The best way to do homeschool English. Maggie Hogan said that she has a #COL policy: Can't answer phone, Cat On Lap.
Many thanks to our Friday hostesses…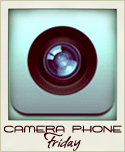 Camera Phone Friday hostess Dawn Camp @ My Home Sweet Home and…


Weekly Wrap-Up hostess Kris at Weird, Unsocialized Homeschoolers.
 Today, we're getting ready for cousins to visit! How about you? Are you back to schooling?