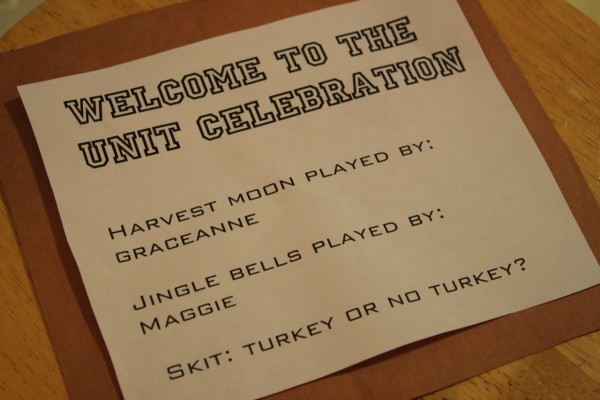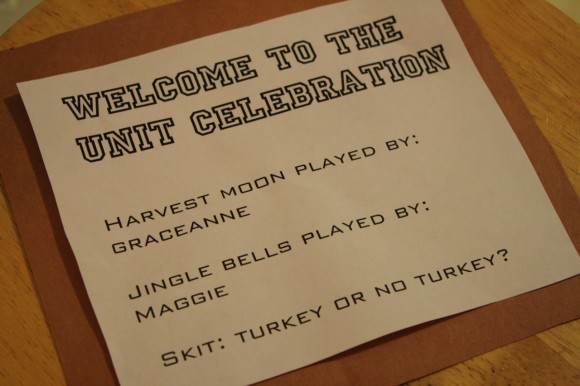 I realized, as I was planning our next unit of Tapestry of Grace, that I had not shared our holiday unit celebration. A unit celebration brings closure to our studies and boosts us on to further learning in the next unit. In the past, we plan for our unit celebration to happen on Thanksgiving Day while the side dishes are warming in the oven. I shared more about this at Heart of the Matter: A Thanksgiving Homeschool Celebration.
History/Tapestry of Grace: This year we did celebrate on Thanksgiving Day (the unit celebration program designed by Middle Girl, above) but we also shared with friends and relatives as they dropped by.

My grandmother, Mama Ann, came by on a week day before Thanksgiving. Since we knew she was coming, we pulled out our science display boards to share. The girls also played a song a piece on the piano.
Remember that we are spreading out one year of Tapestry of Grace over two years. So two units per year. One unit we completed around Thanksgiving. Our second unit we'll celebrate an end to towards the closure of this school year. This is the best pace for our family and, I think, the best way to savor the smorgasbord Tapestry has to offer for our age range.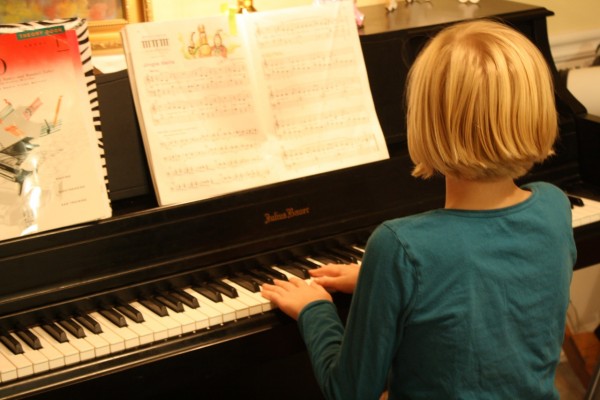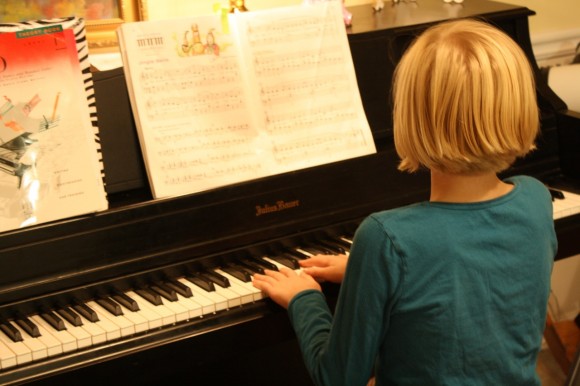 The night before Thanksgiving, Nana came by and the girls also played their piano pieces for her. Middle Girl, above…
…and six-year-old above. She is about ready to begin her formal piano lessons.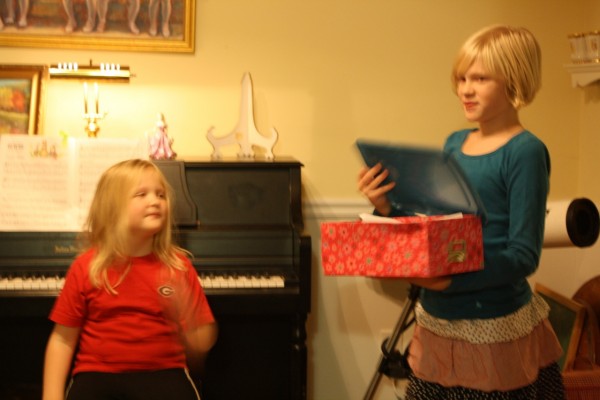 The girls performed a short skit as well, entitled Turkey or No Turkey?
In the two weeks leading up to Thanksgiving, all the children worked together on a Tapestry of Grace lap book as review of our studies.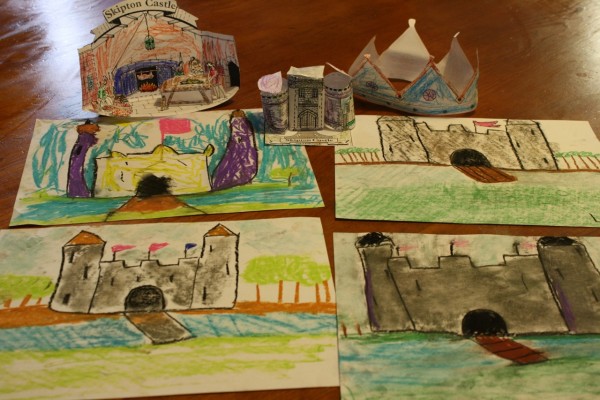 Here are a few more highlights from our Tapestry studies this fall. This post, Layers and levels of unit studies, shows examples of how we accomplish learning for all the different ages and stages. Above, a medieval castle pastel lesson plus hands on crafts from the Tapestry of Grace site.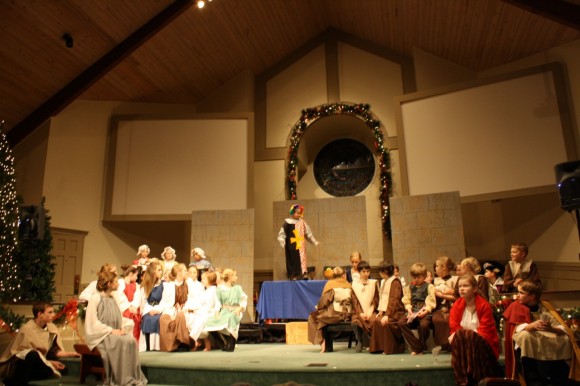 Drama Troupe: The first week of December the two older girls performed in a Drama Troupe play set in medieval times: O Holy Knight. This was a unit celebration in itself because of all they learned about the language, dress and social order of the times.
Science – Whole Family: We finished up our unit study of the human body this December! You may remember that Kindergartener shared a full sized display of the human body as her science fair project. One that won her 1st place over all the science fair entries! This was a great visual learning tool for the whole family.
Updated New Semester School Plans: I plan for us to celebrate this end of our human body studies by making this really neat veggie skeleton I found on Pinterest. We'll do this next week when we start back to school.
Then we will begin our study of Answers in Genesis: Heat and Energy. All levels listen in and participate as we do a lesson together right after lunch. Our habit of One More Thing After Lunch.
Science – 7th/8th Graders: Will continue their Apologia Biology studies. We'll be adding the iHomeEducator Apologia flashcards. A great way to quiz and build study skills.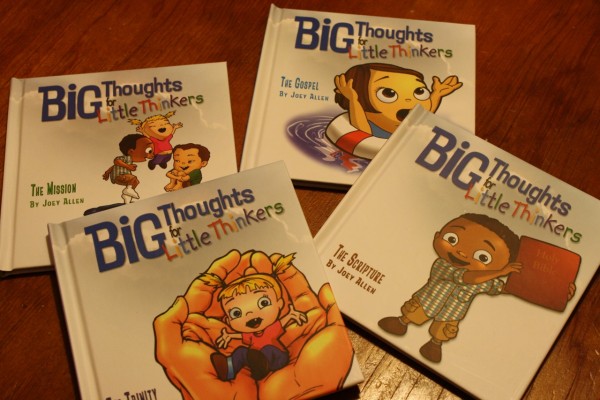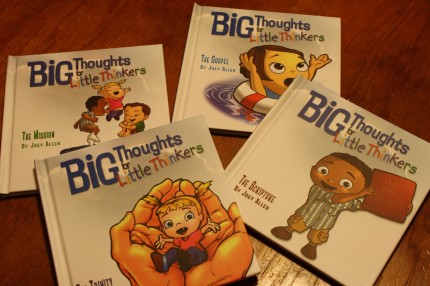 Devotionals: We will be starting some new devotionals the children received for Christmas as their 'spiritual gift.' I shared a list of these and a few other devotional resources at Habits for a Happy Home earlier this week.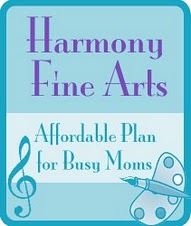 Art/Music: We'll continue to enjoy pastel tutorials from Nana as she has the time. Nana has mentioned teaching a new medium – acrylics! We're also going to adopt my friend, Angie of Petra School's habit of enjoying our Harmony Fine Arts Plans on Wednesdays. Learning about composers and new art techniques. Sheer joy!
Nature: We're also excited about the new Handbook of Nature Study ebook for Winter. Details are explained and topics listed in this post: Winter Nature Study Outdoor Hour. Last year I was pleasantly surprised at what all we can and do learn about nature in the winter! Won't you join us too?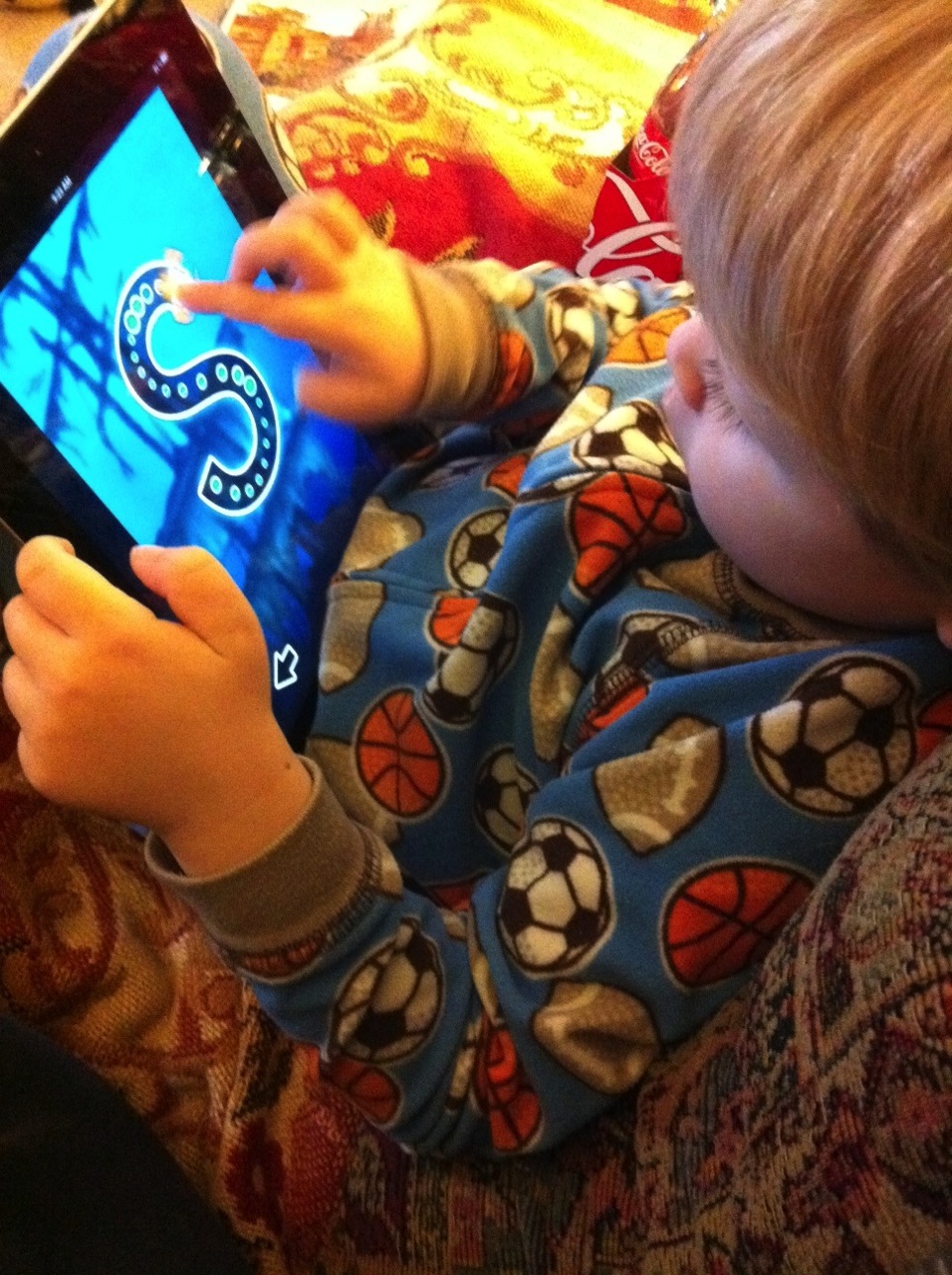 Ocean Letter Writers is a new favorite. Great practice in starting letters at the top, rhyming – all with pretty music. This app is near and dear to Littlest Girl's heart because the H is for Hammerhead Shark!
The younger set: Kindergartener and four-year-old are already getting a boost with some new apps we've discovered. Reviews coming soon at The Curriculum Choice! We will continue with their workboxes. I've got some fresh seasonal study ideas with a Five in a Row flair. Katy and the Big Snow, Stopping by the Woods on a Snowy Evening and more.
Other than that we'll continue with the same curricula we started with in late July. You can view that list here in Hodgepodge Curricula 2011-2012
Unit Celebration – a good closure to a season of learning. Mid-year planning – a good way to reassess and jump start the next semester.
Tune in tomorrow as I share the Top Ten Helpful Habits of 2011. What are you updating and changing up in your homeschool for 2012?