In this Chores For Kids: A Homeschool Mom's Guide, Maggie Graham shares tips that will not only help you have a cleaner house, but will also help you raise better humans!
Chores For Kids: A Homeschool Mom's Guide
2 PM EDT – Kids and Chores with Maggie Graham
Maggie's session will answer such questions as:
How did you come up with the current system you have now for kids and chores?
How do you incorporate chores into your homeschool day?
How do you know what task to assign each child?
What age do you begin assigning chores?
Be sure to sign up for the Your Best Homeschool event to access all of the bonuses, freebies and accompanying guide for the sessions.
More About Maggie Graham
Maggie Graham is a 25+year homeschooling mom of 11 children, (7 of whom have now graduated and moved on to new stages of life), Nana to 7, and wife of 32 years. Over the years she has amassed a wealth of knowledge and experience in all things related to homeschooling, homemaking, child training, and marriage, and now her passion is to share this knowledge with a new generation of moms. She is the founder of Equipped to Homeschool, Kids and Chores, Unshakable Systems, and Proactive Motherhood.
Visit her at MaggieGraham.com and KidsandChores.com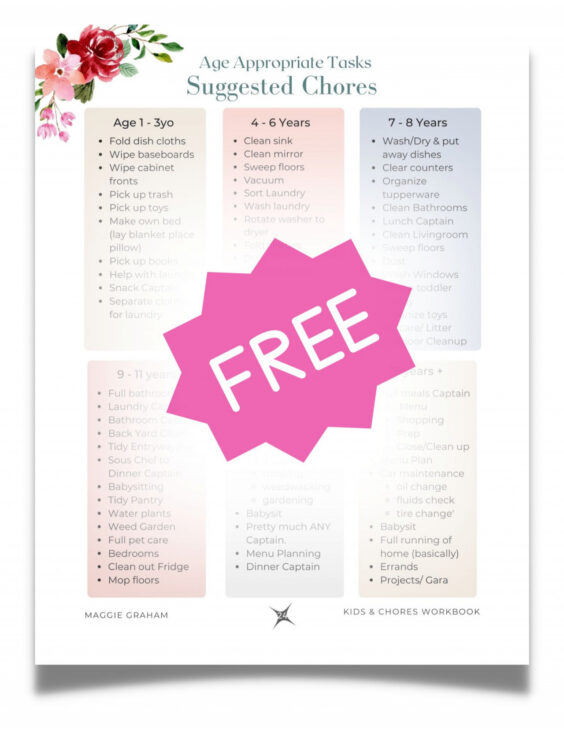 Get your FREE Age-Appropriate Suggested Chores list from Maggie HERE.
We are having FUN all week! Be sure to SIGN UP to access all the bonus materials and to know where to reach video sessions.
Did you love this chores for kids (a homeschool mom's guide) session with Maggie? Be sure to leave her a comment here or find her on Instagram at Maggie Graham and let her know!
And please invite those you know would enjoy this event! You can share this post.