As a fellow homeschool mom, I know what it's like to feel worn out by all the options online. But I also know that homeschooling can be simple and full of freedom. That's why these fabulous homeschoolers and I hosted a FREE Your Best Homeschool event!
SIGN UP For The Event HERE:
You don't need multiple steps or in-depth projects to help you and your children enjoy learning.
See, our story is like your story. Between us, we have decades of experience in homeschooling and managing a household.
You ARE invited to join in the fun!
When: Anytime
Where: Right Here at Your Best Homeschool
Browse the topics and enjoy what appeals to you most.
What is Your Best Homeschool Event About?
Some replays are available here at Your Best Homeschool and some are now offered by the speakers on their own sites. There is also an amazing offering of resources. More details when you sign up!
Free Resources, Discounts and More Available
Brought to you by these amazing homeschoolers:
What Should You Expect?
We are here to simply encourage you and to offer:
Homeschool Mom Support
Making Homeschool Curriculum Decisions Easy
Literature, Art and Nature Study
Creative Learning and Out of the Box Homeschooling
Homeschool Fine Arts for Busy Families
Replay of Live Event – You ARE an ARTiST – Make Your Homeschool A Little More Beautiful
Make Your Homeschool A Little More Beautiful – Literature, Art and Nature – Live Event with Sarah, Nana and Tricia
You Can Sign Up For The Replay of This Event Here:
Find the Joy in Homeschooling!
Get excited about the different ways your children can learn.
Be equipped and confident in your ability as a homeschool parent.
Get ready to experience the world in a new way with your children.
Know how to spice up the basics of your existing homeschool curriculum.
Make memories that last!
Can't wait to see you there!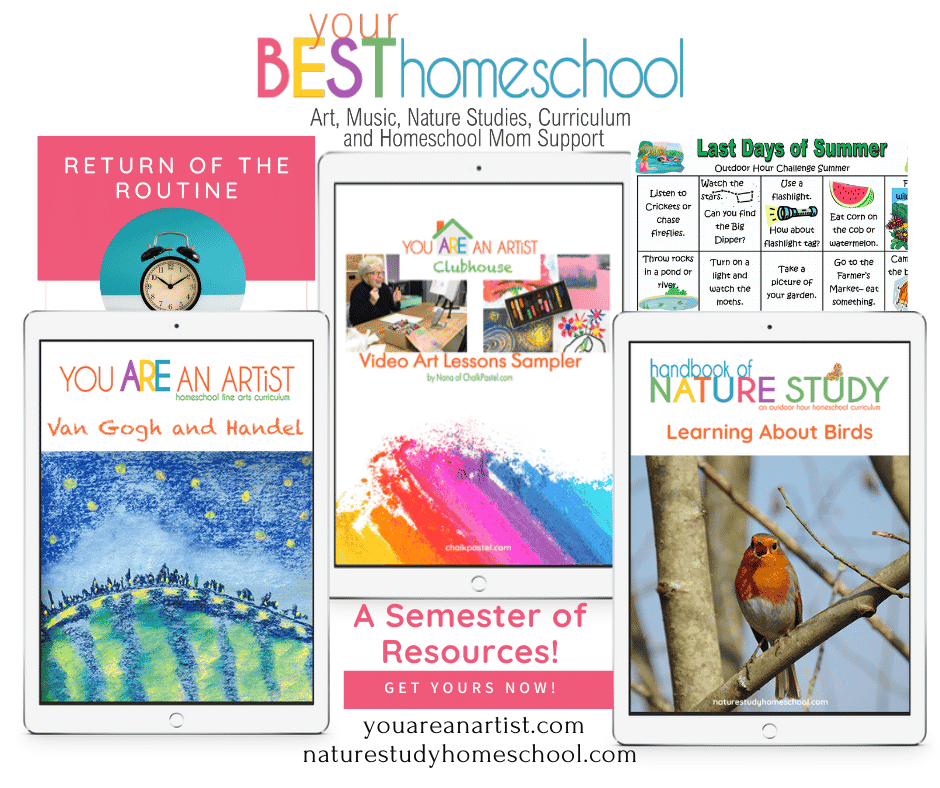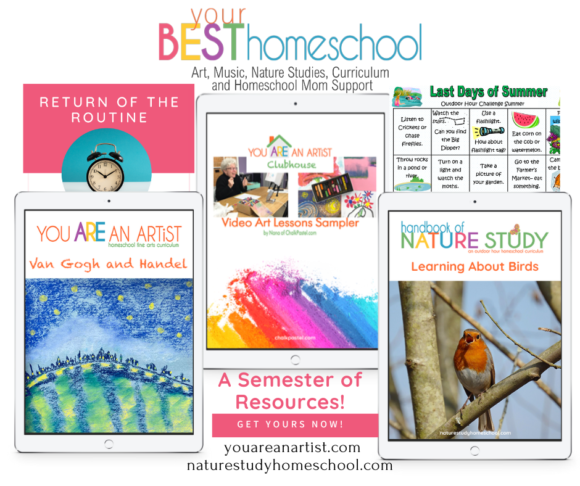 Because my children and I have used all of these beautiful homeschool learning resources ourselves in our homeschool, I knew that putting them together would make for a great homeschool resource. These are hand-picked and give you a frame-work for learning. The 'gathering' has been done for you. Simply open and go! Find the Your Best Homeschool Bundle HERE.