Combining nature study and language arts truly is a wonderful way of homeschooling with artistry and joy! Jamie Gault integrates so many different subjects when she teaches her eight children of all ages. She shares beautiful examples of creative learning at its best!
Nature Study and Language Arts: Homeschooling with Artistry and Joy
A Snail's Study by Jamie Gault is a beautiful example of learning across multiple subjects: Nature, Art, Language Arts, Writing (Creative Writing/Poetry, Paragraph) plus science and author study.
Snail book recommendations for all ages are included too!
"Are you ready to set foot on this adventure? Watch out! It may get a little slimy!"
Read All About At a Snail's Pace at Jamie's blog, HERE.
Get Your Copy of At A Snail's Pace on her Free Resources page.

How to Integrate Nature Study and Language Arts
Jamie has many more examples of ways to include nature study and language arts in your homeschool learning on her blog as well as these at You ARE an ARTiST: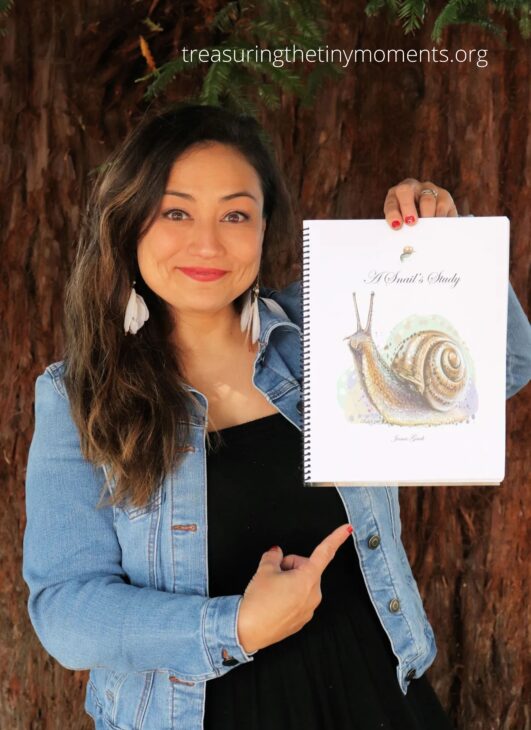 More About Jamie Gault
I'm Jamie, a former middle school teacher, creator of A Brown Bear's Language Arts Study, and an author at You Are an Artist chalkpastel.com. I am a mother of eight, one with special needs, who fully understands the discouragement, overwhelming moments, and the endless messes homeschooling brings. At the same time, I have experienced the everlasting fruits of home education: learning alongside my children and close bonding. I have a passion for sharing wholesome literature and inspiring a deep love for God's Word. This whimsical space is a reflection of our treasured moments. Charming snippets of graceful art, nourishing unit studies, and fascinating nature, take the heart of Treasuring the Tiny Moments Homeschool.
Visit Jamie at Treasuring the Tiny Moments Homeschool
Join Us For Your Best Homeschool
We are having FUN all week! Be sure to SIGN UP to access all the bonus materials and to know where to reach video sessions. And please invite your friends!
Did you enjoy these tips for nature study, language arts and more from Jamie? Be sure to comment here and let her know! Or you can find Jamie on Instagram and leave her a comment there.