Julie Kieras makes classical homeschooling easy by gathering beautiful offerings into a Classical Morning Menu. She shares how you can use this wonderful resource in your homeschool!
Classical Morning Menus are beautiful content pages to help bring rhythm to your homeschool day. Nine months of materials are perfect for your morning basket or morning time and include:
Charlotte Mason inspired affirmations
Scripture
Poetry
Picture study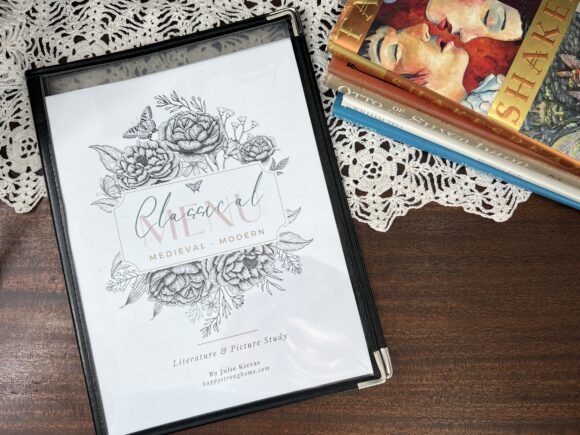 Poetry, Bible Memorization and Picture Study: Classical Homeschooling Made Easy
Once printed, the Classical Morning Menu is as simple as open and read/sing/discuss, so you can easily form a great homeschool morning routine–with little-to-no prep! That's classical homeschooling made easy.
We loop through each month's materials at least 1x per week. Charlotte Mason Affirmations are recited daily. Poetry is read once a week, and Scripture is practiced daily through recitation and copywork. Picture Study is enjoyed once a week using the accompanying Picture Study Guide that gives questions for discussion.
The Classical Morning Menu set also comes with blank copywork pages, a how-to guide, and a calendar plan for how to introduce and review the pieces of your menu each month.
Classical Morning Menus are available in Ancient History, Medieval to Modern, and US History themed sets for the whole year. They also were created to align with Classical Conversations Cycles, but will work wonderfully in any homeschool and for any age range!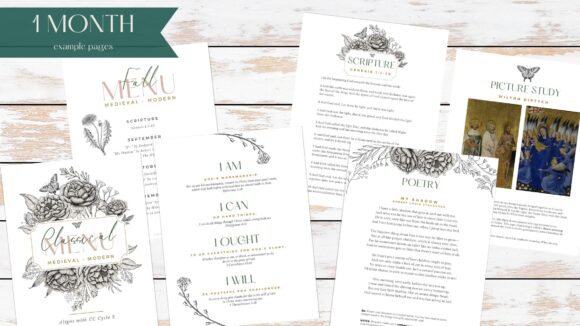 We love to slip our Classical Morning Page into plastic restaurant menu sleeves to keep the pages tidy and handy all month long!
Classical Homeschooling Made Easy
More About Julie Kieras
Julie blogs at Happy Strong Home where she shares her heart for simple, natural living, plus inspiration and encouragement for cherishing moments, loving learning, and building strong families!
Welcome to the Your Best Homeschool Event!
What is Classical Homeschooling?
Have a question about the Classical Morning Menu? Be sure to leave Julie a comment here or find her on Instagram at Julie Kieras.
And please invite those you know would enjoy this event! You can share this post.