Christmas art all in one spot… because you ARE an artist…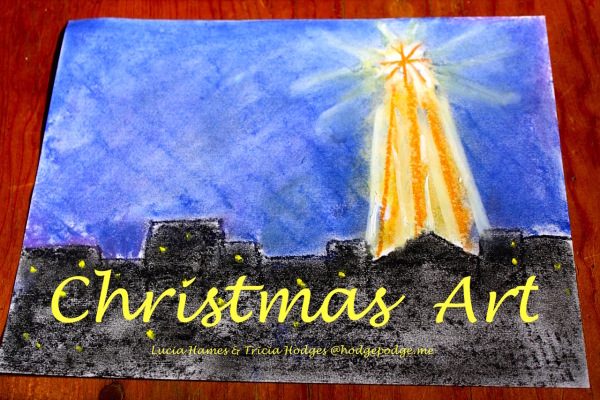 Christmas Star over Bethlehem – This lesson is a simple, yet a lovely one to celebrate the Christmas season. My students enjoyed the bright colors and the velvet blue night sky that we painted.
Christmas ornament – Nana decided we needed a painterly effect around the ornaments. Each chose their own color. For the painterly effect, turn your pastel stick on its side and skumble – just gently brush your pastel around your ornaments.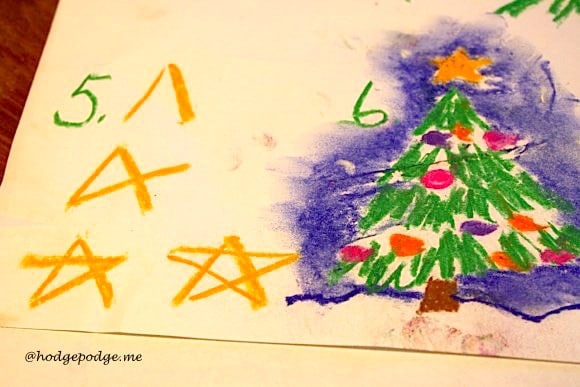 Christmas tree in the snow – Be sure to sign your name with your favorite color, then find a spot to display your beautiful Christmas tree! You may even want to give your tree as a gift.
Christmas Cookies – Tis the season for baking Christmas cookies! Christmas cookies are an art form, wouldn't you agree? So, we wondered what type of Christmas cookies you love to bake and decorate. Some of our favorites are Christmas stars, trees, cookies shaped like ornaments and candy canes. There are always plenty of sprinkles. Maybe you like icing…
What's Under Your Christmas Tree? – I thought that this would be fun for all of you artists to paint a picture of YOUR Christmas tree (well, the bottom branches) and all of the secrets packaged in bright colored boxes under the tree. Because You ARE an artist!
Glowing Christmas Tree in the Snow – One of our favorite ways to make memories at Christmas is to drive around town and see Christmas lights at night! And so, in honor of the favorite, glowing Christmas tree you spot on your drive around town – we have a chalk art tutorial.
Nativity – In this nativity chalk pastel art lesson we will focus on the scene the night of the birth of Jesus! Now this colorful scene is a picture of Mary, Joseph and Baby Jesus right at sunset. The sun's rays are bursting forth and reaching far in glorious color. At the same time the star of Bethlehem is right above.
FREE Christmas wreath video tutorial (like the wreath on our Christmas book!)
A Simple Start in Christmas Chalk Pastels – 10 tutorials to take you through Christmas – including a gingerbread man – for only $4.99!

More Christmas Art in A Simple Start in Christmas Chalk Pastels!
Save