Like many of you, one of our favorite books for this time of year is Cranberry Thanksgiving. We first discovered this gem in our wonderful Five in Row days. And for art, we were particularly drawn to the illustration by the fire. The contrast of the black and white against the fireplace just made us want to paint! If you happen to have a copy of this wonderful book, I suggest you pull it out and take a close look like we did. And then, enjoy this Cranberry Thanksgiving Chalk Art Tutorial with all your ages!
~ This post contains affiliates links to this resources we adore. If you click on the links, you won't pay anything extra but you will help us continue to offer art tutorials. Thanks for that! Please see our disclosure policy.
Now this particular tutorial takes longer than our usual less than five minute art lessons. In fact, I decided to sketch the figures of Maggie, Mr. Whiskers and Grandmother with a pencil first. This sort of "grounded" the picture and gave me the freedom of doing the background without the worry of disturbing the black chalk.
Cranberry Thanksgiving Chalk Art Tutorial
You may decide to do this tutorial in stages. Sketch first. Take a break. Fill in the background and create a painterly effect. Take a break. Fill in the black figures. Just a suggestion!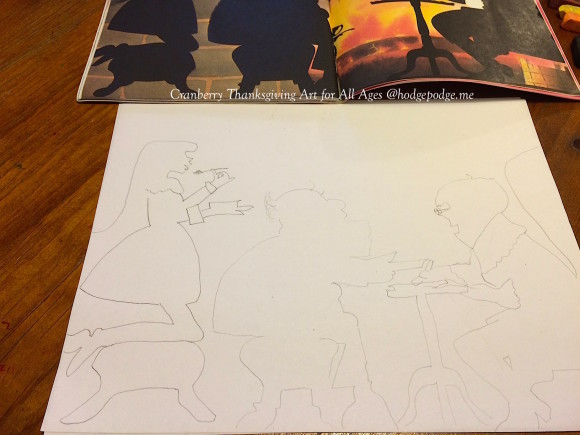 Supplies needed: Paper (we used printer paper), and the following chalk pastel colors: black, brown, red, orange, yellow and a peachy skin color. Be sure to have the baby wipes or a few wet paper towels close by. You will want to have a place to clean your hands of the chalk colors.
I decided to simplify the background and only sketch in a rough outline of the fireplace and the stacked stone. Use your brown to define the fireplace. The orange, yellow and red are such fun to use to make a blazing fire! A perfect spot for pumpkin pie with whipped cream.
"How about another piece?" said Mr. Whiskers.
Once you have your colors down, go ahead and take your finger and blend in the fireplace, the fire and the color around each figure. No worry if you go over into the area where each character is sketched – because you are going to be using black to go over each one! If you scroll down you will see how the blending turns out. Such fun!
(Feel free to take and break for a bit here – this one is a fun tutorial but it takes a bit longer)
Now it is time to color in Maggie, Mr. Whiskers and Grandmother with black. This will make wonderful silhouettes against the happy fireplace.
No need to fill in each and every spot because you will go back and 'spread' the black color with your finger.
Remember to may special attention to Maggie's hair, Mr. Whiskers' whiskers (of course!) and Grandmother's glasses. Don't be in too much of a rush with these parts of your painting. Have fun making the details with this Cranberry Thanksgiving chalk art tutorial. I did!
More Cranberry Thanksgiving Chalk Art Tutorial Ideas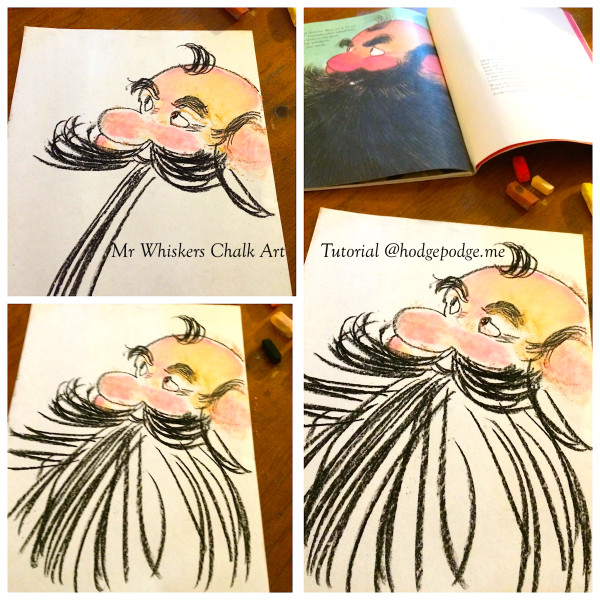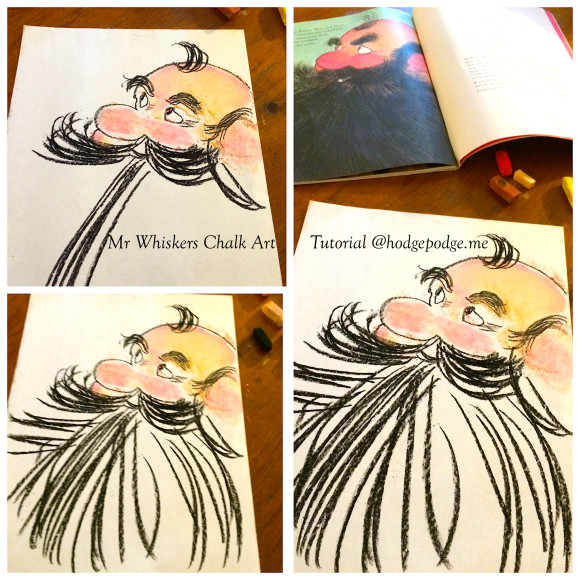 Looking for an easier, quicker tutorial? We have a tutorial of a favorite character from Cranberry Thanksgiving. This one you and your artists can do in less than five minutes! Head over and make Mr. Whiskers in less than five minutes!
Get Cranberry Thanksgiving from your local library or find it on Amazon here.

Fall Video Art Lessons with a turkey, candy apple, little owl in the tree and more!
Join the You ARE an Artist Complete Clubhouse for special Thanksgiving video art lessons! Nana will be sharing lessons around Norman Rockwell's famous Thanksgiving painting, mapping the very first Thanksgiving AND lessons on Abraham Lincoln establishing the Thanksgiving holiday.
A Special Note of Encouragement
You may have noticed that the past few art tutorials have been shared by me rather than Nana. This is because I felt confident enough to step out myself and share what I have learned from Nana – that I am an artist! Like you, I sometimes feel like I can't create something as beautiful as Nana. But, God has gifted us all in unique ways. The simple, sheer enjoyment of creating is a beautiful thing. And yes, we all are artists in some way. Keep on practicing. Keep on enjoying!
Featuring You! You ARE an Artist!
So, paint your Cranberry Thanksgiving chalk art tutorial and be sure to share with us! Simply tag @chalkpastelart on social media, send a photo via the Hodgepodge contact form here or post on the ChalkPastel.com Facebook page. Nana will even comment on a few I am sure!
More on Chalk Pastels
A note on chalk pastels: Pastels are an easy, forgiving medium. Fun for children and adults alike! Details on the pastels and paper we use, how and where to purchase here in Our Favorite Chalk Pastels.

The practical aspects of a mess: Pastels are blessedly messy. We always have baby wipes close by to wipe hands. We wear something we don't mind getting stained or don a smock.
"Mr. Whiskers, indeed!"
–> Be sure to subscribe to Hodgepodge so you won't miss any future art tutorials!
-originally published November 2015
Save