It has been most wintry in our southern part of the country these days. So we appreciated the toasty feel of this fireplace pastels tutorial.
A cozy kind of art lesson from Nana!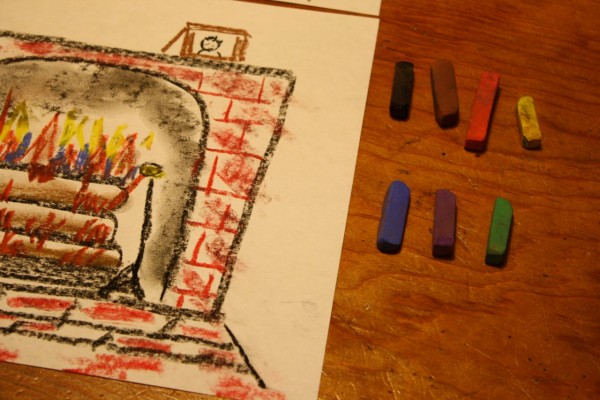 Fireplace: A Pastels Tutorial
First, gather your supplies, along with your colors.
Nana sketched off the steps for us, as shown above.
We discussed the look of brick. How the colors blend just a bit like the brick wall Nana painted in our kitchen with a stencil.
Then we sketched the basic fireplace shape.
We blended carefully with a finger, to give the art a feel of home. (Especially the black behind the warm fire). Plus, each spent some time on the fire itself. Some adding blue flames, as Nana did, some stacking their logs a little differently. Make your fireplace as cozy as you like, with the details you enjoy.
Each added their own details to the mantle. Some a vase, a photo. Littlest Girl decided she'd make her fireplace more like ours. Just a white frame around the black. You might want to study your fireplace and add your favorite things. Even stockings!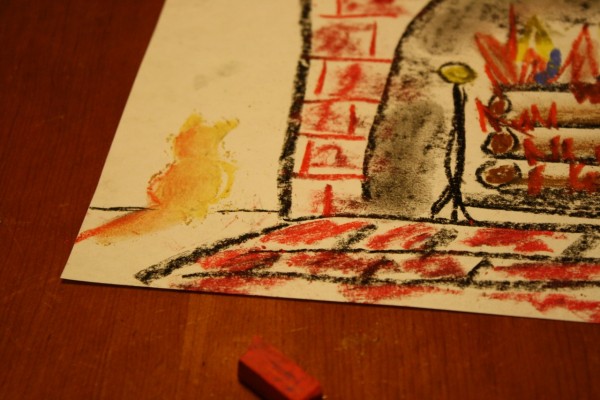 Our orange marmalade kitty loves when we build a warm fire. So he was added to the hearth. (Notice how the glow of the fireplace is on his side closest to the fire. Just a touch of white).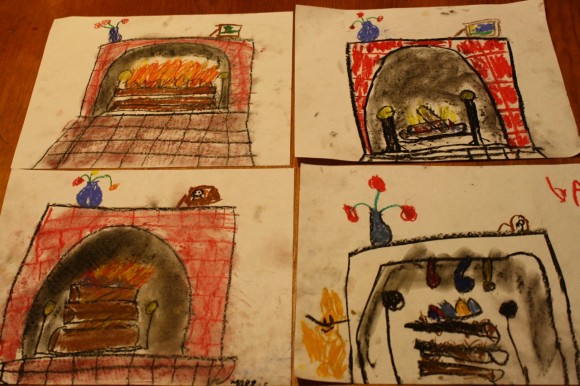 The results! Top left – 14yo; Top right, 12yo; Bottom left, 9yo; Bottom right, 6yo
Bonus: Maybe another time, you might enjoy a Mug of Hot Chocolate pastel lesson for warm winter fun!
Featuring You! You ARE an Artist!
So, paint your fireplace and be sure to share with us! Simply tag @chalkpastelart on social media, use the #YouAREanArtist hashtag, or upload a photo to the ChalkPastel.com Facebook page!
A note on chalk pastels: Pastels are an easy, forgiving medium. Fun for children and adults alike! Details on the pastels and paper we use, how and where to purchase, and links to all of Nana's other pastel lessons are here: 100+ Free Art Lessons for All Ages plus the video The Very Few Must Have Supplies for Chalk Pastel Art. A simple set is very affordable. Nana also teaches acrylic lessons.
The practical aspects of a mess: Pastels are blessedly messy. We always have baby wipes close by to wipe hands. We wear something we don't mind getting stained or don a smock.
Do you and your artists learn best with a video art tutorial? Find our Video Art Lessons at ChalkPastel.com!
-originally published January 2012