We just might see some snowflakes here in Georgia this winter. But in the meantime, we thought you'd enjoy a snowflakes chalk art tutorial with us. Snowflakes are SO much fun to make with chalk pastels. And once again, you ARE an artist and no two snowflakes are alike! Make a storm of snowflakes or simply a few floating.

This post contains affiliate links. Please see our disclosure policy.
Snowflakes Chalk Art Tutorial
You can make a snowy scene through your window. Or simply an outdoor scene with several snowflakes and the sun shining in the distance. Or you can take our suggestions and make anything you'd like.
Supplies Needed: blue or black construction paper and white, pink, light blue chalk pastels for frost, snowflakes and snowy scenes.
Our favorite chalk pastel snowflakes are the ones we painted as if we were looking through a window. Because that is when we get really excited here in the south. When we look through the window and see big, fat snowflakes!
First, draw your window panes. Just two – right down the middle of your paper. Then decide where your snowflakes will be. You will want some larger ones. Some floating. Some falling far off in the distance.

How to Draw a Snowflake in Chalk Pastels
To make a larger snowflake, you need to capture the detail. Start by sketching a hexagon or octagon in white chalk pastel. Fill in the center of your shape with the white chalk. From each angle, draw a line to extend your snowflake crystal. Then, simply add more little angles extending out.
Soften your snowflake by either blending the chalk with your finger or by turning your white chalk pastel on its side and skumbling over the snowflake. Or you can do both of these!
Use your white chalk pastel and make as many snowflakes as you'd like. Make snowflakes with pink and light blue if you'd like too!
Remember that there will be frost on your window – especially in the corners. So skumble some white or pink frost in the corners of your window panes. We added a swirl right through the center of the window's view. The effect of the wind blowing the snowflakes around in a swirl.
How to Make a Chalk Pastel Painting Your Own
Littlest Girl added some footprints in the snow because she knew that she and her brothers and sisters would have already been outside if there was that much snow on the ground! Also notice how realistic her chalk fingerprints make the window! And watch out – that sibling just threw a snow ball and it hit the window pane!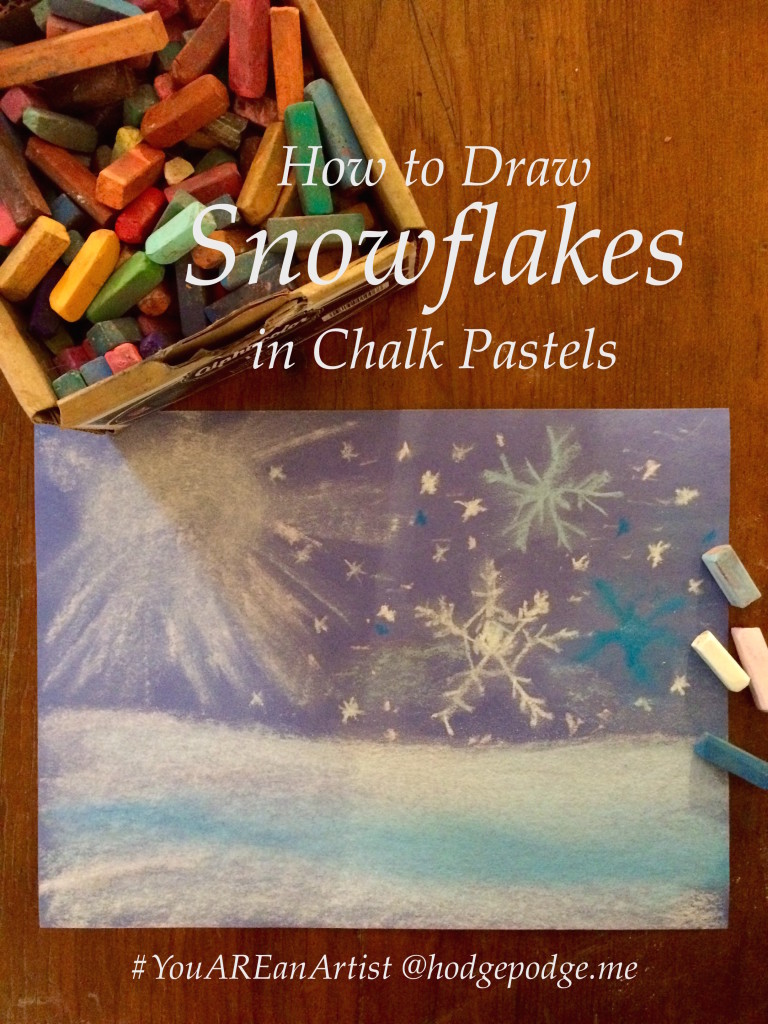 You might also like to create an outdoor scene with the sun shining and the snowy ground. This is just another option.
Update! We DID have snow and Littlest Girl captured snowflakes on black construction paper. (We put the construction paper in the freezer for a few minutes first.) See how each one is unique?
Southern snowflakes caught on a frozen piece of black construction paper. Gorgeous!! We thought of Snowflake Bentley.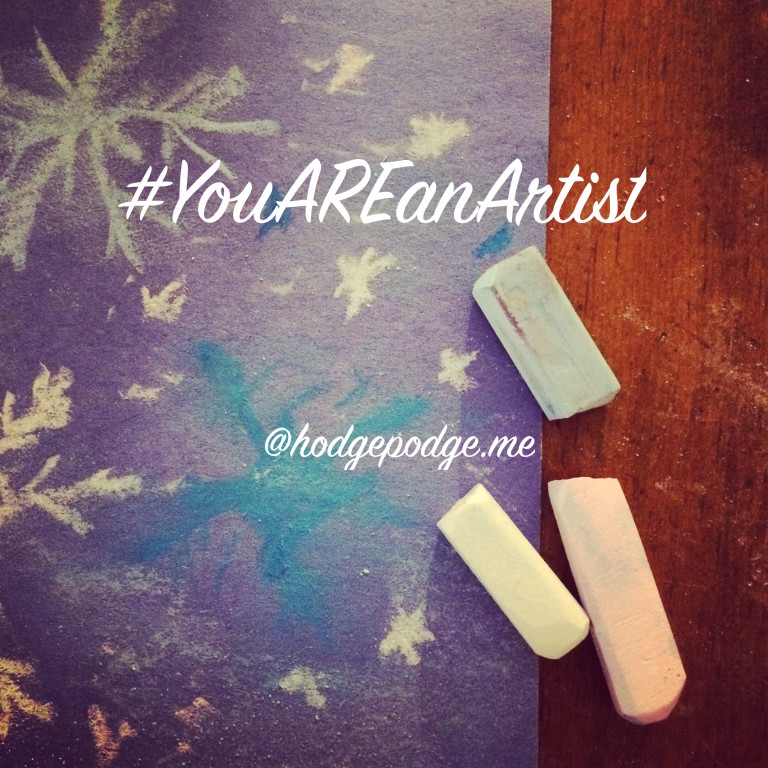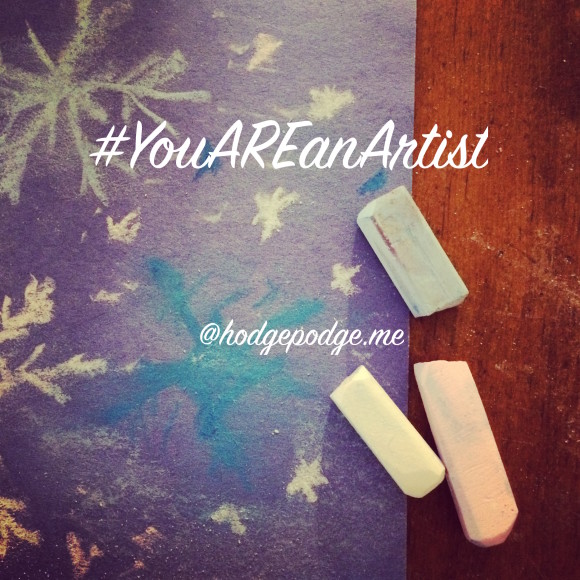 Featuring You! You ARE an Artist!
A note on chalk pastels: Pastels are an easy, forgiving medium. Fun for children and adults alike! Details on the pastels and paper we use, how and where to purchase, and links to all of Nana's other pastel lessons are here: 100+ Free Art Lessons for All Ages plus the video The Very Few Must Have Supplies for Chalk Pastel Art. A simple set is very affordable. Nana also teaches acrylic lessons.
The practical aspects of a mess: Pastels are blessedly messy. We always have baby wipes close by to wipe hands. We wear something we don't mind getting stained or don a smock.
—>> Subscribe to Hodgepodge so you won't miss any future art tutorials! <<—
Make a storm of chalk snowflakes!

-originally published January 2016