The last couple of weeks we've been enjoying Lentil in our Five in a Row studies. So, when Nana stopped by for a visit, we asked if there was some sort of art activity she might be able to show us. Maybe some Five in a Row art in five minutes?

Five in a Row Art in Five Minutes
We consulted the Five in a Row book and discussed how the illustrations were not pencil but charcoal. We didn't have any charcoal, so we turned to the familiar chalk pastel. A black chalk pastel stick.
As suggested in Five in a Row, Volume 1, we focused on shadows and facial expressions. Nana showed us very simply…
…how to first draw an oval for a face. Two round dots turned the same direction for eyes.
Some half circles on each side of the head for ears. Then nice straight lines for hair – be sure to add Lentil's cow lick! Then, decide which direction the sun is shining in your picture. Your shadows should be on the opposite side of Lentil's face.

Five in a Row Art in Five Minutes – Shading and Shadows
Take your already smudged finger and just gently create some shadows.

Lentil – Facial Expressions
We also talked about all the different expressions throughout the book. There was Colonel Carter, disappointed when the band wasn't able to welcome him. There was Old Sneep – always frowning and grumbly. Lentil's surprised face! Then there were all the happy faces of the townspeople when Colonel Carter said he would build a new hospital.
Our finished chalk pastel Lentil pictures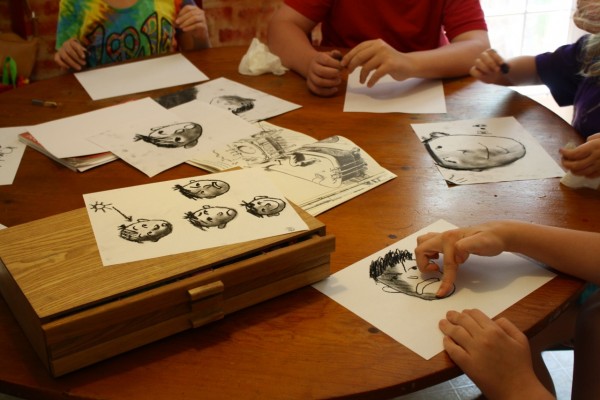 The actual art time only took about five minutes!
More art fun with children's books:
Enjoy!
<pin it!>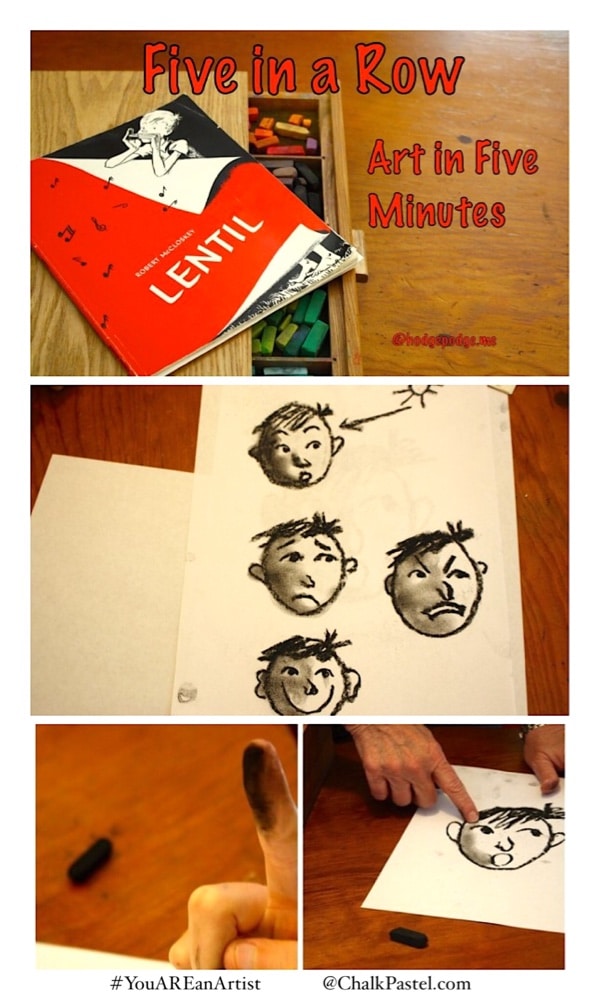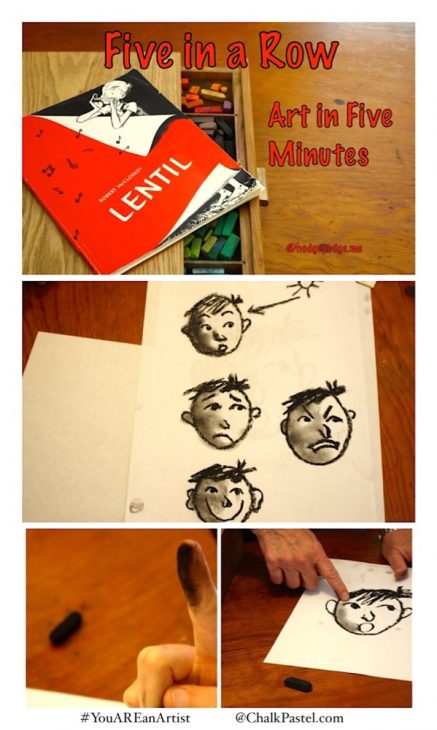 FEATURING YOU! YOU ARE AN ARTIST!
So, paint your Lentil art in five minutes and be sure to share with us! Simply tag @chalkpastelart on social media, use the #YouAREanArtist hashtag, or upload a photo to the ChalkPastel.com Facebook page!
A note on chalk pastels: Pastels are an easy, forgiving medium. Fun for children and adults alike! Details on the pastels and paper we use, how and where to purchase, and links to all of Nana's other pastel lessons are here: 100+ Free Art Lessons for All Ages plus the video The Very Few Must Have Supplies for Chalk Pastel Art. A simple set is very affordable. Nana also teaches acrylic lessons.
The practical aspects of a mess: Pastels are blessedly messy. We always have baby wipes close by to wipe hands. We wear something we don't mind getting stained or don a smock.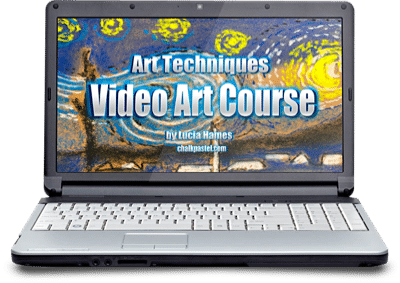 Do you and your artists learn best with a video art tutorial? Find our Video Art Lessons at ChalkPastel.com!
-originally published August 2012
Which expression will you make?