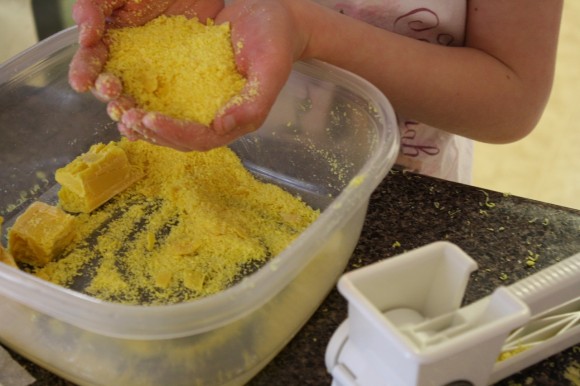 We did it! We tried making the powdered version of homemade laundry detergent. And in the grand tradition of batch sessions, Middle Girl suggested we double it!
It was easy. Just three ingredients using the Duggar's recipe. Plus, we found the Super Washing Soda high on the shelf at the local grocery, just like we did the Fels Naptha.
We first started making homemade laundry detergent back in August, when we made the liquid version. That batch lasted five months! The next time around we made a liquid version from a recipe from Raising Olives. I shared about it in a guest post over on Savings Cents with Sense. That recipe lasted us almost two months.
We've washed several loads with the powdered version since we made it last weekend. And you really only need to use one tablespoon per load! Plus, using the crank cheese grater does the best job. I sure can deal with making detergent every now and then for the savings (approx $132 in our home)!
One more homemade recipe to add to the Freedom of Frugal Living!