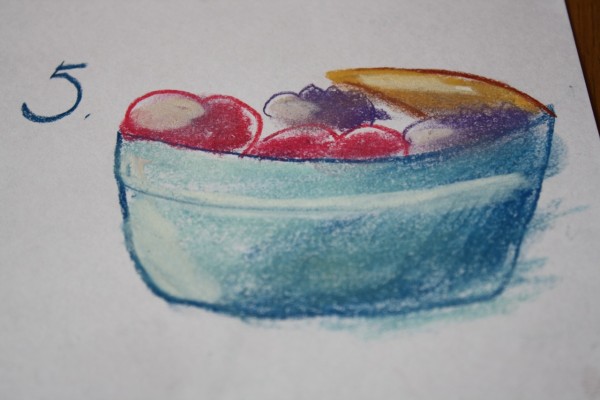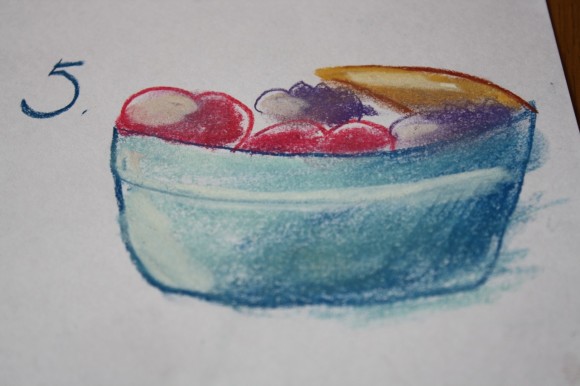 Tis the season for bushels of fruit! And, you may have known that it was coming. A bowl full of fruit from Nana's recent pastel lessons.
For the individual fruits, you may click over to:
But for this tutorial, you start with the beautiful blue bowl. Pick your prettiest blue chalk pastel – or feel free to make your bowl any color you'd like.
And, you will notice, that we did this pastel lesson just as you readers will be doing it. Following along on your computer or completing the steps from a print out of Nana's drawings! See, she drew this tutorial over a month ago, along with the others, and we saved it for now. We wanted to first learn how to do the individual fruits.
Don't you just love the rainbow of colors you will use?
When following the steps, remember to pick a side of your paper for a light source. And to leave some white for the sunshine to highlight your bowl.
You can made your bowl have a three-dimensional look about it by drawing a curve (like the banana) at the top.
See how Nana added some shading with just a touch of red or brown on the left of the bowl? Then blending in.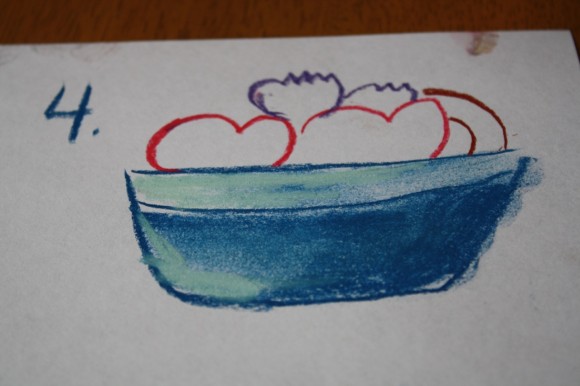 Oh delicious fruit is next! See how Nana started the outline of each fruit with its representative color?
Then fill in each fruit with just a bit of color and blend. Add the details (e.g., little black dots on your strawberries). Also, remember to leave a bit of white to show the light on each fruit (as explained in each of Nana's fruit tutorials).
(Eight-year-old's pastel. She added a table).
(13-year-old's fruit bowl)
(12-year-old's fruit bowl)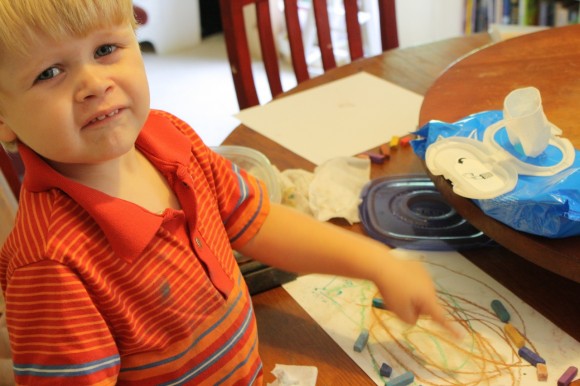 (Three-year-old said he was making Nana a road   🙂  )
(then he was off to play with his cars and trains – he's in the background while we finished up)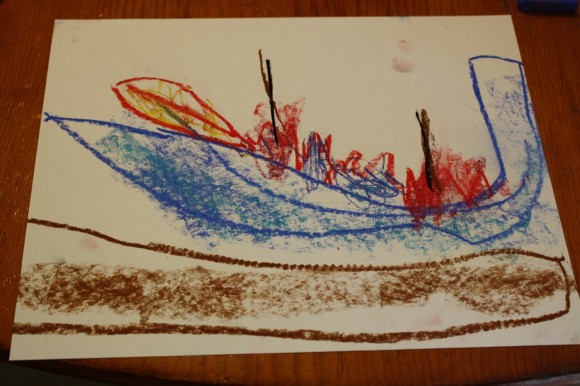 (Five-year-old's bowl of fruit)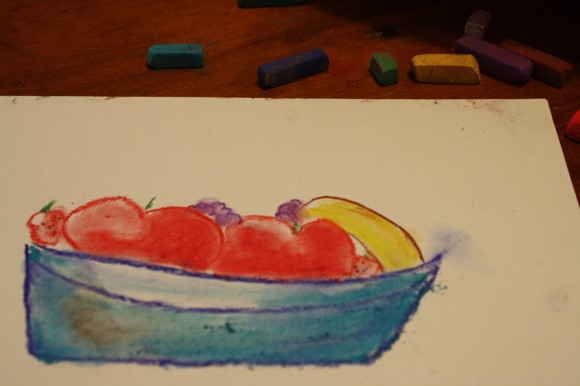 (Mama's bowl of fruit)
Remember to pick a color and sign your name in a bottom corner! Then it's time to clean up! We always keep the wipes close by! Thank you, Nana!

** A note – you will see a tomato included in the fruit bowl. That pastel lesson is coming – along with the tomatoes ripening on the vine. Fill in your fruit bowl any way you'd like to with your favorite fruit. You could make many strawberries. Maybe a peach in honor of us here in Georgia?
A note on chalk pastels: Pastels are an easy, forgiving medium. Fun for children and adults alike! Details on the pastels and paper we use, how and where to purchase, and links to all of Nana's other pastel lessons (over 20 now!) are all contained in the post Pastels plus links to tutorials. A simple set is very affordable.
The practical aspects of a mess: Pastels are blessedly messy. We always have baby wipes close by to wipe hands. We wear something we don't mind getting stained or don a smock.
So, what fruit do you think will fill up your bowl?