What fun to make a night time scene with chalk pastels! In time for a full harvest moon, Nana taught us a harvest moon nocturn pastel lesson.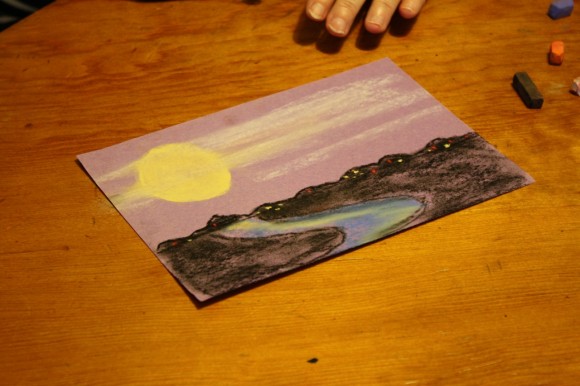 You can too…
Harvest Moon Nocturn: A Pastels Tutorial
Just gather your colors and a dark colored piece of paper. We chose both purple and dark blue paper.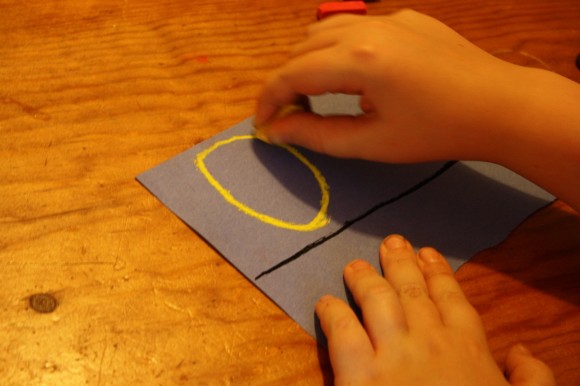 Take your black pastel stick and draw a nice, straight line across your paper. About 2/3 of the way down, leaving plenty of room for the night sky. Next, draw a nice, big, harvest moon. Fill it in, blending the yellow with your finger.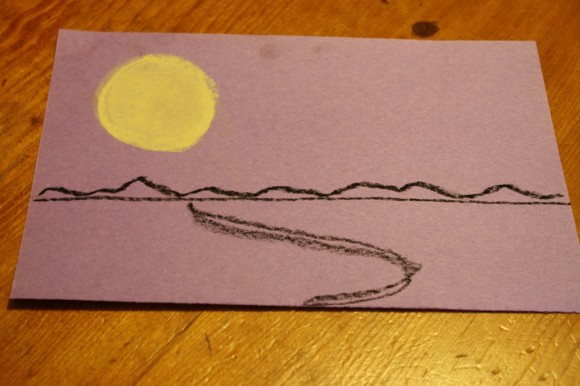 Draw some mountains in the distance, making interesting curves.
Then a curving river, using your black, make one side of the river then the other. Fill in your river with a rich, deep blue. Blend just a bit with your finger. Then use your yellow to create a reflection of the moon. (You may remember this technique from Nana's marsh pastel tutorial).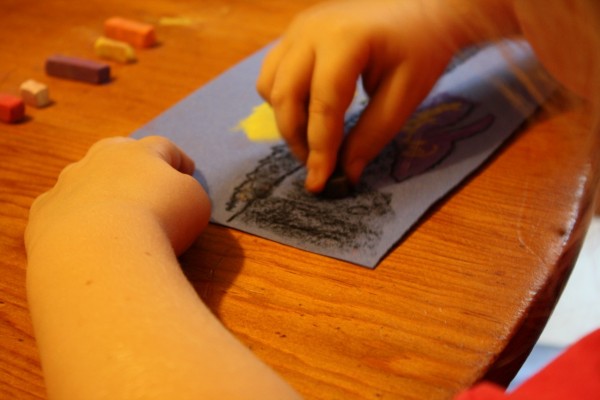 To complete the night time scene, take your black pastel stick, turn it on its side and skumble the field and the mountains. Fill it all in.
Use your fist or your finger to blend the black, making it smooth.
Next is another fun part. We'll make some twinkling night lights using red and yellow. Just s few small dots. Lights might be shining from some just a few houses at the base of the mountains.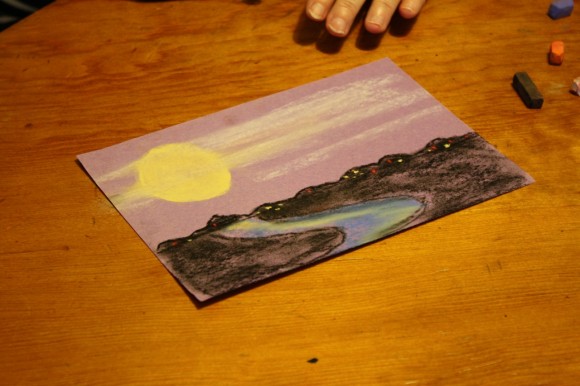 Now your evening sky needs some wispy clouds. So take your white and very lightly skumble in some clouds from the right hand side of your scene over across your moon.
You might even want to place just a few stars in the sky.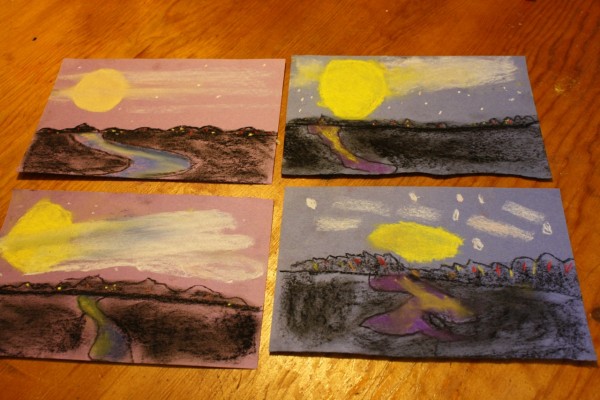 Our completed pictures. Top left – Nana's. Top right – 14-year-old. Bottom left – nine-year-old. Bottom right – five-year-old.
Pin it!
FEATURING YOU! YOU ARE AN ARTIST!
So, paint your harvest moon art and be sure to share with us! Simply tag @chalkpastelart on Instagram, use the #YouAREanArtist hashtag, or upload a photo to the ChalkPastel.com Facebook page!
A note on chalk pastels: Pastels are an easy, forgiving medium. Fun for children and adults alike! Details on the pastels and paper we use, how and where to purchase, and links to all of Nana's other pastel lessons are here: Our Favorite Chalk Pastels
The practical aspects of a mess: Pastels are blessedly messy. We always have baby wipes close by to wipe hands. We wear something we don't mind getting stained or don a smock.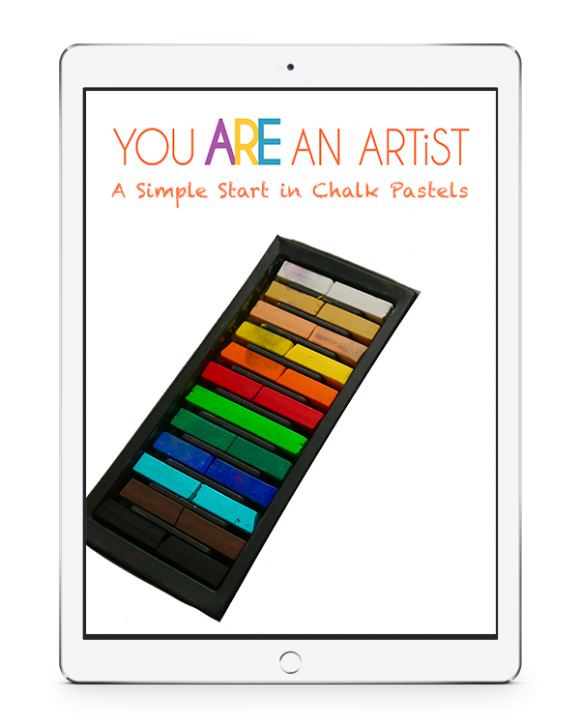 —>> Subscribe to Hodgepodge so you won't miss any future art tutorials! <<
-originally published November 2011