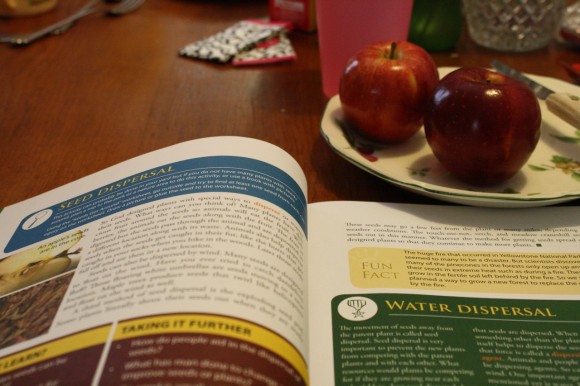 In recent weeks, I've shared about the homeschool habits that bless our day. Habits that are helpful for our house full and age range like our Before 8:45 Checklist and Morning Room Time. But the homeschool habit I'm sharing today changed my attitude more than anything else. See, I had decided there was no reason why we couldn't finish all our school work and be done by lunch time. (I know, I know.) Then, my friend Sonflower shared her 'one more thing after lunch' habit with me. Here's how it works for us.
While making lunch I gather a science lesson. I have the book ready to read from during or immediately after lunch. A captive audience! We read the science lesson from our God's Design for Science book. Then, we discuss what we've learned and, if applicable, we do a science experiment together. This takes all of about a half hour of extra time. This is also a great jumping off point for getting outside for a nature study. We've eaten, we've done one more thing and now we can burst outside!
Other, easy 'one more thing's we might do:
More on habits: Basically, anything else we'd like to accomplish but didn't get to during the morning hours. I hope to spotlight more of our helpful habits each week during our weekly wraps. For even more on habits, there's a wealth over at Habits for a Happy Home, a group blog sharing habits since 2009. Click Helpful Homeschool Habits.
Now the Weekly Wrap: This week at Hodgepodge was just the basics. We finished our required 180 days last week! I was letting all that I learned at GHEA homeschool convention soak into my brain and getting the booth kit shipped back to Tapestry of Grace.
Plus we are in the midst of plenty of preparations for a beautiful wedding! That means painting of toenails, readying of outfits and baking in prep for a Bridesmaids Luncheon. (Two lime cakes and lots of Mexican Roll Ups). Littlest girl is a flower girl. This mama, with the casual wardrobe, will be be decked out semi-formal. Middle Girl is passing out programs and Eldest Girl has the honor of lighting candles during the ceremony. Lots of photos to come!!
So, this week,  we concentrated on a trio – our Before 8:45, Math and English. Our 'one more thing after lunch' this week was one of these afternoon or evening activities:
Backyard cool in the plastic pool. It was very warm – like summer time here – this week!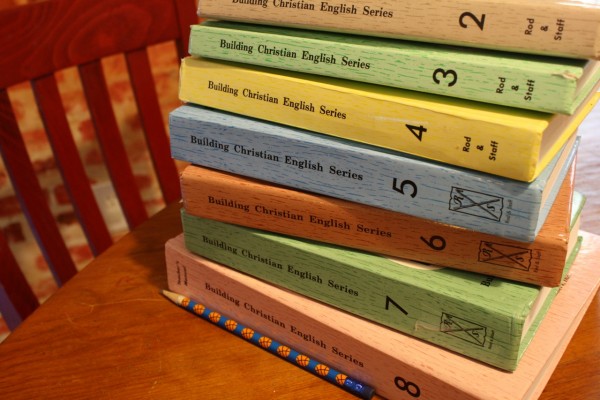 Drama, drama, drama practice. It's more and more as next week's performance approaches.
Piano practice for upcoming recital.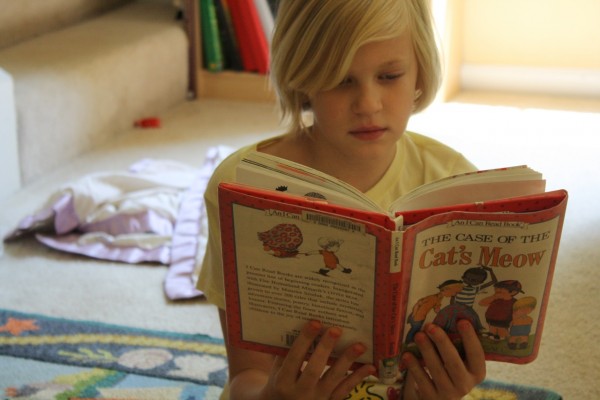 A trip to the library to load up on books.
Littlest girl found a fun stack of I Can Read books, eldest boy found Biggest Bugs (Life-Size!), eldest girl found anime books, Middle Girl found a Where's Waldo, Charlie and Lola and an Amelia Bedelia on CD to listen to during Quiet Time.
We spotted a northern flicker and a juvenile bluebird in the backyard one steamy afternoon.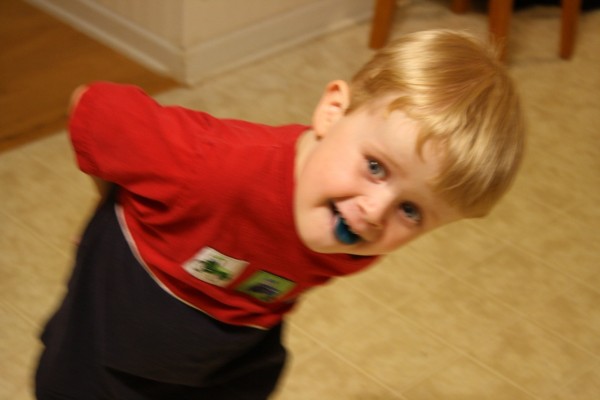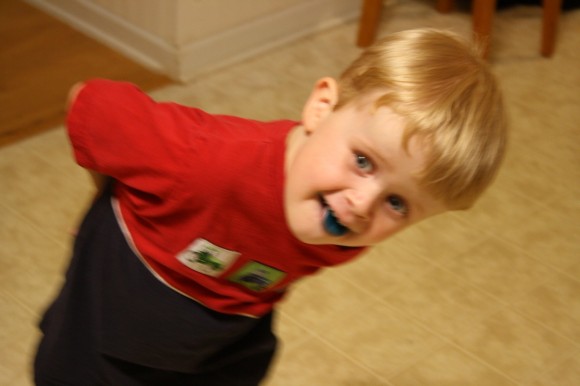 Oh! And Lil' Buddy got his first, real, go and sit in the chair – hair cut! Plus a blue lollipop for sitting so still.

Be sure to stop by Weird, Unsocialized Homeschoolers to see what others are up to.
So excited about the wedding! How about you. What are you looking forward to??
Save