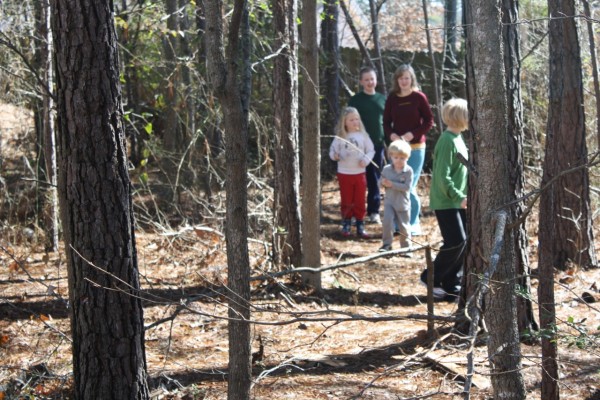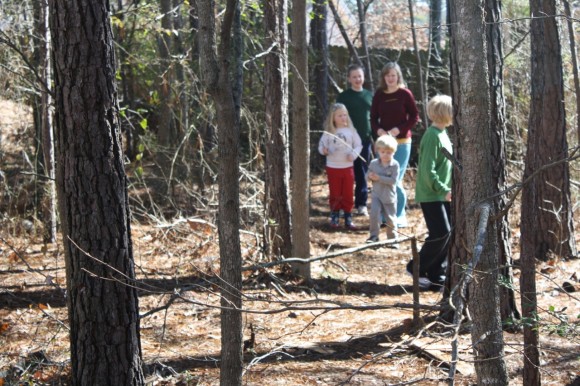 Favorite photo of the week – on our nature walk in the backyard.
We stayed close and really got to learning this week. You know, those afternoons when all of sudden it's time to make supper? Yep. Whew! One highlight – the two older girls tried out for the spring Drama Troupe production of The Jungle Book. Auditions included performing both a monologue and singing a capella.
In Math – more Teaching Textbooks (using our chalkboard desk to work out math problems)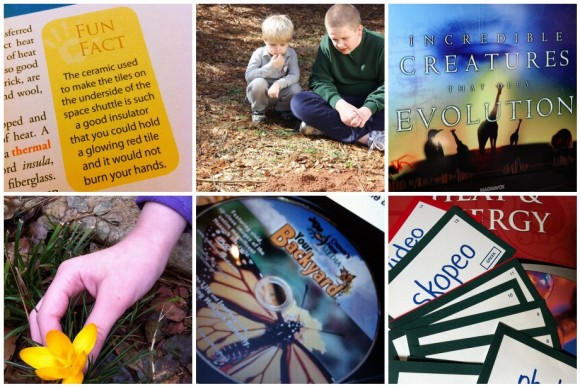 One More Thing After Lunch (a helpful habit for completing a few more subjects) Here's a few examples: 1. Answers in Genesis Science: Heat & Energy – conduction and convection | 2. Nature – we enjoyed a twig study (found an ant hill) and shared last week's winter bird study as well | 3. an afternoon Netflix selection: Incredible Creatures that Defy Evolution | 4. The first crocus! found on the way back in from piano lesson | 5. Monarch butterflies! a giveaway of Crowe's Nest Media DVD | 6. English from the Roots Up | Not pictured: Science/Nature – Apologia mushrooms and more flash cards.

Misc: Art Ditto – 1. matching fun with famous pieces of art | 2. Spelling with Spell Down app | 3. Making the Italian flag in pasta
Kindergartener was very busy this week: 1. Reading nursery rhymes| 2. hodge podge lodge was in her Alphaphonics lesson! | 3. A beautiful letter R | 4. and reading nursery rhymes
Tapestry/Literature/ Fine Arts – artist and composer studies – da Vinci and Handel, more reading of I, Juan Pareja and the Second Mrs. Giaconda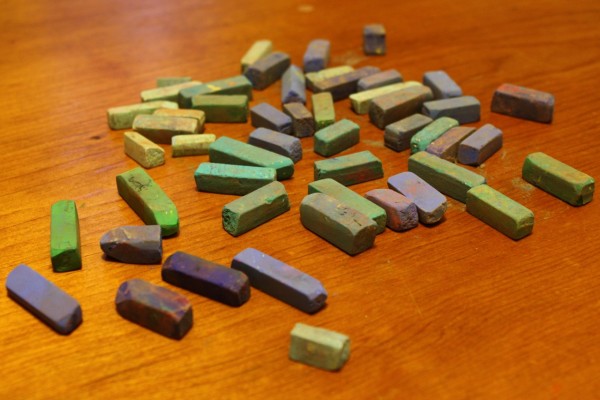 Nana stopped by for a different kind of pastel tutorial I think you'll really like!
Hodgepodgedad made the week by bringing glow sticks from a conference.
General Hodgepodge: 1. Reading Highlights magazines while waiting for big sis at the orthodontist | 2. working through workboxes | 3. Littlest Girl teaching Nana how to draw a crab step by step | 4. the spread after homeschool | 5. 4th grader working on handwriting and spelling
I shared a round up of Valentine ideas earlier in the week. It will be here before we know it! Today, on a quick trip to the store for Gatorade, we picked up boxes of Valentines to address to friends. Homeschool party soon!
Helpful habits: I shared a fun little habit we enjoy, The Power of Paint with Water at Habits for a Happy Home. Plus, we spent some refresher time on our Home Rules. An article posted at Passionate Purposeful Parenting earlier in the week reminded me to pull the home rules back out. You will enjoy it too: Teach Kids to Add Energy to Family Life
We were at the store because Lil' Buddy is under the weather. He's feeling some better this afternoon. I'm so very grateful for health. We made it through since October without sickness. Praise the Lord!
Many thanks to our Friday hostesses…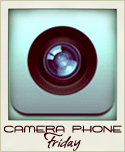 Camera Phone Friday hostess Dawn Camp @ My Home Sweet Home ,


Weekly Wrap-Up hostess Kris at Weird, Unsocialized Homeschoolers and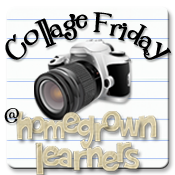 Settling in for a getting better sort of weekend. How was your week?