Oh I am such the rule follower. However, today I'm going to share about having simple holidays and breaking the rules. Also known as doing those to dos early. December is such a busy time in our homes and homeschools, why not move a few of those 'to-dos' to November? I did all of the following early the last several years. The only rule is to have fun!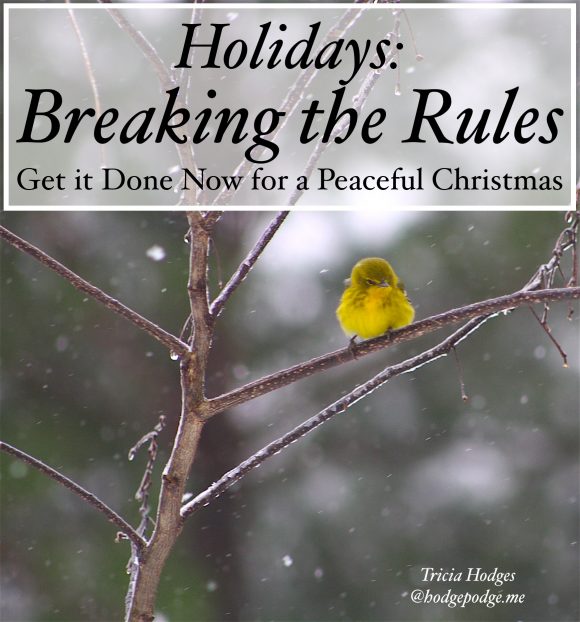 What a blessing it was to really enjoy the process of preparing our hearts for Christmas as well as be free in the month of December.
Simple Holidays and Breaking the Rules
Send cards early. We send Thanksgiving cards rather than Christmas cards. It really just gets greeting cards in the mail about a week early. We tell our friends and family how thankful we are for them! Cards are in the mail and you are on to cruising through the holidays.
Give teacher gifts early. We carry the same theme with church and extracurricular teachers. We give these special folks a little gift the week before Thanksgiving and let them know how much we appreciate them the whole year through. Teachers get so many gifts at Christmas. Giving something the week before Thanksgiving allows them to enjoy an early treat.
Grocery shop early. I pick up Christmas baking items I need in November when I do the Thanksgiving shopping. When we want to do Christmas cookies one day, we already have the ingredients we need. Pull out the sprinkles and go!
Break the Rules and Keep the Holidays Simple
Make Easy Recipes. Though I enjoy cooking, there is really no reason for a mama to wear herself out in the kitchen trying to make beautiful creations from a long list of ingredients.
These recipes are very simple to do at the last minute – some even in the microwave. White Christmas Snack, Southern Living Two Step Pound cake (divide into small loaf pans or cut cake in half and give to neighbors), microwave fudge.
Keep gift giving simple. Since there are so many cute, inexpensive gift ideas, I'm keeping a list over in Fun, Frugal Gift Ideas. I love the journal jar!
Play. Thanksgiving is just a month away now, so I had to feature this wonderful little find. I know I had my turn at the Kids' Thanksgiving table. How about you? "let your kids color their way to a festive Thanksgiving table." This looks like so much fun!
Enjoy This Time With Your Family. The whole point of breaking the rules, finishing items early and keeping it simple is for your and your family to enjoy this time of year. Make memories as you are making gifts for others. Laugh together as you have everything spread out. Put on the Christmas music a little early.
Remember, the only rule is to have fun!
Your turn! Please share your fun, easy holiday tips. Click to leave a comment.
~originally published at Habits for a Happy Home (which is now part of Hodgepodge).

Save
Save
Save
Save
Save
Save
Save
Save