I used to do this by opening a tube of store-bought cookie dough and squishing it flat in the shape of a circle. Baking it for 20 minutes then decorating. You can still do it that way.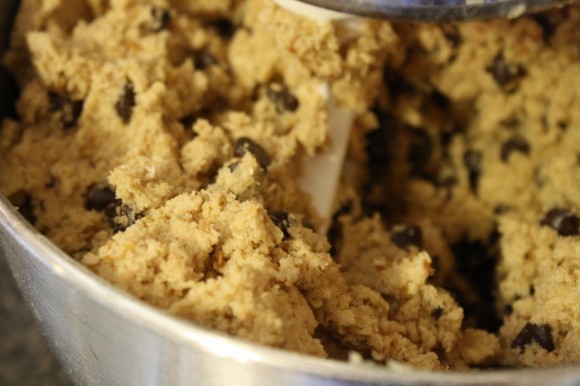 Now, because it tastes so much better and because of the allergies of our youngest two, I do it the homemade way. A few more steps but worth the effort.
I make a double batch of Flax-Oatmeal Cookie dough. (This recipe minus the coconut and nuts + egg substitute in place of eggs).
With the other half of the dough I make the cookie cake. I just figure while I have it all out I might as well double the recipe. This is a simple habit I wrote about in Back to basics: vacation planning. Doing the work now so that you don't have to next week 🙂  I get out my pizza pan and spread about a half inch thickness of dough to fill the pan.
The fingerprints give it a loving touch   🙂
Bake approximately 20 minutes at 350. The center should be soft and the sides not crisp.
Gather 'round, sing Happy Birthday and blow out the candles. Serve with your favorite side of ice cream.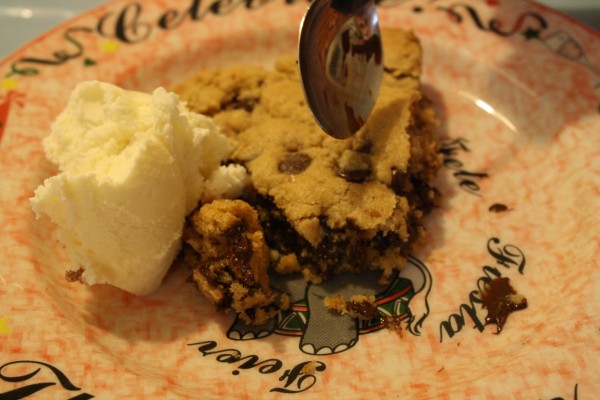 Celebrate egg free. Peanut/tree nut free too. Oh, and frugal! Around here we do Birthdays the Easy Way.