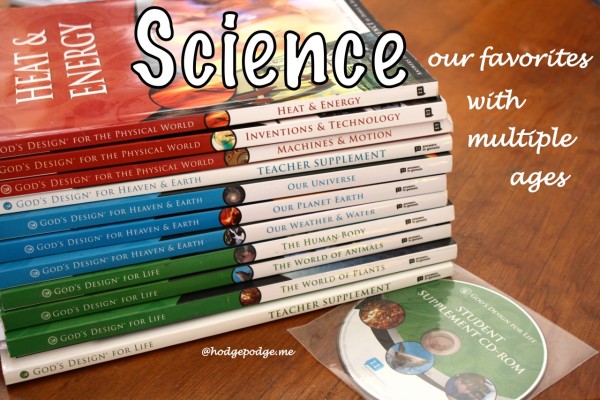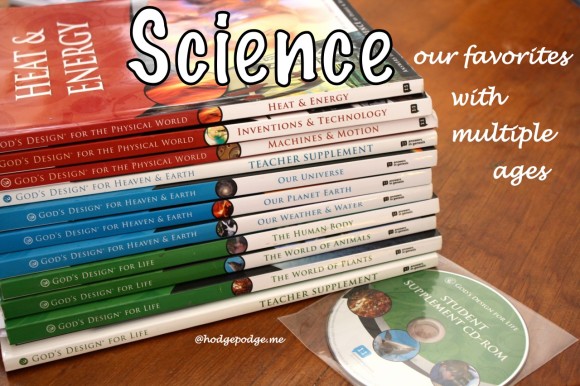 Is it time to do our science lesson yet?
We look forward to it. The reading of the science lesson during lunch. Not every day but most days we enjoy a lesson. We use several resources for all our ages. I'll share them with you today as well as how we work them into our days – for each of our ages. In each section, I'll share links to more how tos or reviews.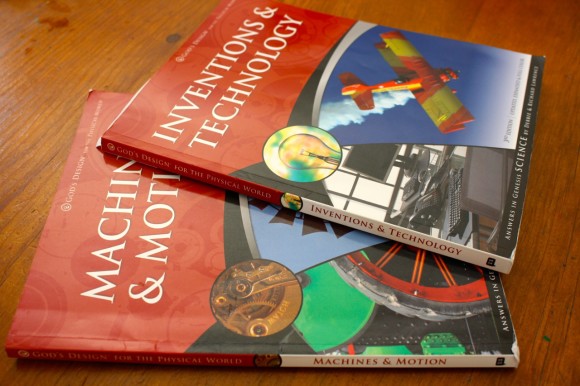 The children received a set of science books as a Christmas gift two different years. Eldest Boy specifically asked for God's Design for Heaven and Earth for his 'something to read' gift.
Answers in Genesis (AiG) God's Design for Science
Answers in Genesis God's Design for Science series makes it something to look forward to. We've been through several of the unit studies that make up a year of science. Lately we've picked subjects to complement our Tapestry of Grace history studies. This year that is God's Design for the Physical World.
And we study with all our ages. Yes, our older two still enjoy these and join in even though they are doing their own Apologia Biology studies. You just can't have too much science in my opinion. The lessons are just the right length for me to read aloud to our age range.
We either push back the lunch dishes and read a lesson right there or move to the family room couches. The younger ones can play while we learn a lesson. There are questions for discussion, suggestions for an experiment. Often our favorite part of the lesson is the Fun Facts highlighted in the rectangular boxes on the page.
Fun Fact: The patent for the fax machine was granted 33 years before a patent was granted for the telephone. Remember, the first fax machine used telegraph wires, not phone lines.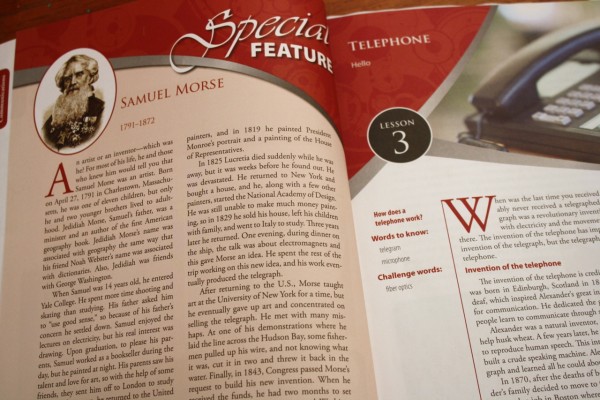 There are special sections in each unit study and in most lessons which highlight an inventor or scientist. These are easy for the eldest children to read on their own for further study and often go along nicely with our history studies. For example, the lesson on airplanes in Inventions and Technology is followed by a Special Feature on the Wright brothers.
Apologia Biology
Our eldest two children, 8th and 9th grade respectively, are studying Apologia Biology. I've shared our times with the microscope this year. The younger ones aren't missing out on any of the action  🙂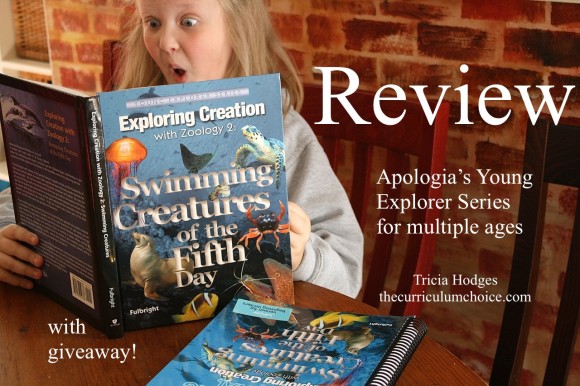 And, for the 2013-14 homeschool year we have thoroughly enjoyed our marine biology studies with all our ages.
Nature Studies
How many times have I said how wonderfully our 'formal' science studies blend so well with the topics of our nature study? It's a joy and just natural!
Field Guides, Magazines and iPad Apps
Science Fair Projects
We have a wonderful Homeschool Expo coming up next month with our homeschool group. We've picked science fair projects that are a natural extension of what we are already studying – either an AiG, Apologia or nature study topic. I've encouraged the children to pick something they absolutely love to study because they will naturally do the study on their own with just a little bit of help with me. It's fun to watch how these are developing. And it's still a debate as to whether we'll share Middle Girl's salt dough model of Mt. St. Helen's on our family table or as a family science fair project. We learned so much and thoroughly enjoyed Amanda Bennett's Volatile Volcanoes unit study!
Of course science was just a part of our week. Here's a collage with a peek into more of what we enjoyed. 1. Pirates of Caribbean and Taylor Swift on the piano | 2. She's telling the story of Easter with the resurrection eggs she made in Sunday School | 3. That's a serious city! |4.-7. Pictures of Afternoon Quiet Time happenings – some reading Tapestry of Grace books | 8. Amon's Adventure: A Family Story for Easter – oh it is so exciting! |9. Viewing a slideshow of artist John Constable and 10. Listening to Brahms with Harmony Fine Arts studies | 11. A sweet Easter card from my grandmother, Mama Ann | 12. It's puzzling – siblings gathered around a USA puzzle.
On Fridays I've been sharing how we homeschool multiple ages in specific subjects. Did you miss these? Writing Workshop with Multiple Ages, Nature Study with Multiple Ages, How to Homeschool Preschoolers and more in our homeschool category.
Many thanks to our Friday hostesses!
Of course this doesn't include ALL the science resources we enjoy. What are your favorites?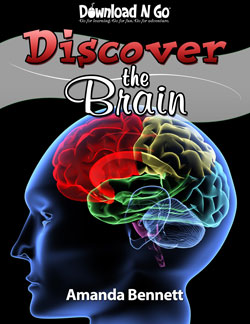 Unit Studies by Amanda Bennett: Your Passport to Learning Adventures! A big thank you to Amanda Bennett for her generosity with Curriculum Choice readers and for being our Southern Hodgepodge sponsor this month. I'm so excited about the Discover the Brain releasing next week!