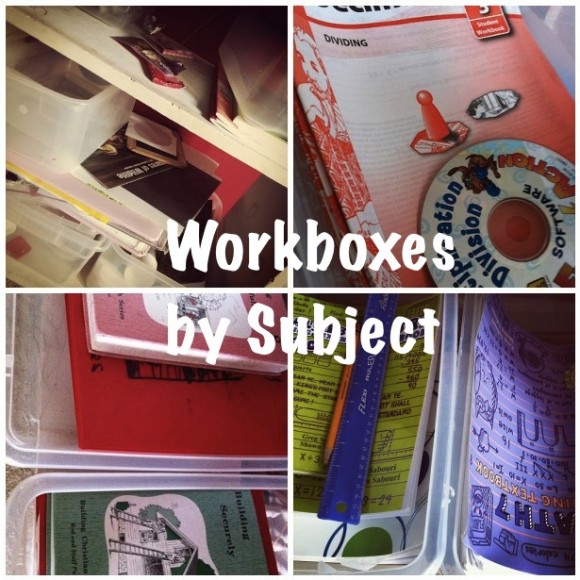 In the last weeks of school we realized something. Our homeschool room organization was off. Well, not only had we not kept up with the paper overflow but we realized we'd outgrown the current system. See, we still use workboxes with the younger three children. And a few here and there for the older two for specific purposes, like art supplies.
Make Workboxes Work For You
So, we pulled everything off the shelves (Aaaaa! That always hits me with a bit of overwhelm) and reworked the hodgepodge. Here's the big realization: We realized that the workboxes would be most useful organized by subject. Rather than each child having a separate spot and their own workboxes – we arranged subject areas. Learning centers, maybe? So, now all the Language Arts is in one area. All the Math (and pencils!)
Rather than three separate areas for three children, we now have:
one area for all five children's math. (Teaching Textbooks math cases and disks in workboxes to the right of the computer)
all the language arts in workboxes on the left hand side of the desk.
all the preschool and now first grade! workboxes on the big bookcase – down low where the younger two can reach them.
This reorganization will still need some tweaking and prep over the summer. But that's basically it. And it makes sense. I encourage you to make those workboxes work for you!
Math on the right hand side of the chalkboard desk. Language arts on the left hand side.
We still have the other subjects in the family room in our IKEA bookcase basket cubbies. All our Tapestry of Grace materials mostly in one bookcase. And a science and nature bookcase (the most used bookcase – right beside the kitchen table). Plus IKEA baskets on either side of the family room couch for Bible studies, notebooks and crafty things. I shared about all these over this last year. Because you might be like us – moving things around now and then to fit your needs, you might be interested in:
Here's a quick look at the rest of the week with a Hodgepodge collage…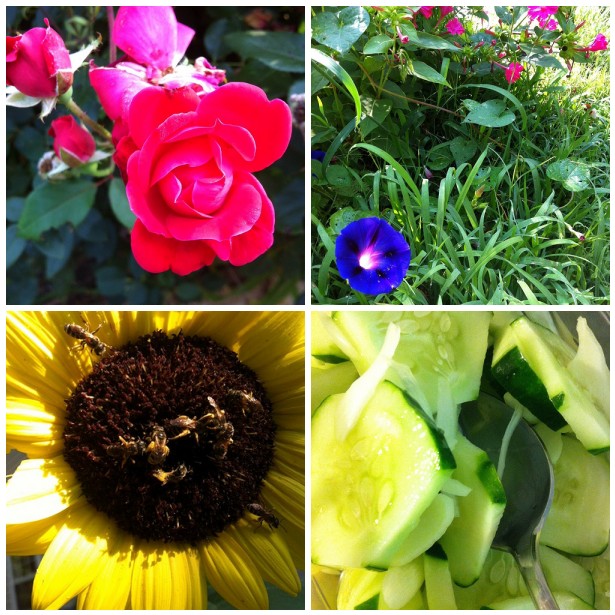 Summer has so much to do with outside and we are enjoying the beauty! 1. Hello beautiful little rose in the front yard. | 2. Morning glory mingles with four o' clocks | 3. Honeybees are happy on our sunflower | 4. Cucumber and vinegar salad side for supper – thanks to Middle Girl's garden bounty!
More Hodgepodge from this week… 1. Circle Art fun from Skip to My Lou Craft Camp (you must do it too) | 2. (I love this photo so much) Happy Father's Day Daddy! | 3. Two girls serve us supper – taking our orders and serving in courses | 4. Cool pool guy
And a quote from the Bible study I'm enjoying from my Sunday school class…
"What can you do differently today to "scrape the plate" – to gather up all the good things around you and begin enjoying the journey of your life?" ~ Priscilla Shirer, The Resolution for Women
Many thanks to our Friday hostesses!
What summer fun is filling your days? Have you reorganized anything for school yet? Or – do you also homeschool all over the house and everywhere?