Warning
: Trying to access array offset on value of type null in
/home/n0c986d/public_html/hodgepodge/wp-content/plugins/amazon-associates-link-builder/vendor/mustache/mustache/src/Mustache/Parser.php
on line
278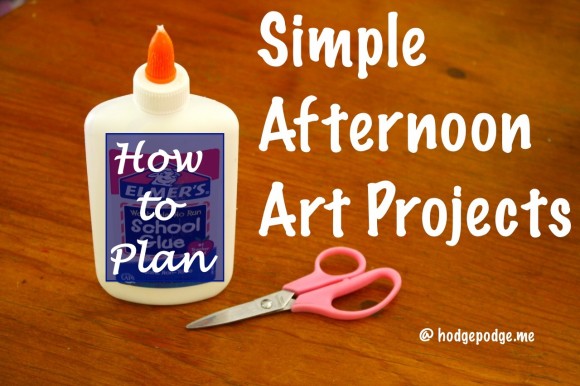 Simple afternoon art projects? Just getting through a school day can be overwhelming. And here I am sharing about art projects? Well, rest assured I entitled this planning post Simple Afternoon Art Projects for practical purposes. Because I know. I know about trying to be a fun mom and wanting to give my children opportunity to enjoy art. In fact this planning post is an extension of my Simple Afternoon Art Projects from last summer.
So, first of all you just need to decide to have fun. Attitude goes a long way towards actually doing art projects. Just pat yourself on the back and agree that yes, there will be a mess (I have tips for that!) Next..

Pull ideas from your regular curriculum
Likely your curriculum offers art activities that complement your already planned studies. A few times a semester I set aside days to enjoy hands on arts and activities from our Tapestry of Grace curriculum. Salt dough maps, a paper mache globe and more ideas in Hands on Geography for Multiple Ages. I am all for combining subjects and accomplishing many much at once!
We also enjoy:
Harmony Fine Arts (HFA) Plans for Music and Art Appreciation – I shared a review of this wonderful resource. It's the icing on our homeschool. The enrichment we look forward to! We enjoy this resource – one year plan with all our ages. Barb-Harmony Art Mom has done all the work for you. Art and music appreciation at your finger tips!
Home Art Studio (an example of a Home Art Studio project we enjoyed is pictured below. This DVD based art curriculum is fabulous. We have made a tertiary color wheel, chalk pastel pumpkins, watercolor resist vegetables and more! Our DVD is for 3rd grade but all our ages have completed the projects together. Very adaptable! Click over to the site for introductory videos. Plus, if you upload a picture of your artwork Ms Volin will comment.)
Drawing Basics by Thomas Kinkade – an Alpha Omega Lifepac
Hearts and Trees kits
Earth Paints review – we are still enjoying those all-natural paint packets!

Create a Pinterest inspiration board or follow others who have already collected ideas.
I have a catch all art Pinterest board I scroll through for inspiration. Many of the activities we can do with little prep and in less than half an hour. The smiles are completely worth it!
Clear your calendar.
Plan an afternoon free of other commitments so you and the children don't feel rushed. Decide if the afternoon you choose will be once a week or whatever works best for your schedule.

Gather your supplies.
Have everything at the ready, including the baby wipes.
Use simple supplies that make it easy. Paper plates for a palette. Recycled jar for a water cup.
Set aside a cabinet shelf for supplies. You might even consider having them in easy reach for your children.

Make Gifts.
Throughout the year there are plenty of opportunities to create something to give for birthday, Mother's Day, Father's Day and just a sweet something to brighten a grandparent's mailbox. Be intentional and ask your children to create something with a loved one in mind. Even make the wrapping paper!
Plan to be spontaneous.
Mama, can I paint? Yes! You can say yes if you have supplies on hand. Paint with water, watercolors.
Glue pictures. Spend some time helping your child cut pieces of construction paper, cut out pictures from magazines (or recruit an older child to do this). Save all your pieces to have on hand for spur of the moment glue pictures. We follow the 'dot is a lot' rule with glue. And for little ones and big ones alike, gluing brings great pleasure.
Plan some just for fun. Just because they look good!
More how to planning posts:
I've also gathered some Easy Art Projects for Winter all in one spot for you.

Plus, I am super excited to announce that our very first ebook is now available. A Simple Start in Chalk Pastels came about as a result of readers asking for our chalk pastel tutorials all in one easy spot. Our ebook contains enough tutorials to do one new one a week – for an entire school year. Of course, I think chalk pastels are a very easy way to add afternoon art projects. We've done the planning for you. Click over to chalkpastel.com to read more about it!
Be sure to visit all the other 'how to' planning posts shared by iHomeschool Network bloggers!
How about you? What is your favorite simple afternoon art activity to do with your children?