I am sharing some favorite tips and resources for how to start a homeschool routine. A dear reader, Kimberly, asked: "Any advice on starting a homeschool routine for the first time? For us, it's kindergarten so our first "school" day routine ever! I'm wondering how to make the transition from six years of all day, all play!" Kimberly gave me permission to share her question with you, along with my answer for starting a homeschool day.


How to Start a Homeschool Routine
Oh how exciting Kimberly! In all our years of starting to homeschool younger children, we have found that play is important. You can easily start a homeschool routine and make it all a natural part of your homeschool day.
When we are starting out with our very youngest ones, we can do the 'school work' throughout the homeschool day. This is also true for our older kids! The important thing is to take little breaks or to break the homeschool day into short increments: 15 minutes here, a fun break, fifteen minutes there, a snack. Later in the day – a read aloud in the afternoon or even at bedtime.

Sample Homeschool Routine
Here is a simple run down of what a typical homeschool routine or homeschool morning might look like for our preschooler and first grader. An example of a homeschool daily schedule:
We start with our Before 8:45 checklist. (You can just hang out here for a while! I highly recommend Vicki Bentley's Everyday Homemaking.) And I share more in Helpful Homeschool Habits.
Next, I sit in between our younger two and read the Rod & Staff Bible Stories to Read (while four-year-old colors in his accompanying Bible Stores to Color).
First grader works on the Saxon 1st Grade math calendar (whatever math curriculum you use). A K/1st grader is always excited about getting to 'do school.'
When preschooler finishes up his Bible coloring, he might join in math time, playing with the math manipulatives first grader and I are using. We finish up the math lesson for the day.
Preschooler enjoys one page of a Rod and Staff workbook. (He loves Samuel and Sarah and is practicing drawing lines, beginning at the start dot).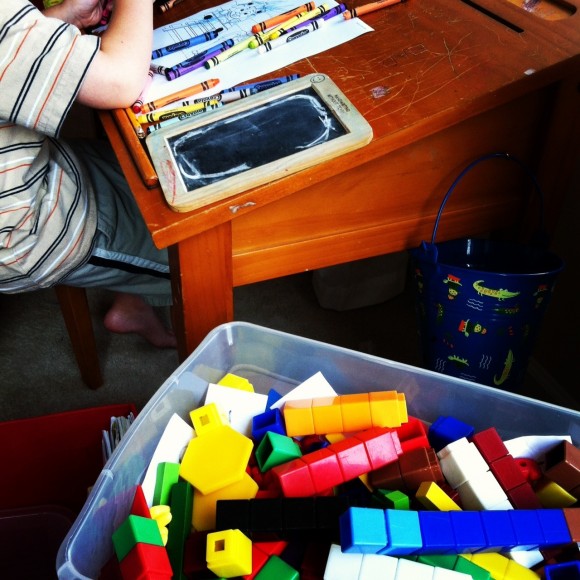 Keep Homeschool Simple – Just the Three Rs
Did you notice we only do Bible, along with math, phonics and handwriting? I strongly suggest that, at this age, you major in the 3 Rs – reading, writing and arithmetic. Go to the library and load up on books. Snuggle on the couch. Get outside. Others may offer different advice but that is what works best for us.

More Helpful Habits for Building a Homeschool Routine
How do my younger two sit still or even begin to do the 3 Rs? Rewind to babies up to age four. May I say that the morning room time habit (whether it be in a bedroom or a corner of the family room or whatever works best for your family) truly builds the habit of focused learning. If a preschooler is practiced in a small amount of quiet, learning play, then he or she will understand, quite naturally, the next step of learning.
Even with my youngest, now age four, I continue to be amazed at how morning room time blesses us all. Just yesterday, we were all gathered around the table for lunch. I pulled out our 'one more thing after lunch' which was Harmony Fine Arts. Littlest Guy stayed and sketched as long as he was interested – which was about five minutes, tops. That's ok because guess what? He hopped down from the table, and sat in the floor with his cars. He rolled those cars close by. And he listened. He turned his little face upward and chimed in now and then. He listened and learned.
I looked down at him, sitting there rolling his cars and I had a flashback of morning room time when he was just a little over a year old.
I share more detail on our homeschool routine – including what works with our little ones, in these posts:
The youngest are part of the action. And, yes, I am tired at the end of the day and there are sibling squabbles and plenty character training opportunities. But I am privileged to have them all together, constantly tweaking our routine to meet the needs of the age range. Etch it all in your memories, friends.

Do not stress if you find yourself with a four-year-old or kindergartener and did not practice morning room time. My best advice at this age and stage is above: short time increments and learning built into your day. Maybe afternoon quiet time might be the blessing at this age and stage.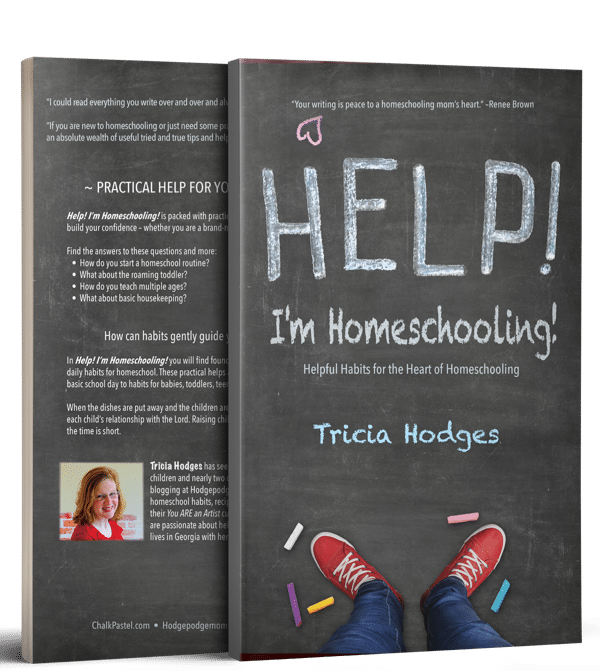 Need more helpful homeschool habits? Help! I'm Homeschooling! has all our best in one spot.

Want future homeschool helps? Subscribe to Hodgepodge
What homeschool routine habits bless your homeschool?
Save