A wonderful way to introduce and encourage children in a love of art is to do a project around a beloved book. We have long loved I Am An Artist by Pat L. Collins from our Before Five in a Row studies. Nana adores the book too and she especially likes the very last page. Today, she shares her tutorial with you. Here's Nana with her I Am An Artist Chalk Pastel Art Tutorial…
"Every artist was first an amateur." ~ Ralph Waldo Emerson

I Am An Artist Chalk Pastel Art Tutorial
This pastel was absolutely one of our favorites!  We loved the wonderful pictures in the "I am an Artist"  book and decided to try to draw the hands and eye!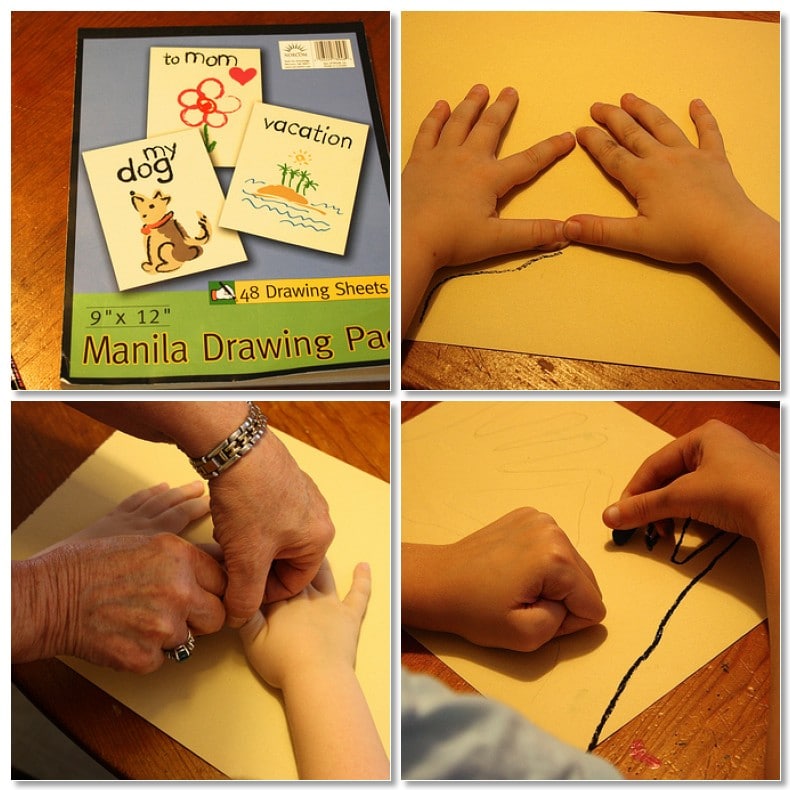 We used plain, ol' manila paper for this project.
I told the students to place their hands down on the paper and put their fingers apart and make a triangle with their two forefingers and thumbs.  You can have someone trace around the hands and fingers, be sure to add a bit of your arms if possible to make it realistic.  Do the tracing with a pencil, and you can outline the hands and arms last with a black pastel so it won't smudge as you are working on your picture.
After the hands are drawn, you are to put the eye in the triangle space between the thumbs and forefingers.  Make an oval for the eye shape.  You need to draw three circles right in the middle of the eye for the Iris, pupil and the "light" of the eye.  Make the outside circle the color of your eye, blue, brown or green…make it your eye color!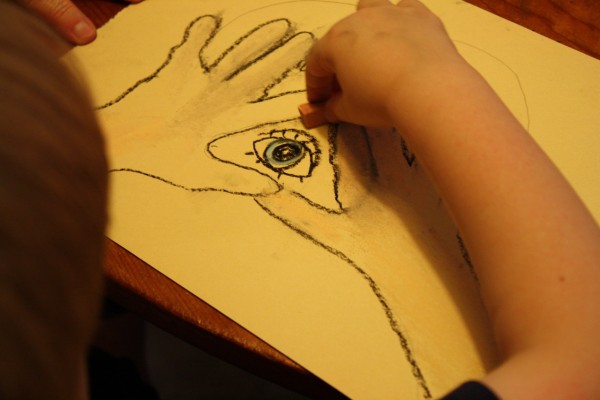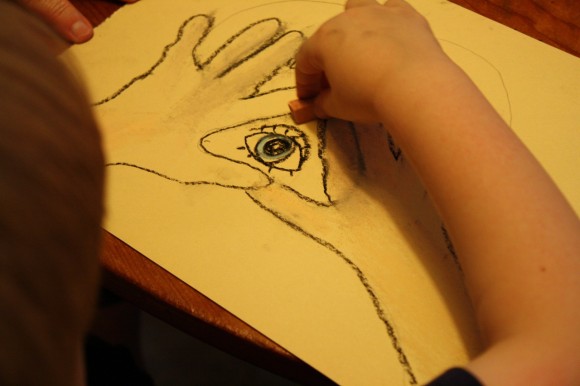 Five-year-old adding color to his arms and hands.
The pupil is next, use your black pastel, color it in…be careful and not get black on the last tiny circle, that is where the "spark" or "life-light" of the eye is located.  Put an eyelid right over the eye, make it thin and light…no "Cleopatra" eyes!  Put some eyelashes on the top of the eye and the bottom…again, lightly.
You need to color your hands and arms!  If you have freckles, put some of those on too!  If you have dark, rich skin, pink skin, brown or if you have a scar from a fall off of your bike…put it on your hands.  Remember, you fingernails are facing your face and they will not be seen.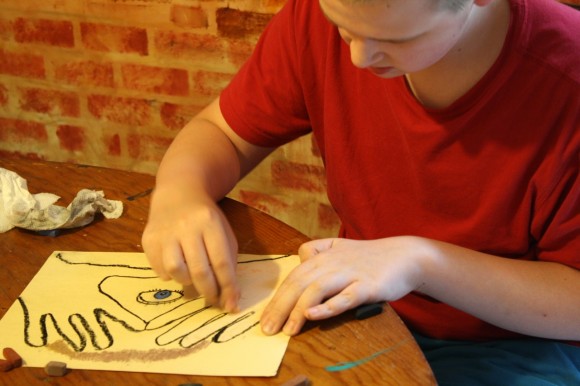 How about some hair at the top of the head?  Curls, braids, ponytails, spiked hair…make the best hairstyle that you have!  Now is the time to outline the hands because you are about through with your painting and won't smudge your work!
Remember, turn your painting over and name your painting…We called ours "I Spy You"…..date it…put your name in the corner of the painting on the front .  Beautiful job!  And….YOU are an ARTIST!!!!!!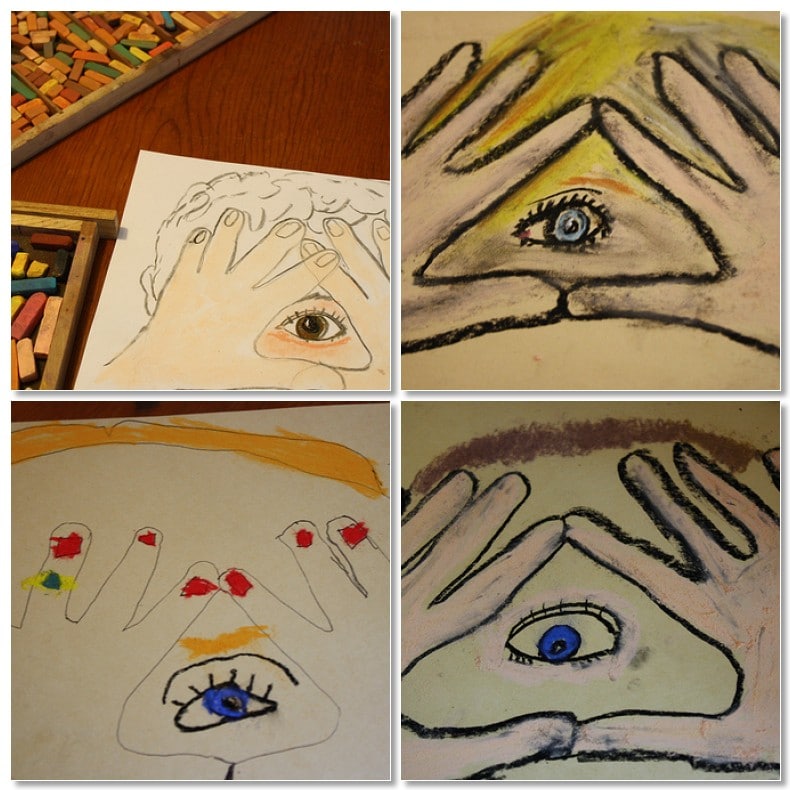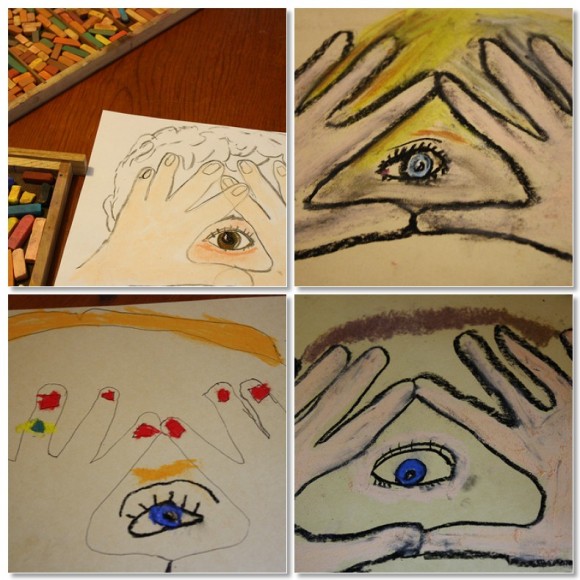 Finished I Spy You chalk pastel paintings –  Top left to right: by Nana, by 10-year-old, by seven-year-old, by 14-year-old.
You can find (my affiliate link) I Am An Artist on Amazon. It's one we've treasured since the early days of our homeschooling!
You and your children might also enjoy some of these Book and a Big Idea art tutorials from our archives:
This post is part of A Book and a Big Idea…
Be sure to visit and pin each of these wonderful books and projects from fellow iHomeschool Network homeschoolers!
FEATURING YOU! YOU ARE AN ARTIST!
So, paint your I Am An Artist art and be sure to share with us! Simply tag @chalkpastelart on social media, use the #YouAREanArtist hashtag, or upload a photo to the ChalkPastel.com Facebook page!
A note on chalk pastels: Pastels are an easy, forgiving medium. Fun for children and adults alike! Details on the pastels and paper we use, how and where to purchase, and links to all of Nana's other pastel lessons are here: 100+ Free Art Lessons for All Ages plus the video The Very Few Must Have Supplies for Chalk Pastel Art. A simple set is very affordable. Nana also teaches acrylic lessons.
The practical aspects of a mess: Pastels are blessedly messy. We always have baby wipes close by to wipe hands. We wear something we don't mind getting stained or don a smock.
Do you and your artists learn best with a video art tutorial? Find our Video Art Lessons at ChalkPastel.com!
<Pin it!>
Have you subscribed to Hodgepodge yet to get your exclusive, FREE, subscriber-only art tutorials? Do you enjoy doing some type of project along with a favorite book to extend the learning?
-originally published 2013