You may have noticed that we have been choosing art projects to go along with the younger children's Five in a Row studies. Well, today we share Madeline Chalk Pastel Fun.

In an old house in Paris that was covered with vines…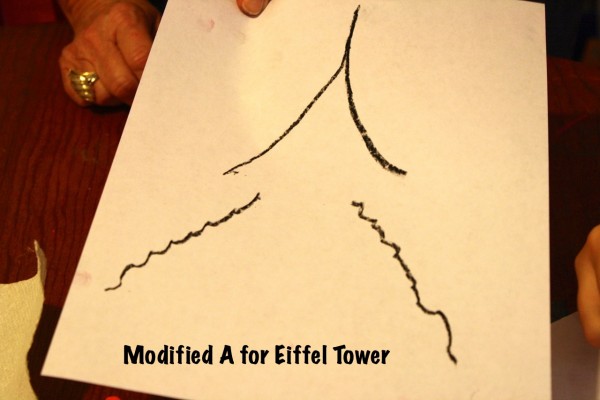 Madeline Chalk Pastel Fun
We studied the cover of the Madeline book. We noticed the road, the perspective. The road narrows as it draws your eye to the Eiffel Tower. (We remembered how to do this from our To The Woods Chalk Pastel). Nana pointed out that the Eiffel Tower is sort of a modified A. So we drew the basic outline of the tower.
…lived twelve little girls in two straight lines…
Then more detail on the tower.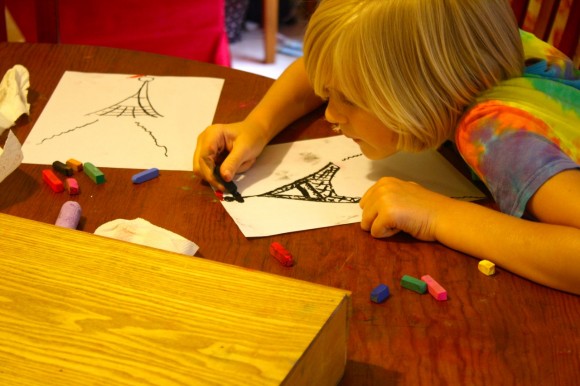 We continued to look at the Madeline book cover and sketch what we saw. The French flag flying atop the tower…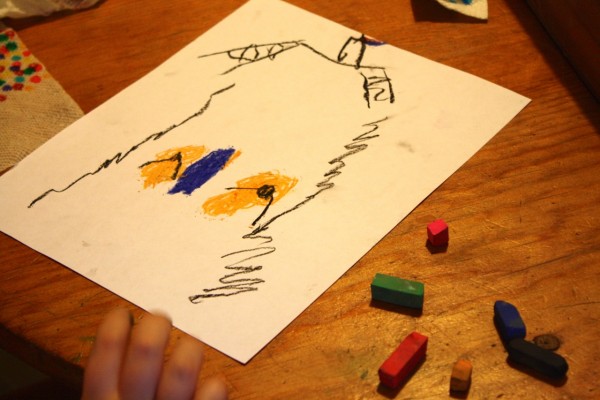 Next we turned our attention to Miss Clavel and the twelve little girls. We picked our colors and sketched the simple shapes, counting, adding a circle for a hat, blue for Miss Clavel…
…the smallest one was Madeline…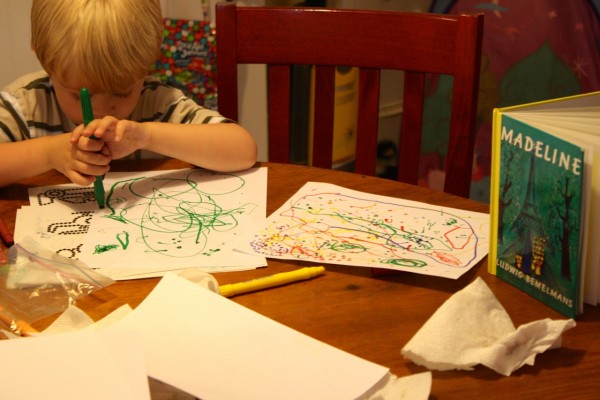 Meanwhile, our smallest one stayed at the table  just enjoying Dotza markers.
While we drew the basic tree shapes, added blossoms and skumbled in the blue green of the background.
Remember that pastels are blessedly messy! Even my eldest children enjoy!
All of our Madeline chalk pastels.
Advice from Nana: "Even though some folks have never thought that they could pick up a pastel chalk and draw something with success, I beg to differ!  Drawing a picture from a book cover can be easy and a rewarding experience.
The Madeline books have essentially very basic "stick" figure drawings; the Eiffel Tower, the "little girls all in a straight line" are stick figures with triangular-like coats and circle hats, the background is a brilliant green…all are possible for beginning students with a bit of concentration.  Just remember, your drawing is a teaching tool for better concentration, but the whole exercise is to feel free to draw what you see and what pleases you!  The more you draw the better artist you will become!"
More art fun with children's books: Chalk Pastels and Children's Books
Madeline Video Art Lesson
FEATURING YOU! YOU ARE AN ARTIST!
So, paint your Madeline art and be sure to share with us! Simply tag @chalkpastelart on social media, use the #YouAREanArtist hashtag, or upload a photo to the ChalkPastel.com Facebook page!
A note on chalk pastels: Pastels are an easy, forgiving medium. Fun for children and adults alike! Details on the pastels and paper we use, how and where to purchase, and links to our favorites in Our Favorite Chalk Pastels.

The practical aspects of a mess: Pastels are blessedly messy. We always have baby wipes close by to wipe hands. We wear something we don't mind getting stained or don a smock.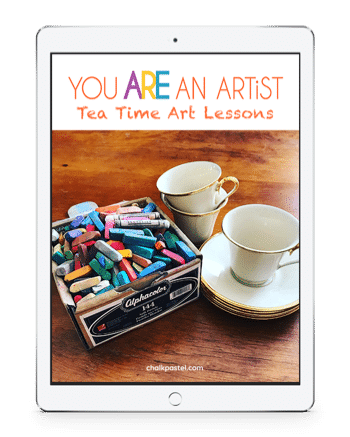 Even MORE art lessons with favorite books in Nana's Tea Time Art Lessons collection!
<Pin it!>
Have you subscribed to Hodgepodge yet to get your exclusive, FREE, subscriber-only art tutorials?
…and that's all there is – there isn't any more.
-originally published 2012