Are you organizing? Both July and late December seem to be THE organizational times for us. Both being before back-to-school times. I recently had a question from my friend Pamela on our IKEA for homeschool organization. And I asked if I could share her question here since it was about time for an organizational update.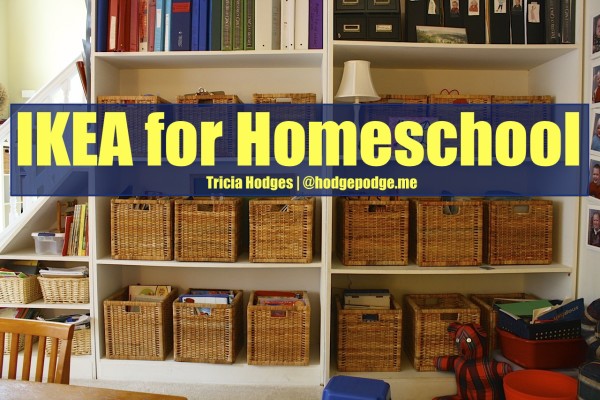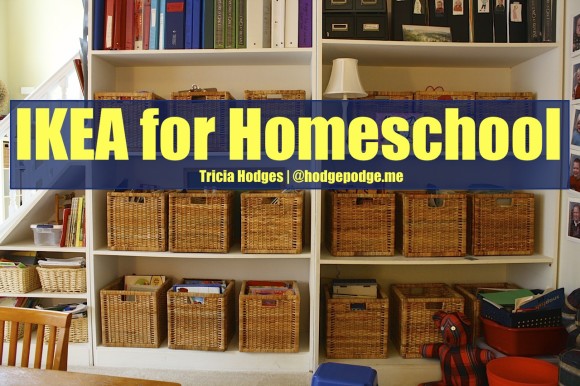 IKEA for Homeschool
Q: I've been looking at your Hodgepodge homeschool room tour. We are about to redo our homeschool room with some help from IKEA. We are trying to decide about adjustable shelves vs. non adjustable cubes. Also thinking about baskets vs. drawers and the option of some cabinets. So much to think about.
What are you favorite, most useful things you have done and are there some things you did that just don't really work like you thought they would? We do very little work in the school room, but it is still where we keep everything. It has gotten out of hand lately and I need some better storage solutions.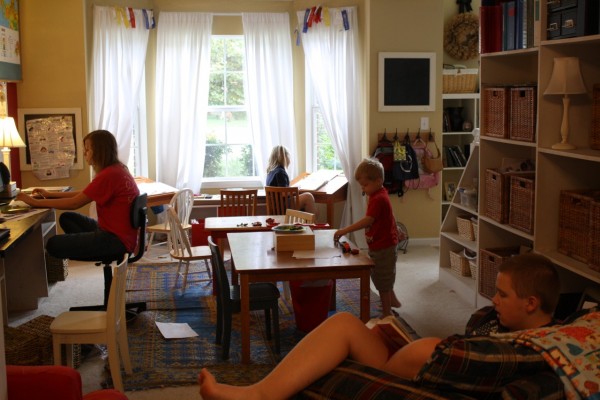 Hodgepodge Homeschool Room in action!
A: We honestly use everything. But remember that we did this homeschool makeover in stages. The school room, the family room and even children's bedrooms.

Like you, we were hoping to get control of things that were out of hand. So, in the homeschool room, we took a look at the existing bookshelves my brother built. (They are wonderful! If you are local and need some bookshelves or other home improvement type work, let me know). We used those bookshelves as the bones. And we added baskets. 
To sum it all up, maybe think about what bothers you the most and tackle that. That's the approach we made. Just the stacks and stuff. There were so many stacks of papers and books and notebooks and folders. Now each child has his or her own basket plus there are baskets for specific purposes. One for printer paper and construction paper. Several to house binders…
The IKEA baskets really help with all the visual clutter of supplies for five children. Yet I can look down inside the baskets and get what I need. There are key, 'go to' baskets I use a bunch and others I should go through and get rid of stuff! 
Hodgepodgedad sprucing up the homeschool room in January. We are always working on it!
We use our school room for the little ones and for Teaching Textbooks math and for storage. Like you, we don't use our homeschool room all the time. Learning happens all over the house!

Homeschool Room Organization & Home Makeover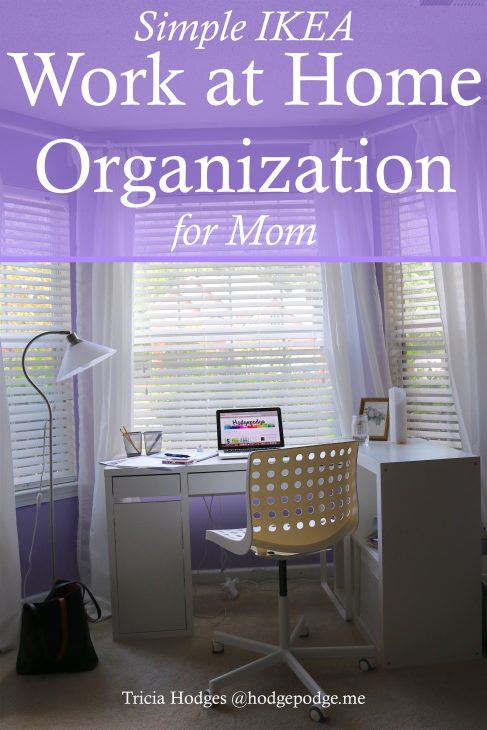 AND – IKEA Work at Home Organization for Homeschool Mom
Linking up with iHomeschool Network's Back to Homeschool Blog hop!
I share all this so you might take one thing for inspiration. One rearrangement that might work. Just remember that all of this was done over several years, the frugal way!

~ Have you subscribed to Hodgepodge?
Save
Save
Save
Save