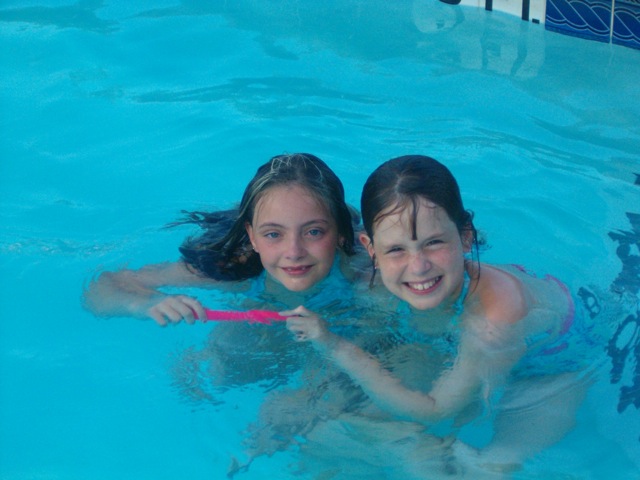 I'll come right out and say it. I just do not understand homeschoolers who do "year round school." (Although I certainly respect their right to do it!) I NEED A BREAK!!! While mothers with children in school may be saying, "Oh no, three days until summer…the kids will be home all day!" I say, "Oh yes! Three days until summer… no more pencils, no more books, no more"… well, you get the idea.
My brain is frazzled from planning, teaching, keeping schedules together, driving this child to this activity and dropping another one off at another activity…
"Oops, what time did I need to pick you up?"; "Did I pay that bill?"; "It's three o'clock and I haven't given you your spelling test yet!"
We will be taking off more than 2 months and enjoying it! But we won't just be stopping school for a while and replacing it with other activities. Yes, some of my daughters' lessons will continue through the summer, one will attend camp, and two will continue to work as much as possible, doing housecleaning and babysitting. You won't, however, find me taking on extra responsibilities or spending large amounts of time finding things to do outside the home. I have enough to do already!
Summer is a time to slow down, relax, and enjoy my family. I am home with my children all day, year-round …but I am also standing over them, telling this one which math problems to do and another one that if she doesn't finish all her schoolwork and chores she will NOT be attending ballet class tonight, and checking and grading their papers and tests. Just for these couple of months, I will be spending more time "playing" with them. We will get out and enjoy the season!
So, what are my "Top Ten Favorite Things to do in the Summer?" I'm glad you asked: (And please remember, I have all girls! If you have boys, yours will be different. Please comment with your own Top Tens… I'd love to see them!)
Swim in our neighborhood pool (before we lived here, we'd swim at a community pool for a nominal fee or splash in a kiddie pool). By the way, now that all my children can swim well, I "swim" for 10 min., then lie in the shade with a good book and a glass of iced tea. Aah!
Attend the "free movie" at our local theater. Did I mention the air conditioning is always turned way down at theaters? It's nice and cool. If the movie is not interesting to me, I use the time to catch up on my thinking while I sit there with my children.
Hit a local bookstore. More air conditioning (businesses always seem to be cooler than homes). And books. And iced coffee. Why would you need to go anywhere else? When my girls were little and needed to be watched, I would grab an iced coffee and a home and garden magazine (one I could be happy glancing at quickly, not really reading) and head over to the children's section.
Watch an afternoon movie. I do not usually have the tv on during the day, and not always at night, either! But it's summer. We've done our morning chores, and it's hot. We are tired. So we'll pop in one of our old favorites (see Top Ten Favorite Old Movies). Note: I read an interesting tip once: on hot days, watch movies with a lot of snow scenes, and you'll feel cooler. It works!
Make ice cream sandwiches! Bake chocolate chip cookies the night before. Soften some vanilla ice cream. Spread ice cream between 2 cookies. Roll sides in mini chocolate chips, if desired. Freeze for 30 min. Delicious!
Read! Just sitting around the house, reading. We all love it. When the girls were little, I could use their "room time" to read without interruption. Now, they naturally gravitate toward their rooms in the afternoon and I have a little peace and quiet. I have many good books to catch up on! Also, more time to spend in Bible study and prayer.
Roast marshmallows on our fire pit! There's nothing like sitting around a fire to get a family talking. Or singing.
Have friends over! With the slower pace of summer, I like to have friends and their children over for lunch, and if it's convenient, a swim in our neighborhood pool. This is especially true if they don't have a pool in their own neighborhood. It's also an excuse to make a special meal, such as chicken caesar salad (and dessert!).
Paint daisies on the girls' toenails.  We use inexpensive nail polishes in white, yellow, and green, with a pink background.  I am no artist, but can do a decent job of it, and they love it!
Send the kids to camp! I've never had all of mine at camp at the same time. If you have, bless you…enjoy your break and do all of the above! When they come home, welcome them with open arms…and some ice cream sandwiches.
Wife and homeschooling mother of three, Kim enjoys reading, writing, and watching old movies.  A self-proclaimed chocoholic, she also loves to cook and bake.  You can find more of her musings (and recipes) at thedaisymuse.com.