After we had been using chalk pastels a while, Nana gave us this BIG box of 144 chalk pastels. And, because we love them so much and know that they will bless you too – we want to give a brand new box to one of you, along with a gift certificate to chalkpastel.com! Because you ARE an artist with chalk pastels.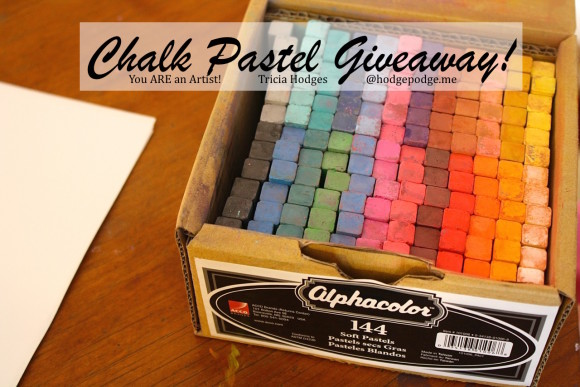 ~ *Special Note: This month is going to be wonderfully full of giveaways, free tutorials, specials and features. Subscribe so you won't miss anything – and you get subscriber only art tutorials! This post contains affiliate links to art supplies we adore. If you click on them and purchase, you won't pay anything extra but you will help us continue to offer art tutorials for free. Thanks for that!
Today we are giving away the big basic set of 144 chalks (pictured above) and valued at $44.95 plus a gift certificate to chalkpastel.com valued at $25!
Since we have been sharing chalk pastel art tutorials, we have always suggested starting with the student grade alphacolor set of 12 pastel sticks. A starter set is currently $6.40. You can get these at your local arts and crafts store, like Michael's. This student grade starter set is what we started with and shared among our five children. You can even break a chalk pastel stick in half to share. Chalk pastels are frugal!

Now for the Chalk Pastels giveaway!
Simply follow the instructions on the rafflecopter widget below to enter to win the Alphacolor Chalk Pastels set valued at $44.95 and gift certificate to chalkpastel.com valued at $25:
a Rafflecopter giveaway

What is your favorite chalk pastel art tutorial here at Hodgepodge? Or what would you like to see more of?