The last time we were at the beach we saw several of these beautifully shaped starfish. And since we are longing to be at the beach, we thought we would think back to that wonderful time and use our chalk pastels. A starfish chalk pastel art tutorial! This starfish (or sea star) is such fun to paint because of the unusual outer swirls.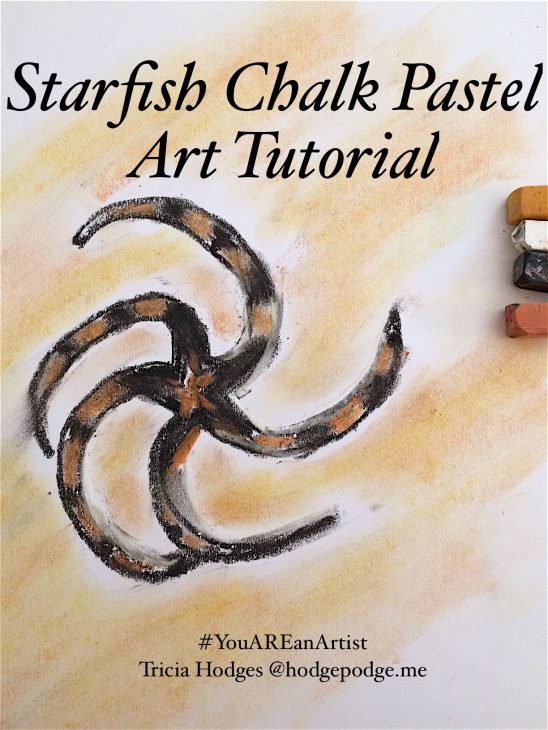 Chalk Pastel Art Supplies Needed: paper (plain white or a construction paper color of your choice) plus black, tan (or beach sand color) and white chalk pastels.
Begin with the center of the starfish – the black star. All of those swirly arms will come from the star center.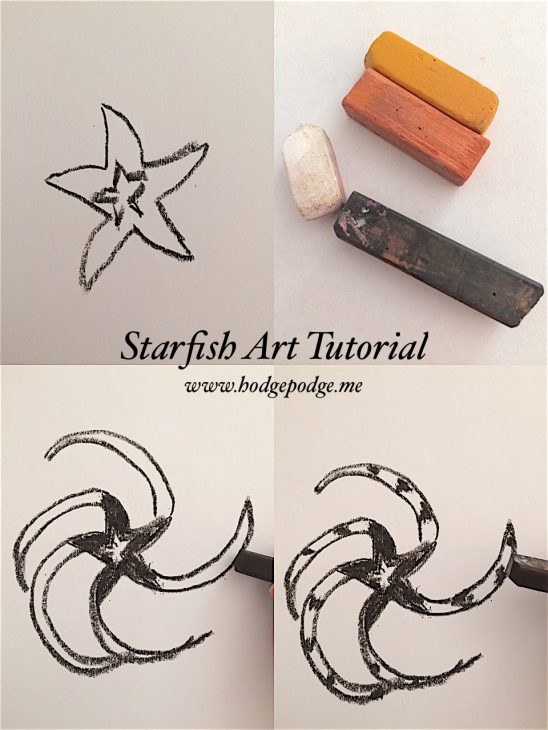 Fill in the black star but leave the center white. You will fill this in with your yellowish-brown later. Now the fun part! Extend those swirly 'arms' out from the star. Notice the direction they each swoop. Then add the black 'stripes' that are up and down each arm. Isn't it unusual and beautiful all at the same time?
Now it is time to add the sandy-yellow colored stripes. Then, take your finger and gently and carefully blend the black slightly to smooth out the color. Then place a bit of white chalk pastel on the inner 'arms' to emphasize the shape of the starfish. Lastly, turn your sandy-yellow chalk pastel on its side and skumble some beach color around your starfish.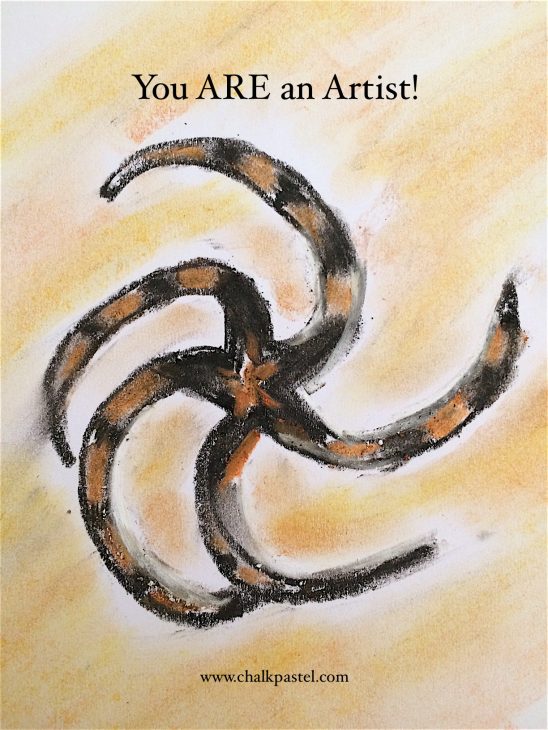 This gives your painting a painterly effect. (These terms are explained in our free Getting Started in Chalk Pastel Art ebook).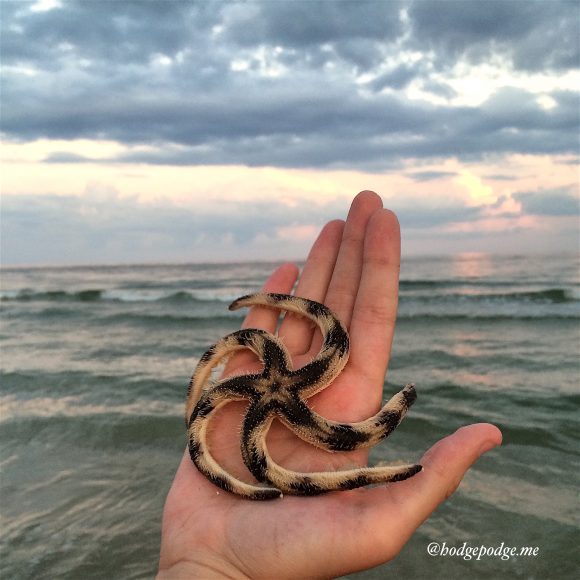 This is one of the starfish we found and then released last summer. Isn't it fun to have nature inspire art?
Featuring You! You ARE an Artist!
So, paint your starfish picture and be sure to share with us! Simply tag @hodgepodgemom on social media, send a photo via the Hodgepodge contact form here or post on the Hodgepodge Facebook page. We will be sharing these via the Hodgepodge instagram or on our Art Tutorials Showcase Pinterest board – or both! Nana will even comment on a few I am sure!
Free eBook and More!
Get your FREE ebook (with a coupon)! Getting Started in Chalk Pastel Art.
See how you can get started in just three steps! Watch the one minute You ARE an Artist video at chalkpastel.com.
A note on chalk pastels: Pastels are an easy, forgiving medium. Fun for children and adults alike! Details on the pastels and paper we use, how and where to purchase are in our series, Chalk Pastels 101. A simple set of chalk pastels is very affordable. Nana also teaches acrylic lessons.
The practical aspects of a mess: Pastels are blessedly messy. We always have baby wipes close by to wipe hands. We wear something we don't mind getting stained or don a smock.
Be sure to subscribe to our Hodgepodge YouTube channel for free video art tutorials!
Have you subscribed to Hodgepodge so you won't miss any free art tutorials?