This idea has been inspired by some previous posts here at Habits, as well as my recent realization that I have completely dropped the ball when it comes to teaching my children manners. Of course they know the basics of please, thank you, and you're welcome, but there is so much we have missed. It was time to build the habit of Manners Monday.
So, instead of adding one more thing to our already full school day, we decided that this is the perfect opportunity to incorporate Kerri's idea of a special dinner night once a week. We'll get out the wedding china, which my kids have never had the opportunity to use. We'll use a tablecloth and cloth napkins, and as Angie suggested in her teatime article, we'll make learning manners a fun occasion.
Manners Monday
Why Monday? Well, because I like a catchy title. Really it just works out that Monday is the day that we are all most likely to be home and the day that we are least likely to have company over.
We'll start with the basics of table manners and go from there, keeping our special dinner night as a perfect opportunity to practice what we've learned. Then we'll add in other social graces. Maybe one night after dinner we'll play a game where we practice good telephone manners. Maybe another night we'll write letters or thank you notes to friends and family. Since I'm raising a houseful of little gentlemen, we'll also incorporate lessons on how to treat little ladies.
I'm not going to pretend to be an etiquette expert. In fact, my husband and I are both looking forward to learning along with our kids. I'm currently searching for some good books on the subject of manners, but here are a few internet resources I've come across:
If you know of any good books on the subject of etiquette, please share them here. I'm only beginning to scratch the surface on what materials are available.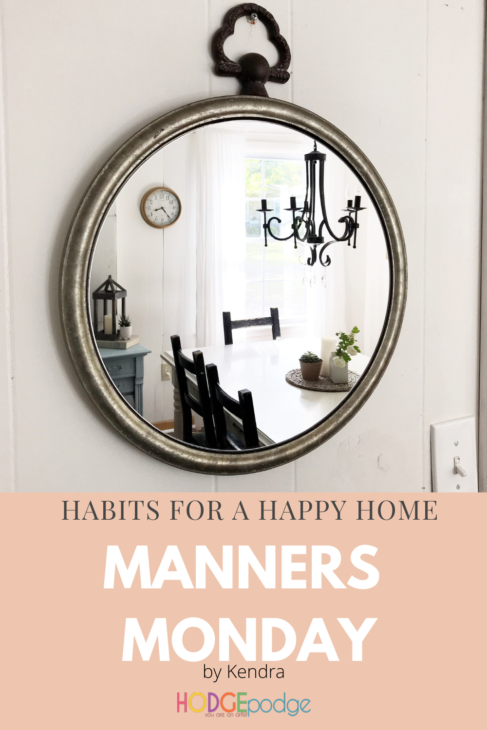 -originally published January 2010