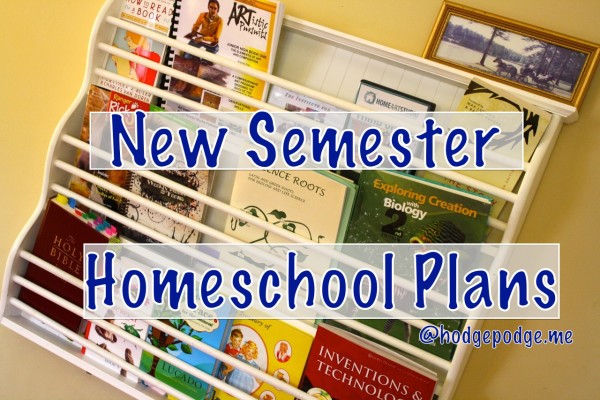 Remember I mentioned that I've been planning here and there over Christmas break? Just 15 minutes to half an hour a morning for each child. Then the rest of the day with family and a Hodgepodge of other things.
This magazine rack type shelf over the family room couch is very handy. I decided that we would make purposeful use of this shelf this semester. When all those resources are within sight, we are more apt to enjoy them.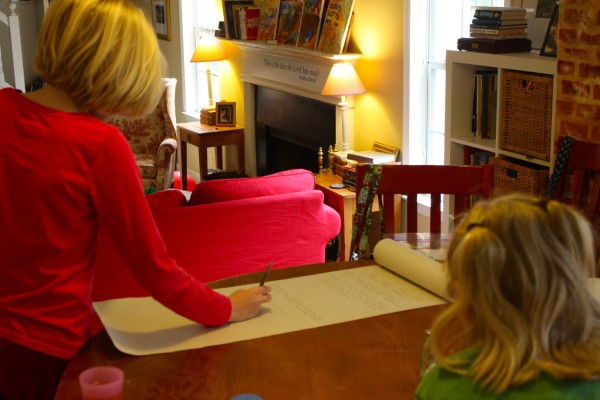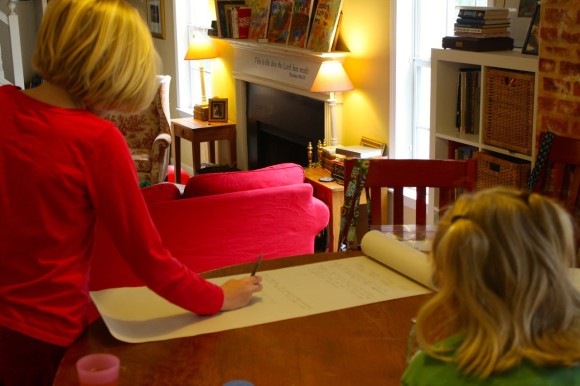 A new year habit – adding prayer requests, big dreams and more to a Prayer Changes Things 'scroll' – we've seen written evidence of His provision, prayers answered in ways we never imagined! More in the post Prayer Does Change Things.
We're basically following along with all the favorites we chose back in August for our Hodgepodge Curricula 2012-2013. But mid-year is always a good time for a reassessment and reevaluation. A closer look. Realizations like…
Reading!
Lil' Buddy is ready to read. We've been practicing with Alphaphonics. So, last week I pulled out Dick and Jane and the Biscuit set of books. (Pictured on the bottom shelf, above). What a blessing and huge privilege to help him learn to read.
Nature Study:
I've printed the newest January 2013 Outdoor Hour Challenge newsletter nature prompts for our chalkboard. And we are taking cues from Barb's Nature Study Goals, getting back into the nature study habit we love. In fact, we've already noticed jonquils poking out of the winter ground!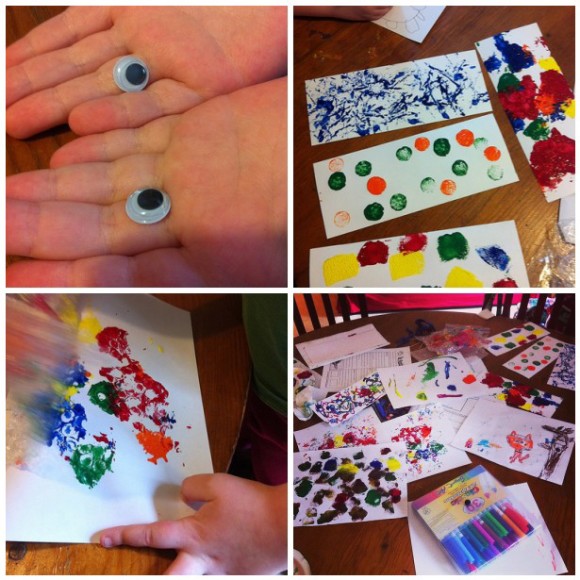 We also made up for being sick for weeks and packed in the art times this week! Above I shared a collage of our new favorite Hearts and Trees kit. I shared photos last week of the gorgeous tissue paper star that Middle Girl made. Such a fun kit and we are still working our way through all the projects. This week we painted! Notecards with a homemade 'brush', Q-tips, bubble wrap dipped in paint, a cork and more. Plus Littlest Girl made a beautiful, imaginative picture all prompted by googly eyes! Check out the Winter Fun kit at Hearts and Trees.

More of the resources will will enjoy the rest of this school year, pictured above. 8th and 9th graders: How to Read a Book, Institute for Excellence in Writing, Science Roots and Apologia Biology, weekly planners (plus robotics – more about that later!). All: Home Art Studio, Child Training Bible, Grace for the Moment by Max Lucado, the new unit we chose from Answers in Genesis' – Inventions & Technology.
Art and Music Appreciation:
See that Artistic Pursuits book up there? I have personally been missing our art and music appreciation time after lunch on Wednesdays. We enjoy these times – all ages together. If you'd like to know how we do that, please read my review of this favorite resource.
If you've been considering these handy plans, now is the time to add this joy to your homeschool. Because each year plan is on sale! Barb-Harmony Art Mom is offering any ebook version of the Harmony Fine Arts plans for Grades 1-8 at a discounted price of $13.95.
There is a special discount code to enter at checkout: YEAREND2012  – The code will be good through January 11, 2013. Click over to Harmony Fine Arts and see the newly updated website!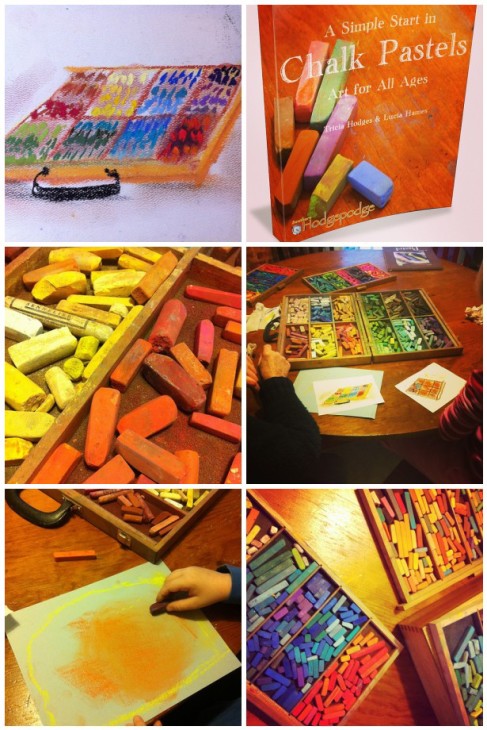 In addition to the big news around here of our first ever ebook release, A Simple Start in Chalk Pastels, Nana and I have brainstormed a list of new subjects for art tutorials. I'm excited! AND she stopped by for a new lesson I'm looking forward to sharing with you soon.
1. Eldest girl listening to Francis Chan via the Passion 2013 live stream. | 2. jonquils already poking through the dirt! | 3. the new Max Lucado Grace for the Moment devotional | 4. coffee and cheering on the Bulldogs on New Year's Day. | 5. traditional New Year's meal of black-eyed peas, cornbread and greens. YUM (thank you Nana!) | 6. We have a few, precious Christmas ornaments 🙂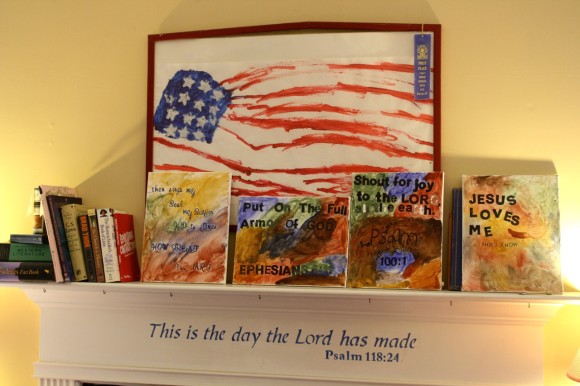 Reserving our Tapestry of Grace books over the weekend. And they will go up here on the mantel. Which means I need to find a new spot for these wonderful paintings we swirled up with Earth Paints.
Oh! P.S. – there are some wonderful planning posts shared by iHomeschool Network bloggers earlier this week. I hope they are a help to you. Sometimes we just need that extra help or nudge to start forge ahead into a new semester.
Many thanks to our Friday hostesses!
Totally unrelated to new homeschool semesters but did you have a plate full of black-eyed peas, greens and cornbread on New Year's Day too? But we can talk homeschool too. What are you changing up or are you staying the course? Have questions? I'd love for us to talk…