I am so excited to be participating in a wonderful link up all about the upcoming Great American Backyard Campout this Saturday, June 23rd. Today's participants will encourage you in many ways. Be sure to visit all the sites listed at the end of this post to inspire you to have fun camping with your children in the backyard!

This will be our first time to participate in the Great American Backyard Campout. And because this is our first time, we are starting low key.


My focus is on camping food. Simple backyard campout recipes. Since we are camping in our backyard, I plan to use the microwave and slow cooker. Being the practical girl I am, I lean very heavily on recipes with a short list of ingredients. But, don't worry. For those of you that would like to grill or cook over a fire, there are plenty of Pinteresting ideas on our group Camping with Kids Pinterest board.
Inspiration for participation! I'm sharing our meal plan first then lists of more recipes for you.
Hodgepodge Camping Meal Plan:
Recipes for Evening Meal:
Pimento cheese sandwiches (when I camped with my grandmother, we always just kept it simple with sandwiches. And these have an allergy-friendly twist.) Plus, those leftover pimento jars are perfect for catching lightning bugs.
Slow Cooker Love Pinterest board (because, if you are camping in your backyard, why not use the slow cooker? You can even have a really nice meal and eat on paper plates)
simple pigs in a blanket
Camping Snack/Dessert Recipes:
Camping Breakfast Recipes:
Memory making! A few bonus, just-for-fun projects:

Bonus Backyard Campout Fun: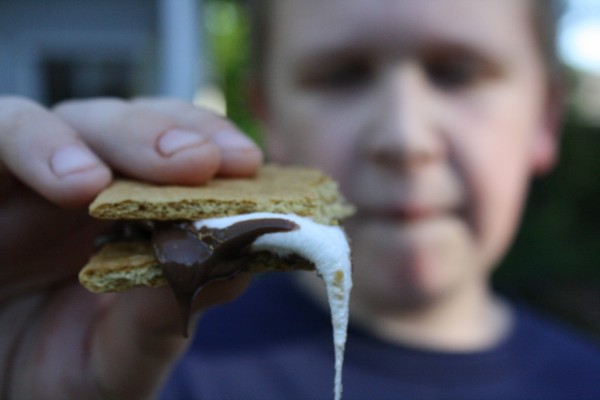 Enjoy these recipes on your Great Backyard Campout or any time! I hope this listing of s'more recipes has tempted you to join in the fun!
Be sure to visit all these wonderful participants in today's Camping with Kids. I know you will be inspired!

Are you planning on getting outside and participating this weekend? What are your favorite, easy camping recipes?