Always a holiday favorite is Reindeer Mix, a.k.a. White Christmas Snack. It's an easy solution for parties, teacher or neighbor gifts or a nice little something to tuck in the mailbox for your mail carrier. It's very simple. You might even have the ingredients on hand. Just melt the white chocolate bark and pour it over Crispix, marshmallows, pretzels and M&Ms. The M&Ms make it holiday colorful!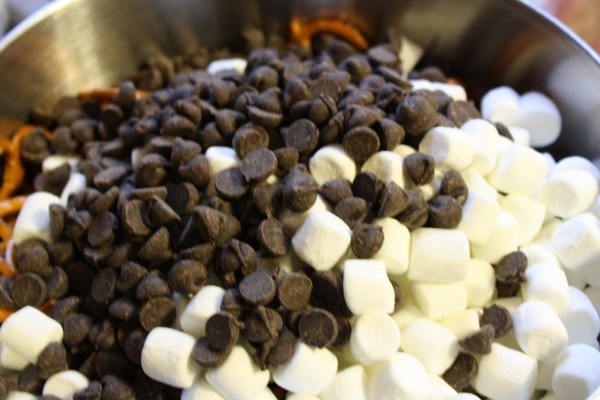 In the name of allergy-friendly living, so that the youngest two can enjoy it safely, we substituted Hershey brand chocolate chips for the M&Ms. See, those beautiful red and green treats are processed in a facility with nuts. I also made sure the pretzels were safe. Rold Gold pretzels are peanut free, so far.
Now, the chocolate chips, as you can see from the photo, do melt a bit because of the warm white chocolate. But, hey, it's all chocolatey anyway.
A most delicious treat!
This recipe falls in the Cooking Fun category since it is simple for children to mix up themselves.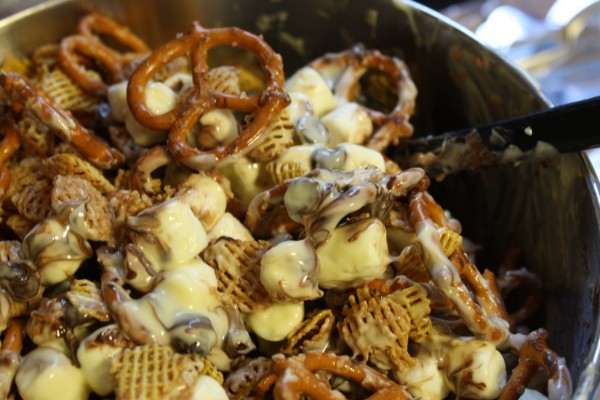 A fun, annual tradition!
~ Be sure to subscribe to Hodgepodge with the handy subscribe box in the sidebar!

Save