We love to make a wish list of spring homeschool field trips around Atlanta. We usually don't get to all of the destinations we hope to. But it's fun to dream, right? Don't miss the fun homeschool specials around town! And even if you aren't in Atlanta metro, maybe these ideas will inspire you to head out and enjoy close by your home. You really don't have to go far to find something fun.
~ Don't miss details about Museum Week!
And it is our spring break this week. We will do some math here and there but mostly…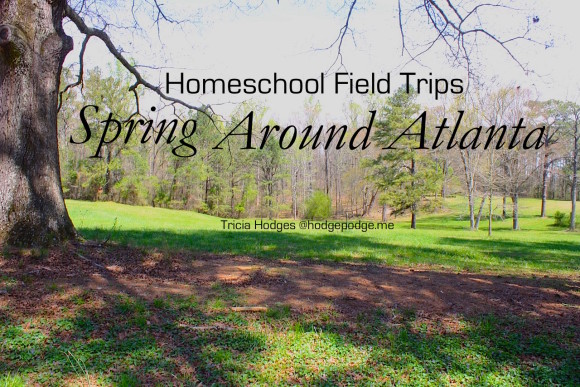 We thought we'd pick a subject a day and explore. Just how? Here is what we came up with. Simple fun. In the spirit of last year's Just Take a Break!
History Field Trips
Atlanta History Center
Sheep to Shawl April 11th from 10:30-4:30 – "Guests experience the process of cloth making through demonstrations and activities ranging from sheep shearing and dying to spinning and weaving. Gather the entire family for a full day of fun that also includes open-hearth cooking, blacksmithing, candle making, and much more at Smith Family Farm."
Homeschool Day April 9th – Reconstruction 1pm to 4pm – "Robert E. Lee's surrender marked the close to the bloodiest war the nation has ever seen. Though the bullets stopped flying, tension between the North and the South was still high. Discover the conspiracy to topple the U.S. government, planned by John Wilkes Booth, and be there for the final surrender between General Sherman and General Johnson. Learn about the often overlooked period of Reconstruction and why it was so difficult for the country to heal."
Be sure to check out all the Atlanta History Center family events – and Homeschool Days too!
Kennesaw Mountain National Battlefield Park – because we always find something new here and it is a fantastic place to have a picnic. More: Southeastern Civil War Field Trips.

Photo courtesy High Museum of Art
Art Field Trip
Because we ARE artists! Atlanta High Museum The Coca-Cola Bottle – We can't wait to use our family memberships and go see that neat Coca-Cola bottle display! (You know how much we love the World of Coca-Cola AND the High Museum of Art). "Presented on the occasion of the Coca-Cola bottle's centennial, this exhibition brings together work by renowned artists, designers, and photographers, showcasing the iconic Coca-Cola bottle's outstanding impact on 20th and 21st century visual culture."
Science Field Trip
Zoo Atlanta – because we are finishing up our study of Apologia Land Animals. If we don't get there this week we'll definitely be going in the next month to see the new reptile and amphibian center!
Language Arts Field Trip
To the local library, of course! We shall go and load up on books for the sheer pleasure of reading. And a great writing activity to follow up all these field trips is to write about what all we enjoyed and learned and loved.
Education for the Whole Family – Teach Them Diligently

This weekend, April 9-11, 2015, at the Cobb Galleria! Have you seen all the wonderful speakers? (click the image above for more info – my affiliate link) Teach Them Diligently is for the whole family. And there is a night of Real Refreshment Friday night with Rachael Carman for homeschool mamas. I have been to two Real Refreshment Retreats in the past and I highly recommend this.
Museum Week  – April 25th – May 1st
For the first time in Atlanta's history, participating cultural institutions will offer special admission deals for the general public between April 25th and May 1st as a way to celebrate the city's museums and cultural destinations. This is being done in conjunction with the 2015 American Alliance of Museums (AAM) Annual Meeting in Atlanta. Themed "Discover What's New," this first annual Museum Week is designed to invite people to explore the diverse cultural offerings the city has to offer.
Participating Institutions:
 
Buy-One-Get-One-Free Admission:
Atlanta Botanical Garden (atlantabg.org)
Atlanta Cyclorama & Civil War Museum (atlantacyclorama.org)
Atlanta History Center (atlantahistorycenter.com)
Booth Western Art Museum (boothmuseum.org)
Braves Museum Hall of Fame (braves.com/tours)
The Breman Museum (thebreman.org)
Callanwolde Fine Arts Center (callanwolde.org)
Center for Puppetry Arts (puppet.org)
The Children's Museum of Atlanta (childrensmuseumatlanta.org)
College Football Hall of Fame and Chick-fil-A Fan Experience (cfbhall.com)
Delta Flight Museum (deltamuseum.org)
Fernbank Museum of Natural History (fernbankmuseum.org)
Fernbank Science Center (fernbank.edu)
The Georgia Aquarium (georgiaaquarium.org)
Hammonds House Museum (hammondshouse.org)
High Museum of Art (high.org)
Historic Oakland Cemetery (oaklandcemetery.com)
Jimmy Carter Presidential Library & Museum (jimmycarterlibrary.gov)
Margaret Mitchell House (atlantahistorycenter.com/mmh)
Michael C. Carlos Museum (carlos.emory.edu)
Millennium Gate Museum (thegateatlanta.com)
Museum of Contemporary Art of Georgia (MOCA GA) (mocaga.org)
Museum of Design Atlanta (museumofdesign.org)
Oglethorpe University Museum of Art (museum.oglethorpe.edu)
Spelman College Museum of Fine Art (spelman.edu/museum)
Tellus Science Museum (tellusmuseum.org)
World of Coca-Cola (worldofcoca-cola.com)
The Wren's Nest (wrensnest.org)
Free Admission:
CAU Art Galleries (cau.edu/art-galleries/index.html)
David J. Sencer CDC Museum (cdc.gov/museum)
Georgia Museum of Art (georgiamuseum.org)
The King Center (thekingcenter.org)
Martin Luther King, Jr. National Historic Site (nps.gov/malu/)
Museum of History and Holocaust, KSU (historymuseum.kennesaw.edu)
Robert C. Williams American Museum of Papermaking at Ga Tech (paper.gatech.edu)
Zuckerman Museum of Art, KSU (zuckerman.kennesaw.edu)
The Atlanta Convention and Visitors Bureau (ACVB) is hosting a special landing page on Atlanta.net that has all of the information on this exciting program as well as the downloadable coupon for the 2-for-1 offer. The direct link is atlanta.net/museumweek. Participating institutions are encouraging patrons to share the awareness of this exciting program as well as their discoveries that week with #atlmuseumweek.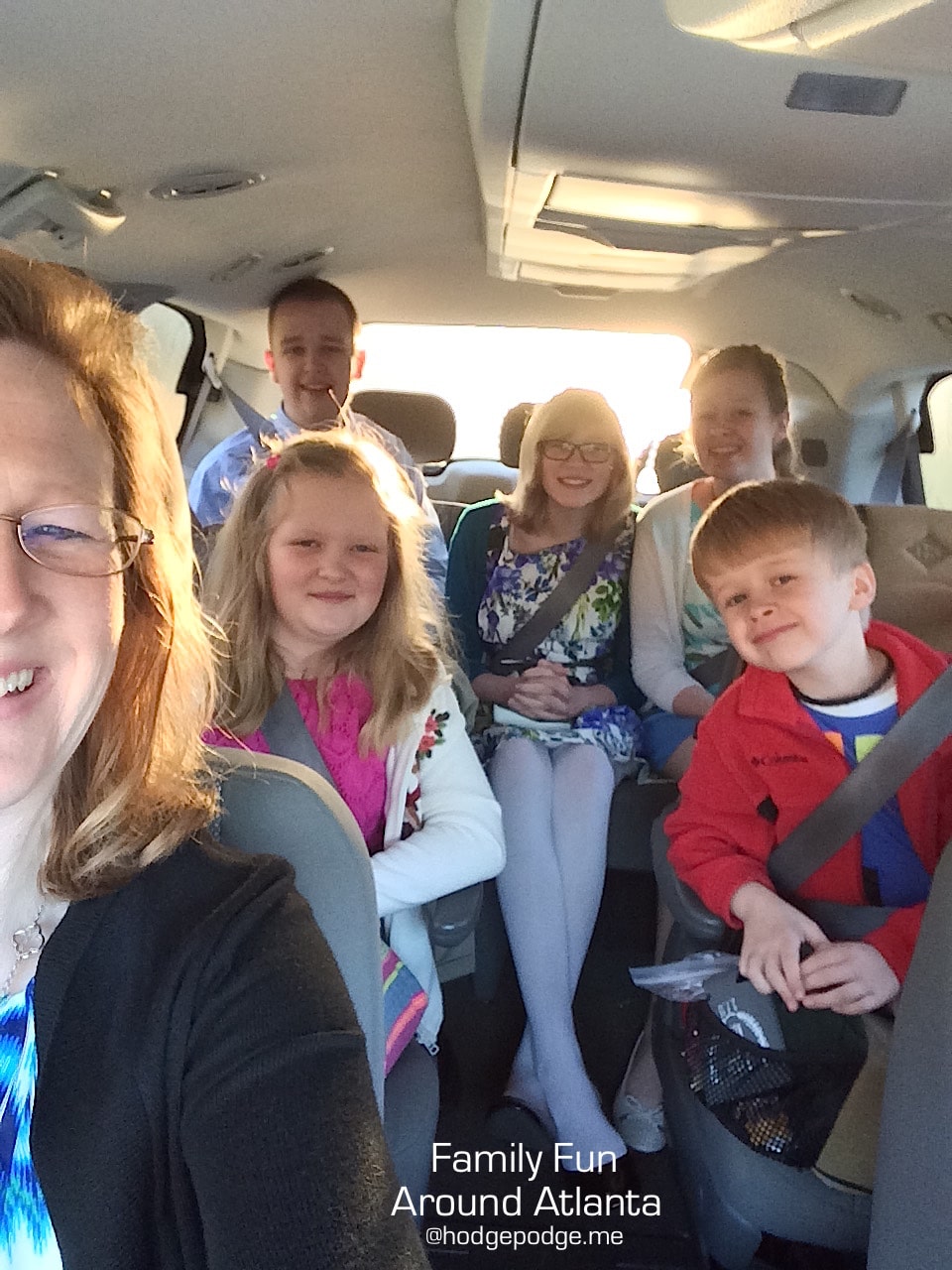 Yes, this was us on Easter Sunday morning. Record time – all of us out of the house before 8 a.m. That took a bit of planning.

Other Family Fun Ideas
Go visit Mama Ann and play in the creek (get our annual azalea photo)
Spruce up the backyard and playhouse
Head to another local state park since we still have our Georgia State Parks family pass.
Have a movie day! (there are a couple of rainy days forecast)
Kids Eat Free at Moes on Tuesday nights
Walk the Silver Comet Trail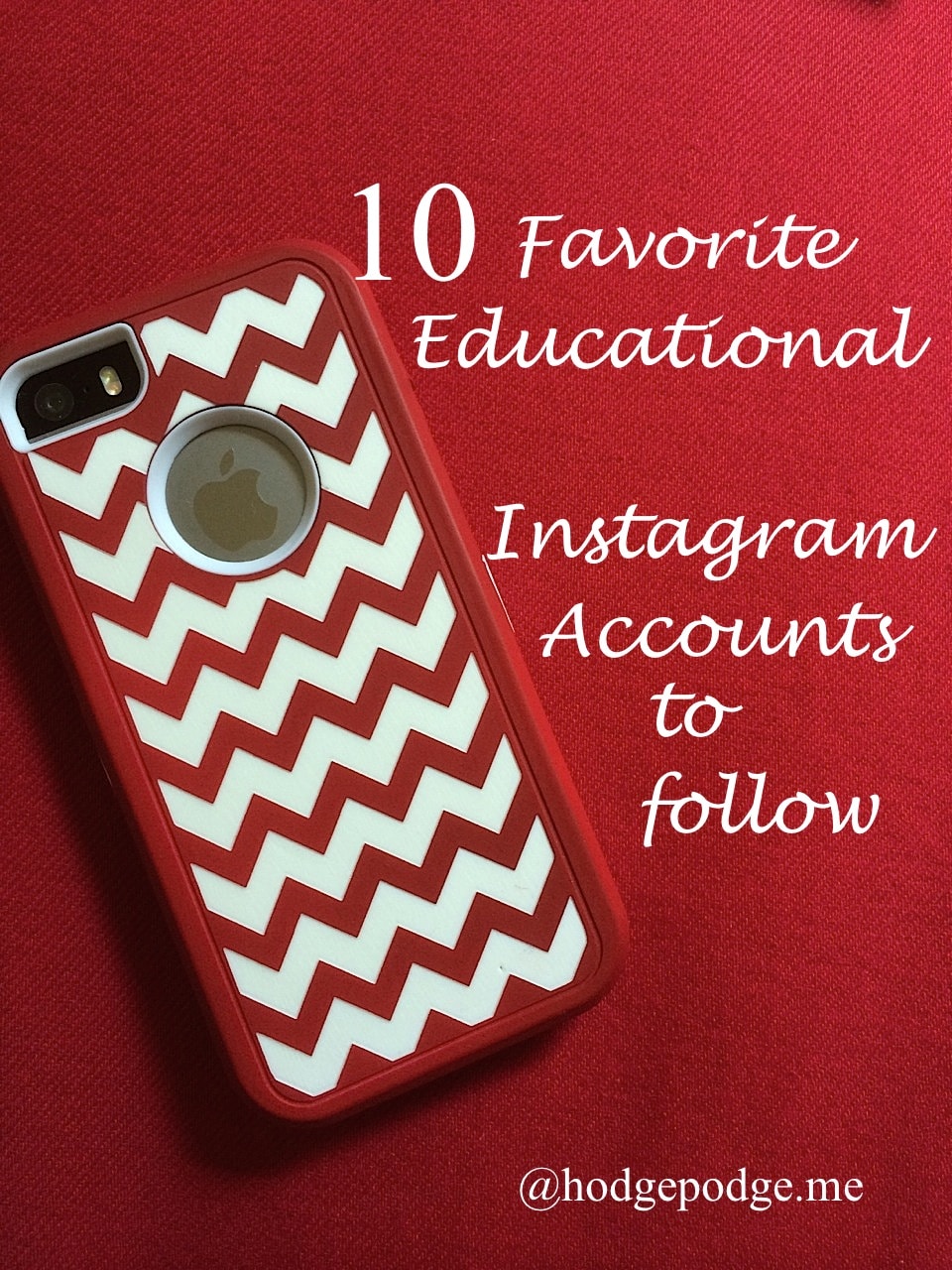 More ideas in Free and Frugal Atlanta Fun Staycation
Follow Tricia's board Homeschooling in Georgia on Pinterest.
And even more fun collected on mine and Jamie Worley's Homeschooling in Georgia Pinterest board.
How about you? What fun do you have planned? Any specials and freebies I need to know about?