Prayer is a very important part of my life.  I have to admit though, it has been a selfish part of my life for many years.  I looked back and realized that so much of my prayer life was about me or the things around me that would make my life easier.
You ask and do not receive, because you ask amiss, that you may spend it on your pleasures.   James 4:3
My goal for the coming year is to improve my daily prayer life in a way that improves the lives of others.  I want my prayer to be selfless and beneficial to others.
There are many people in my life who have needs and it gets very overwhelming at times.  Overwhelming sometimes because it seems there is too much to pray for and also overwhelming because sometimes I forget a friend's prayer needs which brings feelings of guilt.
Be anxious for nothing, but in everything by prayer and supplication, with Thanksgiving, let your requests be made known to God;  and the peace of God, which surpasses all understanding, will guard your hearts and minds through Christ Jesus.     Philippians 4:6-7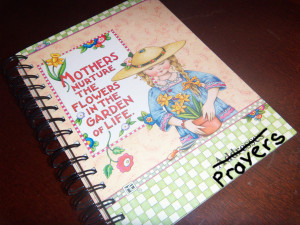 Many people have kept prayer journals where you write down what you have prayed for day-to-day, but I am taking a new and different approach.  I am going to keep a notebook, like an address book, alphabetized by name.  In this book I will write the needs of others, I will also include their contact information so that I can follow-up and adjust my specific prayer requests.
I have always heard that a relationship takes two, but I wonder how much better it would be if there were three involved? Just as our relationships are easier when we feel close to others, I believe that God hears prayers and acts upon them easier when we are closer to Him.
…The effective, fervent prayer of a righteous man avails much.       James 5:16b
So, will you join me in improving your earthly relationships by including them in your daily prayer life?
~ by Heidi, Heidi's Miscellany