I'm so proud! I have known Kellie since high school. Yearbook staff, out with our big group of friends. She even survived going on a family vacation with us and a passel of cousins. She and I ended up at the same college. We got away together for scrapbook retreats when both our families were very young.
Then, she and her husband followed the Lord's call to plant a church in Pennsylvania. And though she's further away, our heart strings are still tied. Homeschooling, growing our families, and now – bird watching! Yes, I'm so very proud to introduce you to my friend, Kellie Crowe, but I'm also continually amazed. Folks, this family has allowed the Lord to use a love of birds to grow their hearts and touch others even more. Enjoy their story…

Like most of you, our family is into "togetherness."  After all, we're home schoolers!  We're together from sun up until sun down — eating together, schooling together, worshipping together, playing together, traveling together.
We're together so much that if I want to eat my own candy bar without "sharing," I have to hide away in the bathroom (Pathetic isn't it.).  And, as you know, there's no real guarantee that even that is a safe place!
Still yet, outside of household chores and ministry, the Crowe family had never "worked" together.
Oh, how I wish I could tell you that our journey of working together was always picturesque, perhaps a scene reminiscent of a Norman Rockwell painting.  But, that would be me venturing down the path toward the "habit of lying."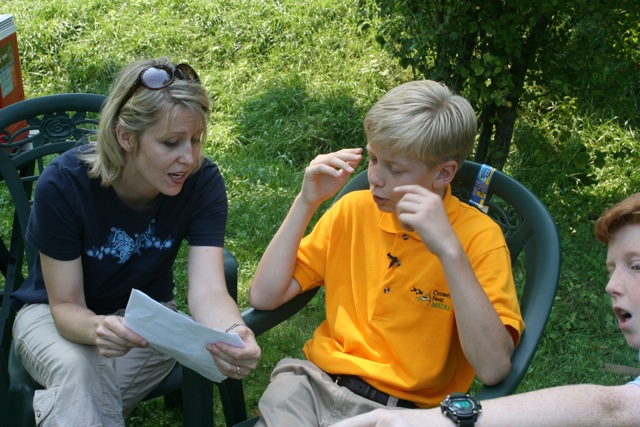 I can still vividly remember the conclusion of our first full day of shooting.  As my husband and I fell into bed, exhausted from the August heat and the "unknowns" of trying to create our first educational children's video, my husband looked over at me and mumbled the words, "If I had carried 10 gallon buckets of rocks back and forth all day today, I don't think there is anyway I could be as tired as I am right now."
I tried to muster a laugh because it was desperately true!  I was absolutely, fall-in-the-bed, forget the effort of taking your make-up off, T-totally exhausted.
Between children who were hot, clothes that were itchy, dogs that barked, silly squabbles, planes that few overhead, microphones that went silent, and lines that were forgotten … it was quite the day.  And, this was just our first day!
Oh, how the Lord taught us as we began the habit of working "together" as a family.

Through laughter, frustration, excitement and, even tears, we struggled to not only learn our lines but to learn software programs we had never encountered.  We rejoiced when scenes were perfected and when animations went off without a hitch and we cried when hard drives crashed and computer errors persisted.
Yet, in the midst of stretching us, time and time again we saw the Lord enlarge our steps and put our feet on a firm foundation.
As we sat, huddled in a hunting blind with the video camera rolling, ever trying to remind little ones to keep their voices at a whisper, we prayed, asking the Lord to send us just the very birds we needed.  How exciting it was when the Eastern Towhee landed or the Baltimore Oriole swooped down for a quick snack at our orange feeders!
Yes, working together was giving our children a unique opportunity to see our Lord God as the wonderful provider.
Using the very computer (a MacBook Pro) the Lord had "given" us through precious church friends, we marveled as the Lord revealed the design talents of our oldest son and the computer animation skills of our second son.
How fun it was to see Taylor sketch "Professor Solomon," our wise, scholarly owl who "teaches" the children about the feeder birds and then to watch as Samuel made Solomon come alive on the computer screen through Motion animation.
From Photoshop to Final Cut Pro, Soundtrack Pro, Color and Motion, we had more to learn than I had ever imagined. Then, with the video complete, we still had a website to create and HTML-language to learn.
Thankfully, by the time we arrived at the website creation stage, God had taught us enough about our children and their unique areas of giftedness that we knew just the child who would be perfect at learning the HTML language necessary to tweak our site template.

"Your Backyard" DVD in hand, and website complete, in the end, we made a unique discovery. In the midst of working together to capture the beauty of the Creator God's magnificent birds, He gave us sweet glimpses into the unique design of each of our children — His true masterpieces.
"Indeed, the very hairs of your head are all numbered. Do not fear; you are more valuable than many sparrows." Luke 12:7
Enjoy this preview of Crowe's Nest Media's Your Backyard. Click over to their website for more of their family story and ordering information. http://www.crowesnestmedia.com/
Crowe's Nest Media on Facebook