Here is a homeschool mom's best tips for homeschooling in January! With the January homeschool comes several comforts. Like moving math up close to the fire. Fuzzy socks and soft sweaters, blankets. It's just so suitable for reading. And since we are indoors, it is of course, a perfect time for ART!
A Homeschool Mom's Best Tips for Homeschooling in January
Let's cozy up and gather around a read aloud! Homeschooling in January can be the best kind of learning when you add mugs of hot chocolate, cozy socks and these simple homeschool habits.
"Teach us to realize how short our lives are. Then our hearts will become wise."

Psalm 90:12
New Year Clean Slate for Day to Day Homeschooling – Something about this physical act of cleaning off and clearing out helps me to usher in the new year. Scrubbing away and clearing off the things that piled up. It's a fresh start even if it is only my kitchen.
But most importantly, this tackling the top of the fridge also reminds me of the clean slate we have always with Jesus. Not just at the start of a new year. How thankful I am that I get a new start every day! Every hour. Every minute.
January Homeschool – Return of the Routine – An example of homeschooling with multiple ages. Our homeschool will be in session close to the toasty fire today! Currently 10 degrees near Atlanta (burr!)
Mid-Year Homeschool Reboot – Does your family need a mid-year homeschool reboot? Each January, we are slow and steady and somewhat reluctant to get back to homeschool. Through the holidays we stay up late, sleep in a little, watch movies and enjoy no schedule. How about you?
Have a Back to Homeschool Planning Date – perfect for the new semester too!
Tips for Switching Curriculum Mid Homeschool Year – It's okay to make a change. There, I said it, and here's the thing: I mean it!
January Homeschool Nature Study Adventures
Homeschooling in January doesn't have to stop you from getting outside. Just a quick break in your own backyard or a brief walk in the neighborhood can change the mood of your homeschool day.
Simple Ways to Study Nature in Your Homeschool This Winter – There are so many simple ways to study nature in your homeschool this winter! From nature walks to indoor studies, use this guide as a starting point for making memories together.
Homeschool Snow Study – In this homeschool snow study there is so much to discover! Included is a field guide to snow, experiments like filtering, guidance from the Handbook of Nature Study and more!
Keep a Calendar of Firsts (FREE Calendar Page Printable)
"Calendars: It's a great idea to have children keep a calendar to record when and where they saw the first oak leaf, the first tadpole, the first primrose, the first ripe blackberries. Then next year they can pull out the calendar and know when to anticipate seeing these things again, and they can note new discoveries. Imagine how this will add enthusiasm for daily walks and nature hikes! A day won't go by when something isn't seen to excite them."

Charlotte Mason-in modern English
Winter Tree Study – Enjoy a beautiful winter tree study for your homeschool. Learn about evergreen trees as part of your winter season nature studies and make beautiful memories together!
Winter Sky Constellations – this outdoor hour challenge looks upward towards the stars, yes, it's time to learn about the winter sky constellations!
Winter Bird Study for Your Homeschool – Even when the landscape is covered in snow or ice or mud, there are always birds that will come to visit if you create a little bird-friendly habitat with some seeds, suet, and freshwater. You can observe birds right from your window if the weather isn't friendly. Or, if you have the right conditions, take a bird walk in a nearby wood. Winter is an amazing time to stroll your neighborhood looking for resident or visiting birds.
Nature Study Crafts for Kids – always a fun thing to do indoors!
A Robert Frost Style Nature Study for Your Homeschool – You can enjoy a Robert Frost Style winter nature study for your homeschool! Frost's poem, Stopping By The Woods on a Snowy Evening can be a jumping off point. Enjoy these ideas for your snowy adventure.
Delightful January Learning with Homeschool Art
Art is the deliberate delight of homeschooling in January. Simple, hands-on learning helps homeschoolers retain what they learn.
January Homeschool Art Activities – These January homeschool art activities will keep you going through the coldest month of the year with fun, indoor projects for all ages. January is the perfect time to enjoy winter homeschool art activities. The winter section of the You ARE an ARTiST Clubhouse includes frost, icicles, a frozen lake, bird in snow, a winter forest and more!
Literature Art Lessons – Each January, Nana shares art lessons to match your favorite books! The January homeschool is all about art and literature in an I Drew It Then I Knew It style. Find a full list of ALL of the literature lessons in The Power of Adding Art to Literature Lessons.
A Winter Snowflake Bentley Study with Snowflake Bentley – This winter homeschool snowflake study combines the beauty of winter with the fascinating life of Snowflake Bentley.
Little House on the Prairie Homeschool Ideas You'll Love – Are there any homeschoolers out there that don't hop on the Little House on the Prairie wagon? I mean, seriously, how can you not love Little House? There is something about Lara Ingalls Wilder's Little House series that is easy to obsess over.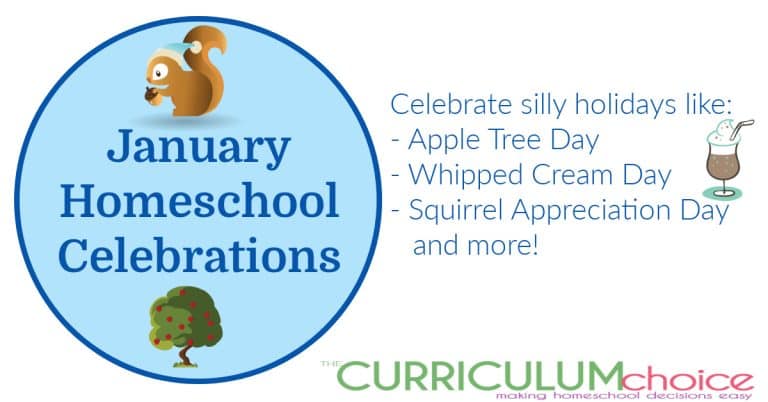 Learning Activities and FUN for Homeschooling in January
5 January Homeschool Fun Ideas: Packed up Christmas lights and cleaned-up confetti means the dawn of a new year. And this time, the occasion also marks a new decade. A brand new decade of blank squares that comprise calendar months ahead.
Plan ahead to be intentional with the activities that will fill in the spaces. Fill the blanks with family activity, revelry and celebration.
January Homeschool Celebrations – A brand new year means a blank calendar to fill with family fun and festivities! Incorporate some of the silly holidays below into the lesson plans for January to make treasured memories, memories that will warm the hearts of those you love.
Do new things with the family this year and revive some old ones, too. Make much merriment with the family throughout this new year! Enjoy these January homeschool celebrations.
Behold, I am doing a new thing; now it springs forth, do you not perceive it? I will make a way in the wilderness and rivers in the desert. Isaiah 43:19 NIV