Here at Hodgepodge we are passionate about reminding you that You ARE an Artist! And providing opportunities for doing art. Simple, frugal and fun tutorials. Art for ALL ages!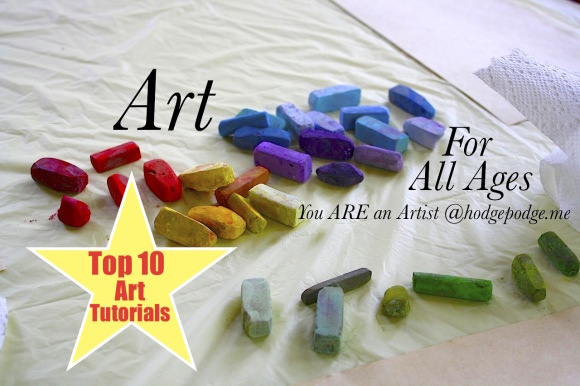 So here are the top art lessons of 2014.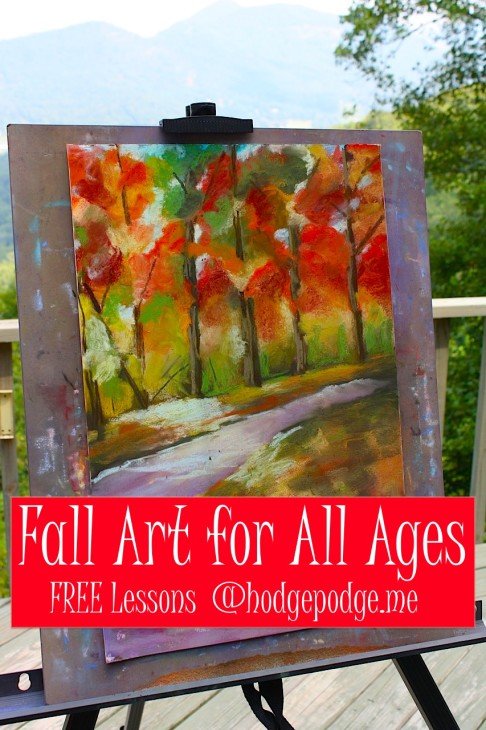 1. Free Fall Art Lessons for All Ages – Pull out those fantastic reds, oranges, browns, yellows and greens. Don't you love a fall palette?
2. 100+ Free Art Lessons for All Ages – (posted just last month!) Can you believe it? We've shared more than 100 Free Art Lessons for All Ages! We hope you will browse all of these and choose favorites of your own.
3. Easter Crown of Thorns – This pastel of Christ's crown of thorns is a personal favorite of mine as we enter the Easter season.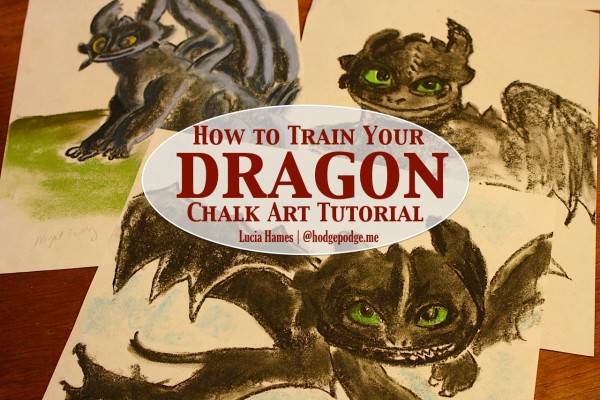 4. How to Train Your Dragon Chalk Art – Today we are going to paint an awesome dragon. A How to Train Your Dragon art tutorial with Toothless! Toothless is a Night Fury dragon, and has a strong, sleek body that is black as night, and his eyes glow in the dark just like a cat's eyes. He has massive, strong wings that carry him far up in the clouds.
5. Free Valentine Lessons: A Lovely Afternoon of Art and Music – Art and music are a perfectly beautiful combination for Valentine's Day or any appreciation of romanticism. We have a Valentine's Day gift for you – a lovely afternoon of art and music! My friend Mary Prather is offering a SQUILT lesson of Tchaikovsky's Romeo and Juliet Overture. To accompany this wonderful music, Nana and I have a chalk pastel art tutorial for you!
6. How an Art Box Inspires Artists – I often hear fellow mamas say that they would love to offer their children more chances for art every day. That statement is usually followed by: but I…Let me offer you a simple solution. An art box. See, I am very much the practical and make-it-easy type of mother. This solution is so practical you will find it easy to pull out the supplies for an afternoon of art.
7. How to Do Art in 5-10 Minutes – How do you fit in art? How can you do art in 5-10 minutes? When, oh when, is a good time to do art with children of all ages and stages? (These are questions I get often.) The answer is simple…
8. How to Draw a Garden Spider (Video) – This tutorial was inspired by the garden spider and the web she built right out the Hodgepodge family room window. This is not the first time a garden spider chose to build her web within view.  And so, the grandchildren pulled out the southeastern field guide.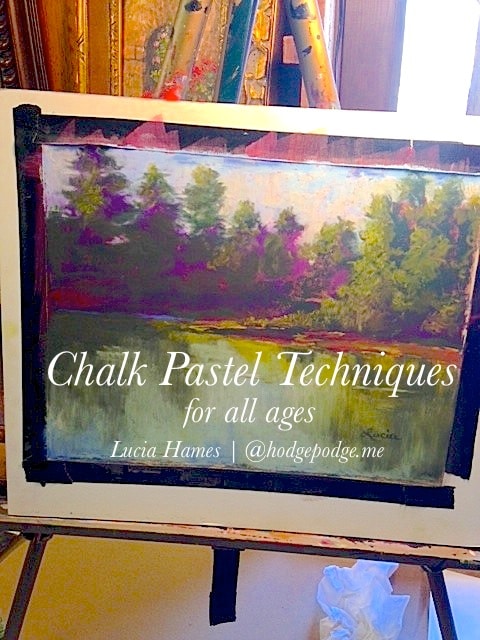 9. Chalk Pastel Techniques – with several free video tutorials with examples of each technique. Part of being an artist (and you are an artist!) is continuing to practice and learn. Today we share some chalk pastel techniques that we think are creative fun at its best!
10. Claude Monet London at Twilight – I think that pastels are wonderful to use in Impressionistic art paintings.  I know that I have mentioned before that years ago a teacher explained to me that pastel pictures are not really "drawings" but are paintings.  You see, you are using a pure stick of dry paint color, so you are painting, aren't you?  Pastels can be used with great freedom to give your Impressionistic paintings that dreamy, slightly smudged look!
Bonus! Bruce of Finding Nemo (from Shark Week!) – our runner up is so much fun!
FREE Art Resources for You
Free How to Get Started in Chalk Pastel Art ebook – All our best art tips in one place! With the how tos, the very short supply list and free tutorials
FREE video art tutorials – Have you subscribed yet?
More Top Hodgepodge Posts
Best of Hodgepodge 2014 – Your Favorites