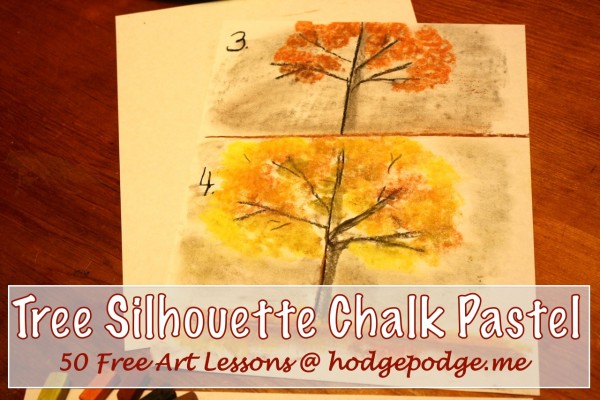 We were admiring the maple tree in the backyard…
…noticing how beautiful the yellow leaves were against the gray sky.
Nana said she could show us how to capture the beauty of the tree in chalk pastels.
Using an 8 1/2 x 11 piece of paper, we drew the line for the ground about 3/4 of the way down the paper. We then turned our gray pastel stick on its side to skumble in the sky. Blending or 'fisting in' makes the sky overcast and will make the colors of the tree stand out.
Use a black pastel stick to draw your trunk and branches. Nana reminded us that tree branches usually do not match on both sides. Rather, they start at different spots on either side of the tree.
Next, we highlighted our tree silhouette with the gray pastel stick. Just on one side of the tree trunk and one side of the tree branches. This defines your tree.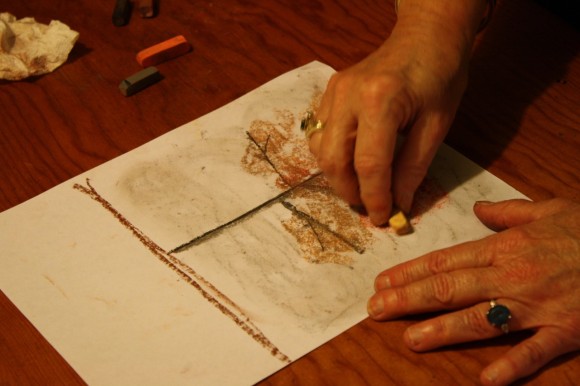 Now for some color! Take your orange pastel stick and skumble some leaves onto your branches. Not many, because, like our backyard tree, most have fallen off. Be sure to add your orange lightly so that the branches show well.
Add some color beneath your tree – on the ground – here and there. This will show that some of those brilliant, orange leaves have fallen to the ground.
You'll also want to get your yellow pastel stick and add some touches of yellow around the crown of the tree. Mainly on the one side of the tree the sunlight is hitting.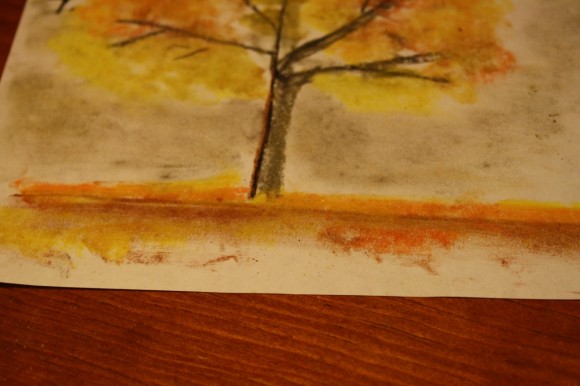 A nice follow up to our November World nature study.
Our finished pictures: Top left – 14-year-old, top right – nine-year-old, bottom right – 12-year-old, bottom left – six-year-old.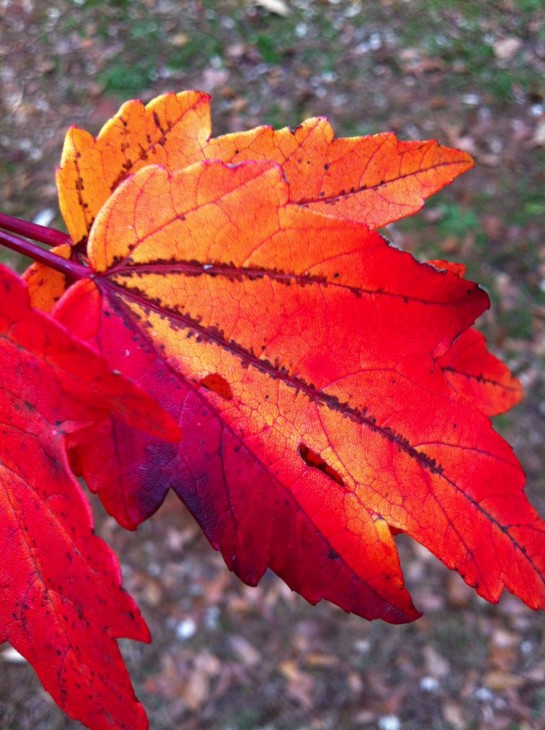 And just look the colors of our tree this week!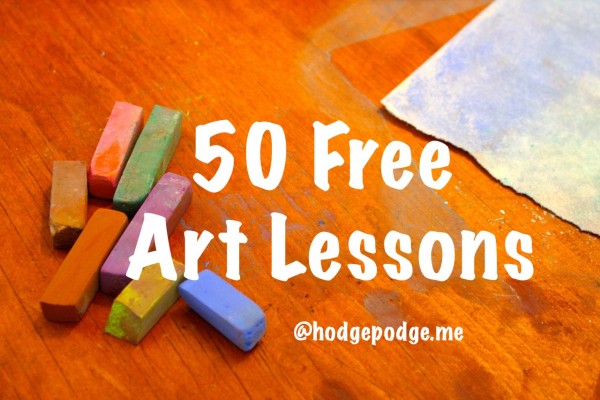 Print this lesson: Just click the green, 'print-friendly' button at the top, left of this post. You can choose to print the lesson with or without photos. By clicking the 'remove photos' box, you may print the text directions only.
A note on chalk pastels: Pastels are an easy, forgiving medium. Fun for children and adults alike! Details on the pastels and paper we use, how and where to purchase, and links to all of Nana's other pastel lessons are all contained in the post Pastels plus links to tutorials. A simple set is very affordable. Nana also teaches acrylic lessons.

The practical aspects of a mess: Pastels are blessedly messy. We always have baby wipes close by to wipe hands. We wear something we don't mind getting stained or don a smock.
Subscribe to Hodgepodge so you won't miss a free art lesson!