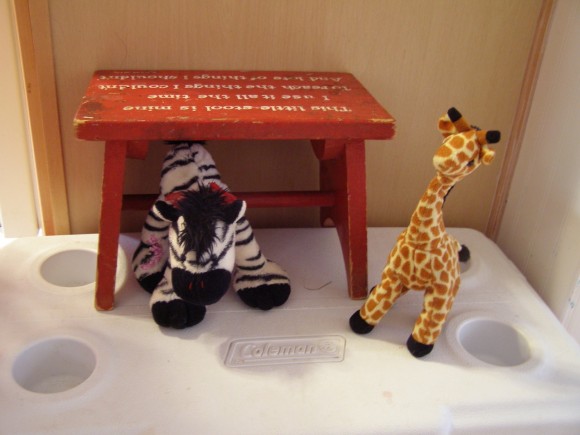 from the July 2009 archives
I'm so glad our three-year-old got to be in big church to see her sister's baptism Sunday morning. The entire service focused on children and was a tribute to this summer's ministries. The experience made quite an impression on her. I know because this is what I witnessed after breakfast this morning:
Several stuffed animals were gathered around. I heard her ask the giraffe, "what is your confession?" She then said, "I baptize you my son, Jeffrey, in the name of the Father and of the Son and of the Holy Spirit!"
The giraffe was baptized under the red stool. The stool had been carefully placed atop the family cooler.
A zebra was next. They came from upstairs and they came from the toy box. Everyone present was converted and baptized! It was a rousing a.m. service.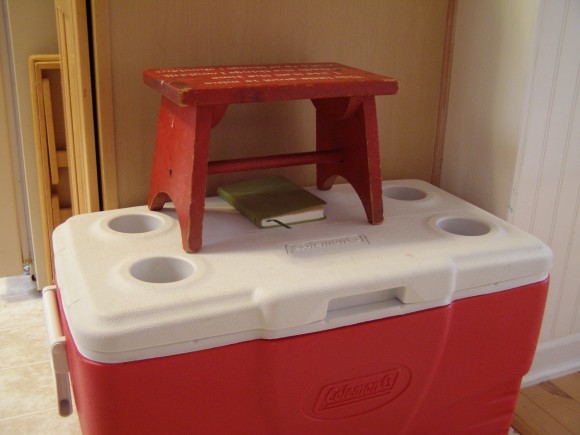 Several verses came to mind after hearing this wonderful picture of salvation.
…Verily I say unto you, Except ye be converted, and become as little children, ye shall not enter into the kingdom of heaven. Matthew 18:3
They replied, "Believe in the Lord Jesus and you will be saved, along with everyone in your household." Acts 16:31
Go ye therefore, and teach all nations, baptizing them in the name of the Father, and of the Son, and of the Holy Ghost Matthew 28:19
I smile every time I think of this morning two years ago. Plus count these gifts…
a productive Saturday with plenty of fun thrown in.
an evening with the Habits for a Happy Home ladies. Great fellowship. Thanks to Kendra for hosting us.
a morning with homeschool friends and a gorgeous yearbook, many thanks to Heidi!
a new pastel lesson with Nana right before supper.
a morning at Mama Ann's.
date night at an Italian restaurant thanks to a birthday gift card.
a happy Sunday afternoon with family.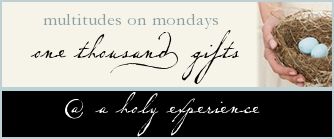 Counting gifts 2572-2582.