Sharing a summary of some exciting backyard finds!
Our youngest boy found the little creature pictured above as he was going down the slide and screamed! I was alerted when youngest girl ran inside to tell me they'd found a chipmunk – to hurry and come take a picture. Gathered around, we thought that maybe it was a baby squirrel. The night before, we'd experienced strong winds with a thunderstorm. We decided the squirrel had been knocked out of the nest. It seemed to be shivering in the corner of the swing set treehouse.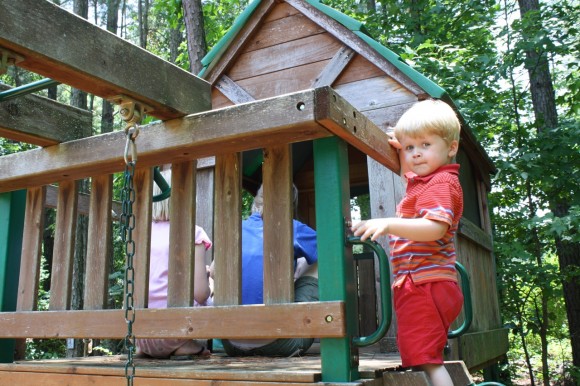 We called our friend, Amy, who had recently raised a baby squirrel to find out what to do. She explained, so we readied the animal carrier. We decided we'd take care of this displaced baby squirrel. Brave Eldest Girl went up with a cloth diaper to wrap it up.
That's when we discovered –  it was indeed a flying squirrel! I thought it's little eyes looked different!
He flew to the base of a tree and climbed right up. So, we didn't need to rescue it. We just disturbed his rest after a busy night out in the storms. And, whew, it could take care of itself.
Other finds: Mr. toad staying out of the sprinkler. He thought he was out of the way but did not escape discovery.
He jumped when I put the camera close – and made me jump!
Backyard bunny keeps coming back. Isn't he cute scratching?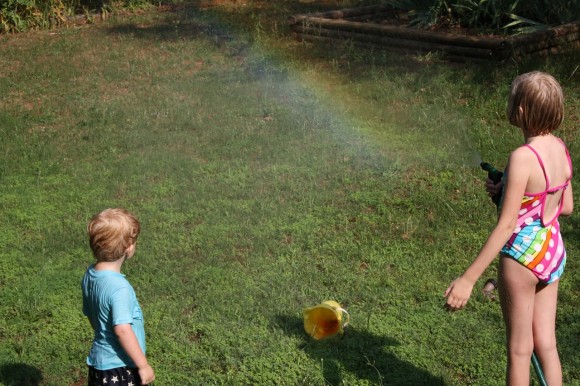 …and we also found a garden hose rainbow in the backyard!
Plus, last week, on the first day of summer, we had fun with the scavenger hunt activity shared by Handbook of Nature Study. Littlest Girl's favorite find was a spotted butterfly. (This is a fun activity to print out and do any day of summer!)
Also on the scavenger hunt list – (check!) a really nice patch of mushrooms growing in the back corner of the yard.
The mosquitoes were really bad that day, so we ran back inside pretty quickly.
Just a little time outside noticing  – all because of the habit we've built with Outdoor Hour Challenges!