Don't miss the giveaway following this review! You also have nine more chances to win at the sites we are teaming up with…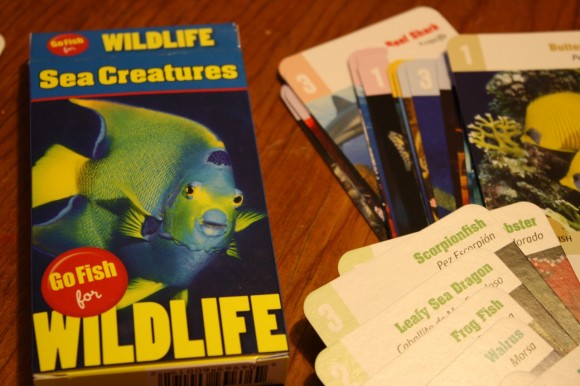 Ready for a fun afternoon playing go fish? We are – just ask any time! See, you may know that my youngest daughter has quite a big love for sea creatures. Particularly sharks. Imagine her delight when she found out you can collect schools of sharks! Playing Go Fish for Wildlife is like reading a field guide on each sea creature – for 36 sea creatures!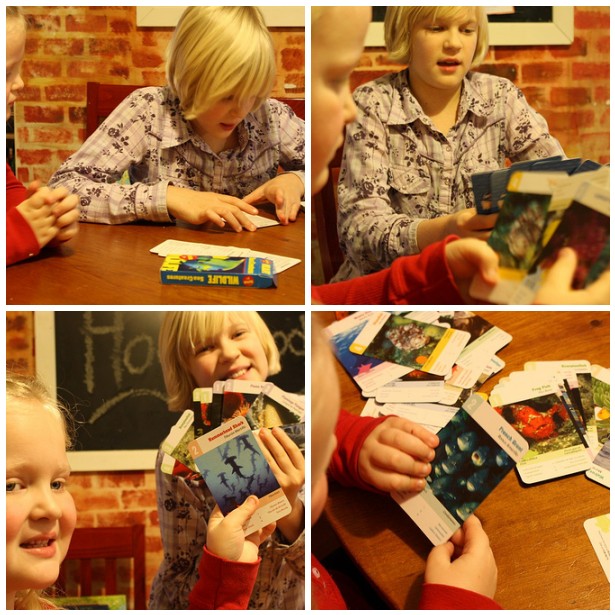 Now this Go Fish isn't just any old Go Fish. "There are nine sets of sea creatures in the game. The name of the set and the four sea creatures in it are listed on each card, in both English and Spanish. The object of the game is to collect as many complete sets of 4 cards as you can."
Enjoy four card games, a matching game plus Say it in Spanish:
Go Fish (2-3 players)
Pair Them Up (a matching game for very young players)
Crazy Sharks (2-3 players)
Wildlife Rummy – played like "Gin Rummy" (2 players)
Sea Creatures Snap (2-4 players with an advanced option)
Bonus: learn names of sea creatures in Spanish as you play
With all these variations, Go Fish for Sea Creatures will never grow old in our house. And, psst, even the adults enjoy it! (And have learned a thing or two.)
How about a set of headless creatures?
Go Fish for Wildlife Sea Creatures:
is available from Birdcage Press for $9.95 here.
can be viewed here.
is for ages 5+ but younger children can enjoy a simple matching game with the beautiful, high-quality cards
earned the Parents' Choice Approved Award
earned the Creative Child Preferred Choice Award
Fosters learning skills, including: bilingual learning, animal classification, strategic thinking, rapid visual processing
You can also discover more amazing animals in the series of Go Fish from Birdcage Press. Also available: Reptiles, Amphibians and Mammals. Birdcage Press is a one-stop place for wonderful learning tools and gifts.
*Special shipping discount code on all orders: IN12 is good until 3/31/12
Please note: I received this game in exchange for a review. I always give my honest opinion and love to share our family's experiences when reviewing a product.
Now for the giveaway! The giveaway will only run through Sunday, February 26th. The winner will be announced Monday, the 27th. Birdcage Press is kindly offering one (1) Go Fish for Wildlife Sea Creatures to one of our readers.

a Rafflecopter giveaway
More Chances to Win! Hodgepodge is joining with these wonderful sites in reviewing Birdcage Press products. Be sure to visit each blog to find out about more of these great resources. Plus enter to win a different game or productat each site
Spell Outloud — Choice of Egyptian Art Cards or Battle Cards-Military Jets
Finding Joy — Choice of Wild Cards – North American Birds or Art Ditto Game.
Jimmie's Collage –Choice of Impressionist or Renaissance Art Game
Mama's Learning Corner — Renaissance Art Game
Handbook of Nature Study — Wild Cards-Backyard Birds
Harmony Art Mom — Choice of Go Fish for Art or Art Close-Up Cards
The Curriculum Choice — Art Ditto Memory Game
The Traveling Praters — Choice of Go Fish for Van Gogh and Friends or 52 Amazing Places-National Parks
Get Along Home — Choice of Wild Cards, Backyard Birds or Renaissance Art Game