Hello. Some of my mama's friends on Facebook saw a picture of my big stack of duck tape. And they wondered what I did with all of it. So, today, I'm going to tell you what I do with it. And I'll do it with a video tutorial.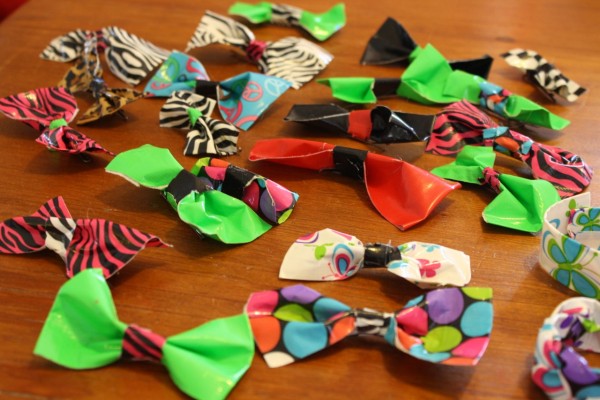 I make everything with the duck tape brand duct tape. Scroll down to see the video.
You will need:
printed duck tape – two different colors/prints
scissors
bobby pin
If you subscribe in a reader, you may need to click over to the site to view the video tutorial:
[powerpress url="https://www.yourbesthomeschool.com/wp-content/uploads/2012/01/dtapebowtie.m4v"]
In future tutorials, I will show you how to make a duck tape bracelet and a braided duck tape bracelet. I'd love to see pictures of your finished bows. You can send them to me by clicking the little mail icon in the top right hand corner of our site – under 'Find us Here…' I will include your photos in a future post.
~The middle child of the Hodgepodge, she's the author of the Middle Moments blog.