If you have a child ready to read why not make a homemade learn to read book? A book created especially for your young reader is sure to spark interest. You can design your book in just a few simple steps and choose your child's favorite topic!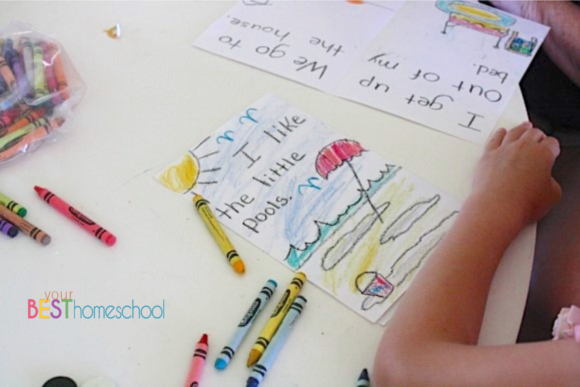 How to Make a Homemade Learn to Read Book
Four-year-old is eager to read. She's shown interest in learning, in spurts, over several months. "Well, I can't read it, so you'll need to…"
Make a Homemade Book About the Beach

While we were on vacation, Nana and the younger girls made a homemade Learn to Read book about the beach. Nana drew the pictures and authored the story. Seven-year-old colored the illustrations. When four-year-old awakened from her afternoon nap, she was so surprised!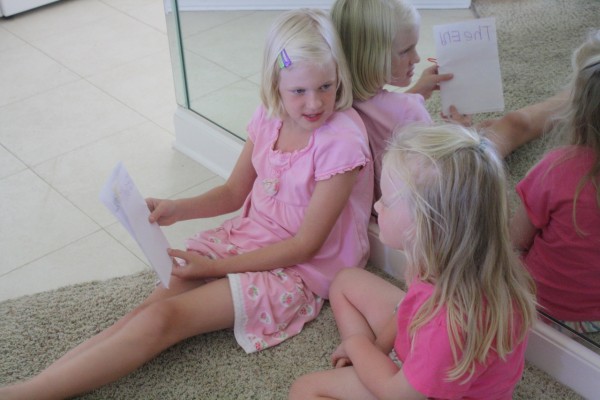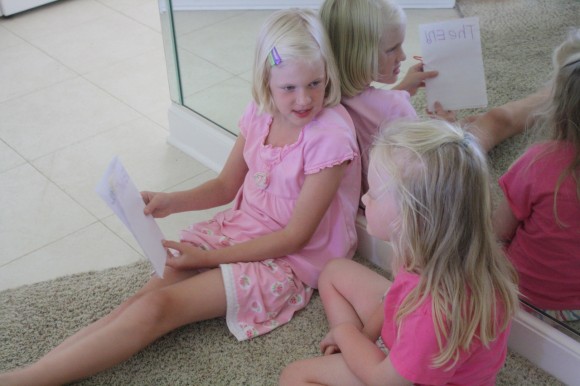 It's a simple story. Pages made from printer paper. The point is the subjects are familiar. This girl loves everything about the beach so 'reading' about it is fun. Seven-year-old read the story that afternoon:
I Love the Beach!
I get up out of my bed.
I get my pail.
Let's make a castle.
Time for a swim!
I like the little pools.
We go to the house.
The End.

(one line of the story on each page)
Fun favorites. A personalized book to remember our vacation time. About half an hour to make. The promise of couch reading time ahead.
Four-year-old's reading interest started with her Homemade Birthday Book. Just a bit of practice and she's learning words. A gentle approach over this last year – just when she's interested. Now, as she's closer to her fifth birthday she wants to read more often.
Tailor your book to your special family vacation. Maybe your trip wasn't to the beach but to visit family? Or maybe your book could be about a favorite field trip to the zoo. Name all the animals!
Most importantly – it's easy! Easy to make. Easy to take a bit of time to practice reading now and then.
More Preschool Homeschool Resources for You
-First published July 2010