My two youngest children have outgrown our long-time homeschool habit of morning room time. Today I am sharing the benefits of this habit I've seen in all my children. Just how morning room time builds learning skills for later. But first, a short recap to answer, What is Morning Room Time? What About the Little Ones?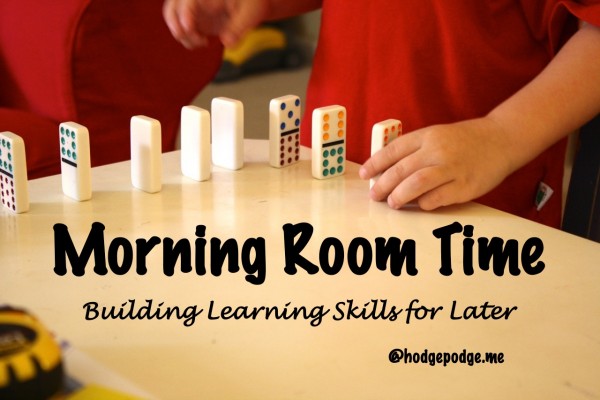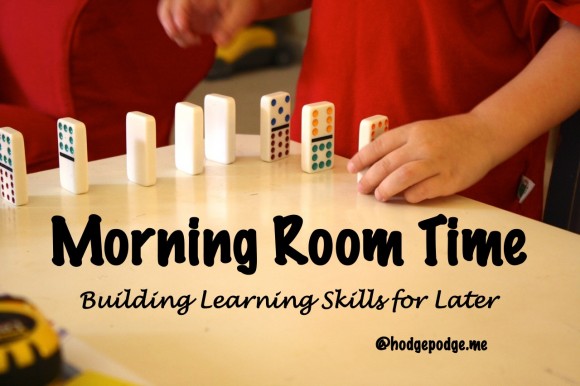 Morning Room Time
…Morning Room Time. This is when the two younger ones spent half an hour to 45 minutes of alone, play time while listening to a recording of mine and Hodgepodgedad's voices. We share Bible verses, the ABCs, sing some hymns, practice learning our address and more. All of this is mixed up with fun Veggie Tale and Bible songs some hymns and some Laurie Berkner.
Morning Room Time is the habit that blesses all ages. It's how I can be in two places at once! Both helping our littlest ones and helping the older ones with math or some other subject. Plus, little ones learn how to play quietly, by themselves for a short span of time. This is an important skill. Having some quiet, alone time allows your little one the opportunity to work on small motor skills, build attention span and learn the contentment of playing alone. Do you see how this is a gift in a busy household? As my children have grown, I see so many other skills they have that stem from the morning room time habit…
How to Do Morning Room Time
I've written extensively about Morning Room Time in the past. If you missed this series, please see more how-tos of morning room time:
My two youngest children outgrowing morning room time happened sort of naturally. Youngest Girl joined in more of our school time a couple of years ago. This year Littlest Guy started his own routine. I also wrote about building a routine in: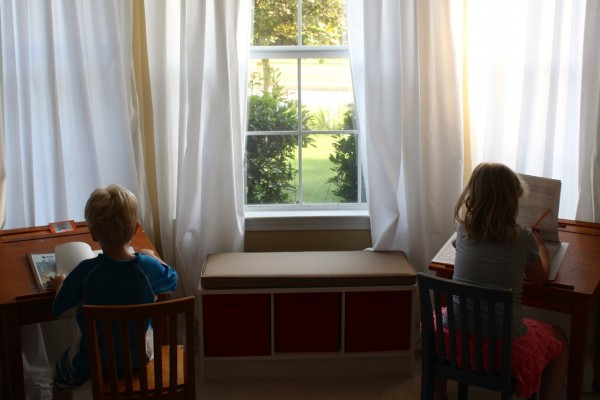 How to Start a Homeschool Routine with Young Children
So my younger two children no longer are separate from the rest of us while I help with math or oversee English. I start the school day with the little ones. Sure they may 'interrupt' a teaching time at some point. But they are part of our family, our homeschool. And here is what I have noticed in all of my children. The skills that morning room time builds.
How Morning Room Time Builds Learning Skills for Later
Now, when I am teaching and helping the older children, the younger two entertain themselves. They play with each other. Or they play independently. All those mornings they had that independent time. They sat and looked through books. They stacks blocks, rolled cars. All those mornings, it was practice and skill building.
Now I am not saying that it is all rosy posy pudding and pie around here all the time. We have our moments. We have our training times. But I have found myself sitting with one of the older children and wondering where the youngest is. And if I am quiet for a minute I can hear him off in the other room playing with trains.
Another time I am thankful for the skill building of morning room time is during our family studies after lunch. The younger two enjoy drawing at the kitchen table while I read. So I ask them to stay and listen. But then one will ask to get down from the table. That child more often than not will play close by. And still listen.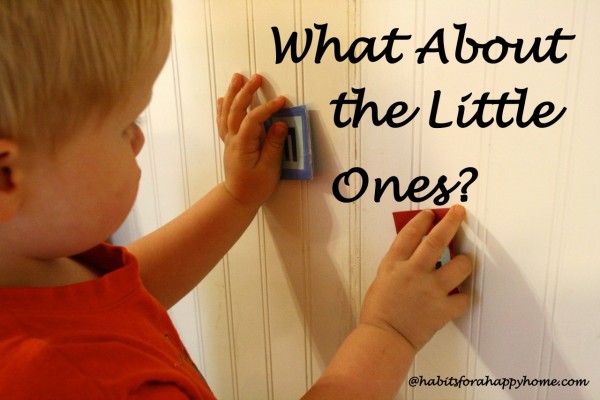 The Benefits of Morning Room Time
After five children participating in morning room time, I continue to see the benefits:
Concentration.
Attention span.
Listening while playing.
Small motor skills.
A love of music.
Playing independently.
*Sniff* Yet another stage of parenting has passed. But I encourage you, fellow parents, to stick with those things that are hard.
Let us not become weary in doing good, for at the proper time we will reap a harvest if we do not give up. Galatians 6:9
~All our Helpful Habits in one spot
~Subscribe to Hodgepodge for more helpful habits.
-originally published 2012
Save