This is an actual building still standing after over 100 years. Originally this shed was a kitchen, built separate from the main house because of the heat and possible fire.  It is on family property and houses yard machinery and equipment. Today, we make it into an Old Shed in the Snow Chalk Art Tutorial.

Old Shed in the Snow Chalk Art Tutorial
We will start our drawing by using the following pastel colors.  Deep red or a maroon color, light red, black, dark brown, aqua blue, orange.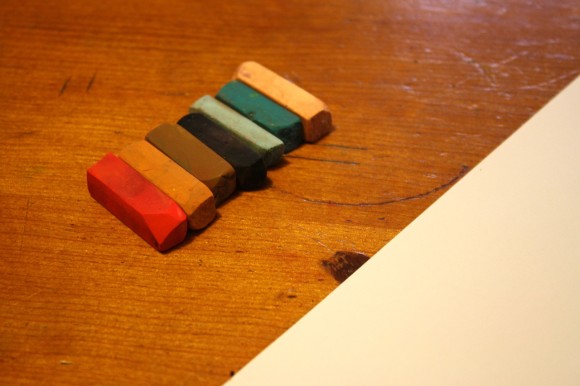 Take your dark brown pastel and lightly draw the outline of the shed. Put the windows and door on, but leave a white border around the door and windows because this is your white "paint" accent.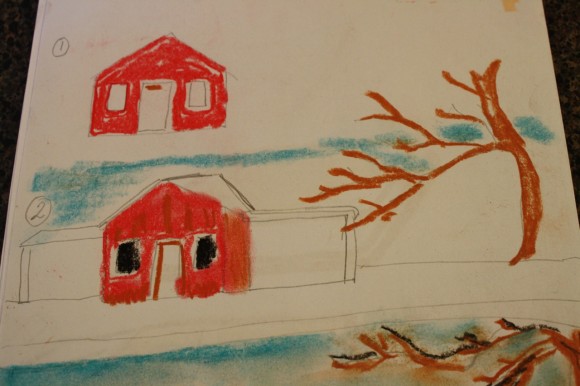 You can now color your shed lightly, you don't have to go right to the edge lines of the building, because next you will take your finger and smudge in the color to the lines.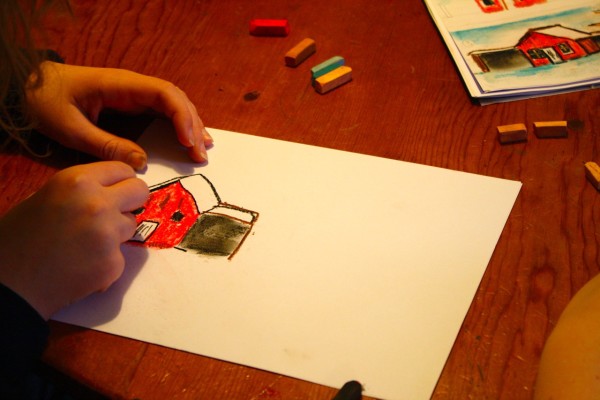 Put the winter sky in next, it is cold outside with the snow, so the sky is aqua blue.  This also you can color in darker at the top of your paper and just lightly around the building down to the ground, smudging it with your finger.  If you want a winter tree limb from to show from the side of the drawing, you can take your dark brown pastel and draw just part of the trunk and a bare limb to the side of the shed.
Add the adjoining roofs of the shed with your dark brown; after adding them, you can make the roof look like it has snow on it by just drawing an "inch of snow" with your black pastel a little above the roof line!  Snow can be added: remember, snow is not just one color; it is a combination of light aqua color (from the sky) and perhaps just a touch of light red (light touch, we don't want pink snow!)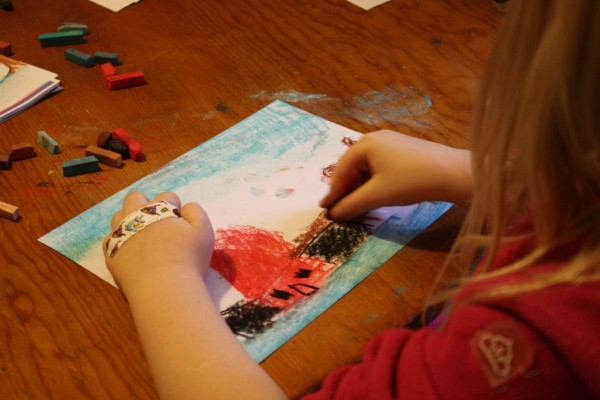 Smudge, or fist these colors together to finish your painting.  Be sure to sign your name and date it….b-r-r-r!!  It's cold outside!!
FEATURING YOU! YOU ARE AN ARTIST!
So, paint your beautiful Old Shed in the Snow Chalk Art and be sure to share with us! Simply tag @chalkpastelart on social media, use the #YouAREanArtist hashtag, or upload a photo to the ChalkPastel.com Facebook page!
A note on chalk pastels: Pastels are an easy, forgiving medium. Fun for children and adults alike! Details on the pastels and paper we use, how and where to purchase, and links to all of Nana's other pastel lessons are in Our Favorite Chalk Pastels. A simple set is very affordable. Nana also teaches acrylic lessons.

The practical aspects of a mess: Pastels are blessedly messy. We always have baby wipes close by to wipe hands. We wear something we don't mind getting stained or don a smock.

Video Art Lessons!

Do you and your artists learn best with a video art tutorial? Find our Winter Video Art Lessons and so much more at ChalkPastel.com.

You might also like:
Do you have snow near you? Or are you starting to see crocus blooming near your front door like us?
-originally published 2013