As a follow up to our recent trip to the Georgia Aquarium, we are going to have fun today drawing the "clown of the sea," the Porpoise!
The colors of pastels that you will need are the following:
Medium gray
Black
White
Blues (for the ocean colors)
Greens
Yellow (for tiny fish swimming with your big fish)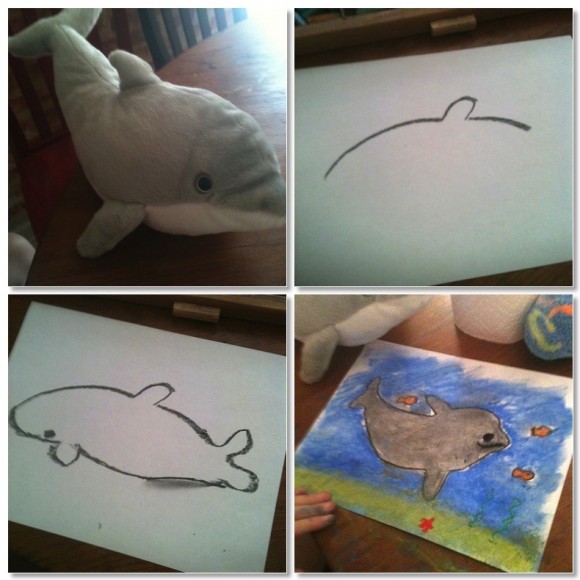 We used our toy stuffed dolphin as a model.
Start with your black pastel and draw a curved line with a little bump on it near the end of the curved line. This is the back of the dolphin with his little fin on the top. Take that curved line and draw the fish head, the stomach section and the little fin and he has two fins at the back of his body. It is a simple shape, and it will look like a fish once we get some details on him.
Use your black pastel to draw his eye, close to his bottom fin. Then the black makes a sort of "coat" looking marking over his head, covering his fins to the back fins. Leave the belly white.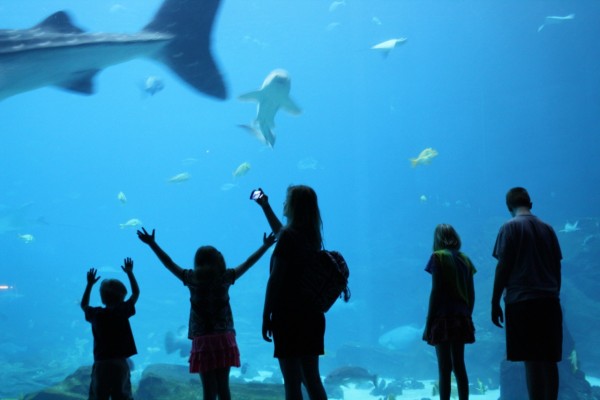 (When we went to the Georgia Aquarium we saw several whale sharks. Plus, one of our daughters is a big fan of hammerhead sharks. So…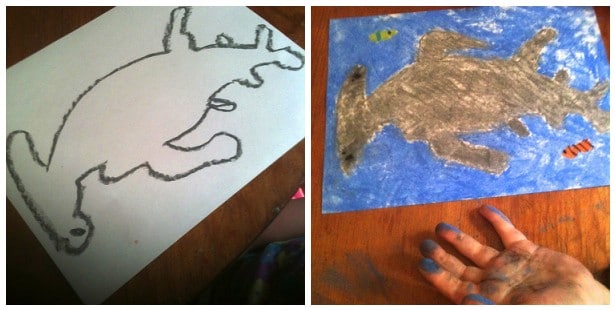 …Nana drew the basic shape for her and she filled in the colors and shading.)
Look, you have just drawn a porpoise! Put him in the ocean, quickly, so he can swim with the other fish! Use a dark blue right up under him to help him show up better…smooth that in and use your other light blues and greens to make a great big ocean under him.
Now he needs some friends to swim with him, so make some "bullet" or long egg-shaped fish with a triangle for a tail, using your yellow pastel. Don't forget to put that black eye (small!) on them too.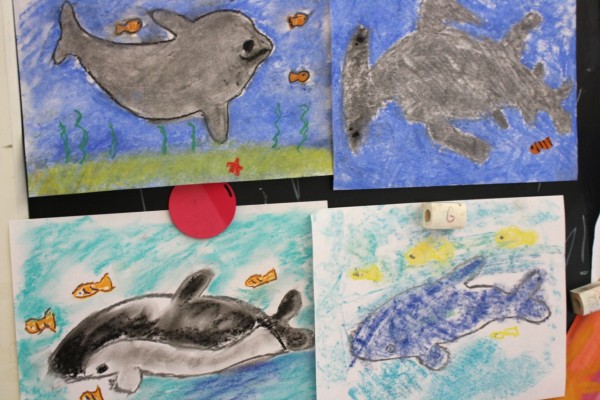 Now finish your painting by filling in the ocean above the porpoise, you might decide to add an ocean floor. You have done a wonderful, fun painting! Don't forget to "Name" your painting on the back; put the date and YOUR name as the artist of this fun swim! See??? You ARE an ARTIST!!
Just add chalk pastels and paper for a whole year of tutorials! Art for All Ages: A Simple Start in Chalk Pastels ebook – the convenience of our tutorials all in one spot. Just add chalk pastels and paper.
Enjoy!
A note on chalk pastels: Pastels are an easy, forgiving medium. Fun for children and adults alike! Details on the pastels and paper we use, how and where to purchase, and links to all of Nana's other pastel lessons (50+ free lessons now) are all contained in the post Pastels plus links to tutorials. A simple set is very affordable. Nana also teaches acrylic lessons.

The practical aspects of a mess: Pastels are blessedly messy. We always have baby wipes close by to wipe hands. We wear something we don't mind getting stained or don a smock.
Encouragement: You Can Be an Artist! 10 Day series